Show User Social Media
Hide User Social Media
Joined

Sep 8, 2006
Messages

16,107
We recently found out about
the Card Game Memorial Collection series with the first 2 releases
.
We already have news of the third!
On July 21st will be a Large Tamer Exchange Meeting Online
, using Bandai TCG Online Lobby in Japan.
It'll be a 5 hour online event for card matches (with 100 random users getting a prize.)
On top of that, they announced the Card Game Memorial Collection 3 would be sold for 1,540 yen.
It includes 6 parallel cards...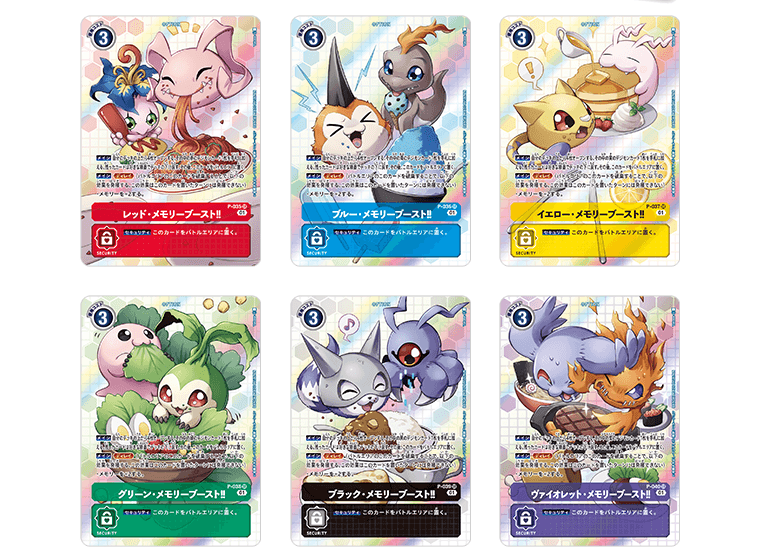 The cards are all parallel cards of the recent Memory Boost cards, featuring a number of lower level Digimon eating, or otherwise attempting to eat various food.
Buyers can purchase up to 8 sets, and they are scheduled to ship late in October. It is mentioned these may be sold at future events.
Nice looking cards, and fun to see the mini sets will continue.
We have
clean card images of Booster Set 6 Double Diamond Cards, the 1st Anniversary Adventure Pack, and more
!
We've also gotten our
first details for Booster EX-01 Classic Collection
!
And images from previous Digimon Card Game releases:
Starter Decks 1, 2, and 3, and first 10 promo cards
Booster Set 1 New Evolution
Booster Set 2 Ultimate Power
V-Tamer Promo Cards
Purple/Black Promo Set
Tamer Battle Pack 1 and Tamer Battle Winner's Card
Booster Set 3 Union Impact
Starter Decks 4, 5, & 6, plus Tamer Battle Pack 2 & winner's Card 2, & 1st 2 scene vote cards
Booster Set 4 Great Legend, Tamer Battle Pack 3, 3rd Scene Vote, Dark Digimon Promo Pack, & Apparel Cards
Booster Set 5 Battle of Omega, plus Tamer Battle Pack 4, 4th Scene Vote, & Vital Bracelet Pack-In Cards
Starter Decks 7 & 8, plus Delay Promos, Tamers Battle Pack 5, 1st Anniversary Promos, & Pulsemon