Show User Social Media
Hide User Social Media
Joined

Sep 8, 2006
Messages

15,386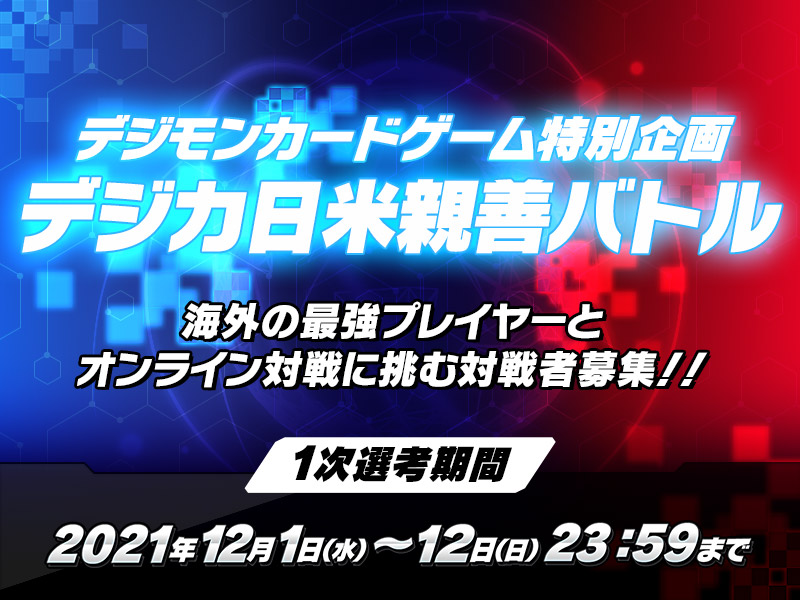 The Digimon Card Game Japan-US Friendly Battle
has been announced, and signups are open in Japan.
It will be an event where, as you'd expect, players from Japan and the US will match off in the card game against each-other.
The multi-stage selection process has begun in Japan.
Signup is now through December 12th for Period 1 via a questionnaire linked to on the page.
Potential players will be contacted via email and interviewed online later in December.
Various additional details are on the page for those in Japan thinking of signing up (various rules, mentioning players don't need to know English, etc.)
The battle between Japanese and US players will be recorded in January 16th
The US players it appears will be winners from various tournaments in the US, rather than from an interviewed pool of players.
We have clean card images from
Booster Set 8 New Hero, Starter Deck 11, plus Tamer Battle Pack 9 & Event Cards
.
We have the first info for
Booster Set 9 X-Record
.
We have details for the
2nd Theme Booster, Digimon Tamers.
And images from previous Digimon Card Game releases:
Starter Decks 1, 2, and 3, and first 10 promo cards
Booster Set 1 New Evolution
Booster Set 2 Ultimate Power
V-Tamer Promo Cards
Purple/Black Promo Set
Tamer Battle Pack 1 and Tamer Battle Winner's Card
Booster Set 3 Union Impact
Starter Decks 4, 5, & 6, plus Tamer Battle Pack 2 & winner's Card 2, & 1st 2 scene vote cards
Booster Set 4 Great Legend, Tamer Battle Pack 3, 3rd Scene Vote, Dark Digimon Promo Pack, & Apparel Cards
Booster Set 5 Battle of Omega, plus Tamer Battle Pack 4, 4th Scene Vote, & Vital Bracelet Pack-In Cards
Starter Decks 7 & 8, plus Delay Promos, Tamers Battle Pack 5, 1st Anniversary Promos, & Pulsemon
Booster Set 6 Double Diamond Cards, the 1st Anniversary Adventure Pack, and more
Booster Set EX-01 Classic Collection, plus Tamer Battle Pack 6 & 7, Tyranomon & dual Zeromaru Promo Cards
Booster Set 7 Next Adventure, Campaign Cards, & Tamers 20th Promo Cards
Starter Decks 9 & 10, plus Tamers Battle Pack 8, Ghost Game Promos, Online Promos, Tamers Evolution Box 1, & Amazon Starter Promos