Show User Social Media
Hide User Social Media
Joined

Sep 8, 2006
Messages

17,404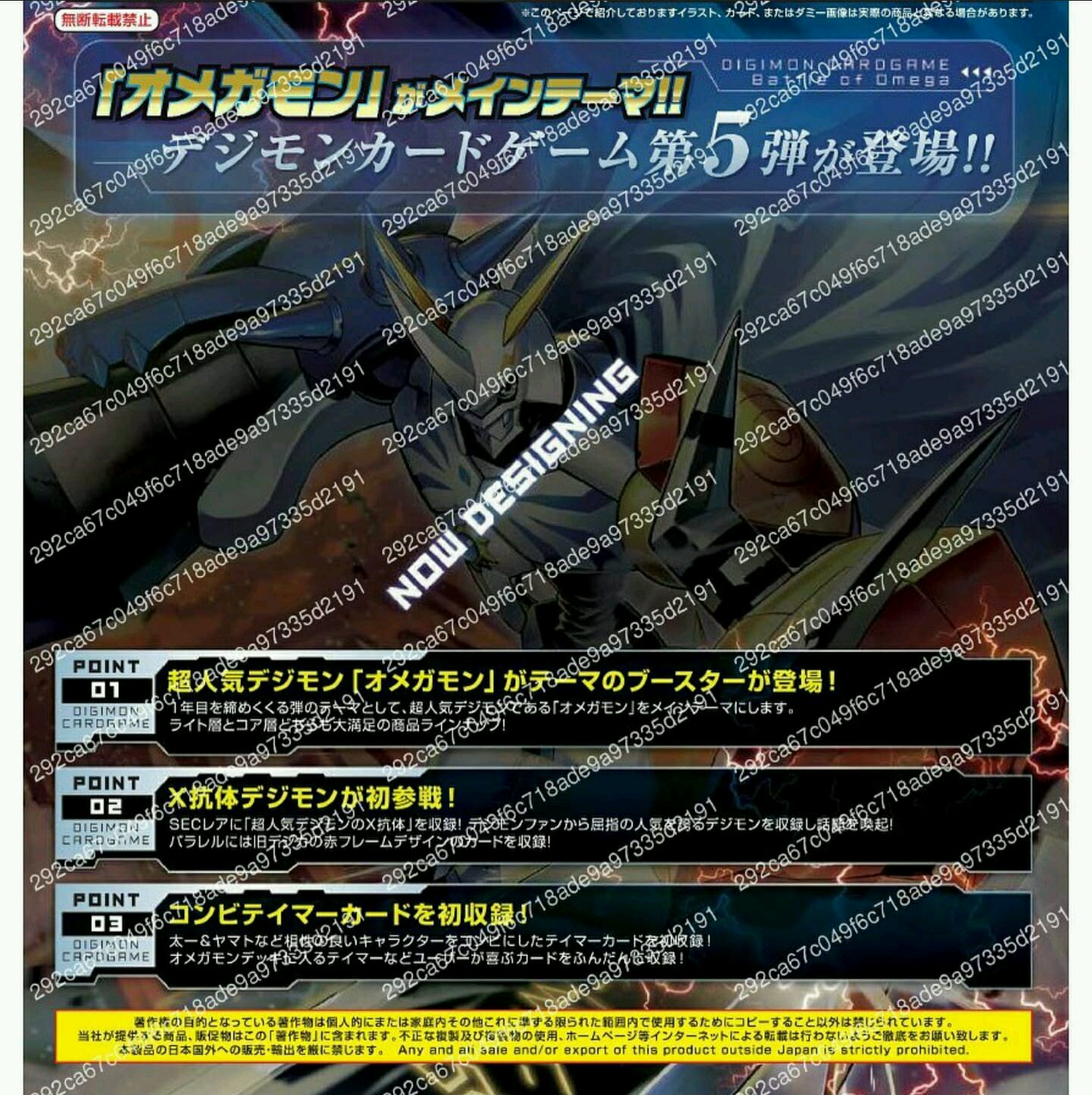 Pre-orders for Digimon Card Game
Booster Pack 5 Battle of Omega
(pre-order link helps the site) recently opened, but outside of the release date, set name, and card distribution we didn't have any information past that.
We have the main portion of the sales sheet for the booster, and while the watermark blocks many of my tools from everything, the bullet points seem to be mostly visible to them still, along with a few bits of flavor text.
We'll try to update with more details as/if we are able to.
1- To conclude the first year the card game is out, the last booster of the year will feature that super popular Digimon, Omegamon!
2- The 1st X version of a Digimon will appear in the card game, with a super popular one as a Secret Rare. (Can't make out enough to see if it's just referring to 'one' X-Antibody version of a Digimon, or multiple overall... but if you were to guess... Omegamon X?)
3- It refers to Tamer cards and Taichi & Yamato for Omegamon (it appears it's saying it will be a Tamer card with both of them.) It appears it's also mentioning a Tamer card with a character who hasn't gotten one before (it's possible this is just referring to the unique aspect of having one with 2 characters on it.)
The set is scheduled for February 26th, and the card distribution is as follows:
Common, 44 cards
Uncommon, 30 cards
Rare, 26 cards
Super Rare, 10 cards
Secret Rare, 2 cards
On top of booster set 5, HLJ has gotten more stock of a number of previous Japanese card game booster boxes and starter decks: (the links help the site)
Starter Deck 1 Gaia Red
(single starter deck)
Starter Deck 2 Cocytus Blue
(single starter deck)
Starter Deck 3 Heaven's Yellow
(single starter deck)
Booster Set 1 New Evolution
(booster box, 24 packs)
Booster Set 2 Ultimate Power
(booster box, 24 packs)
Booster Set 3 Union Impact
(booster box, 24 packs)
Prior details for Booster Set 5 can be found
here
.
Thanks to a few people for sending in the image. It appears the original is from a weibo user.
We have clean images for Starter Decks 4, 5, and 6!
Plus Tamer Battle Pack 2, the 2nd Winner's Card, and the 1st 2 scene vote cards featuring Adventure and 02.
We've also started to get previews from Booster Set 4 Great Legend.
Our largest preview so far was in V-Jump
.
We also recently got
our first information about Booster Set 5 Battle of Omega
!
And images from previous Digimon Card Game releases:
Starter Decks 1, 2, and 3, and first 10 promo cards
Booster Set 1 New Evolution
Booster Set 2 Ultimate Power
V-Tamer Promo Cards
Purple/Black Promo Set
Tamer Battle Pack 1 and Tamer Battle Winner's Card
Booster Set 3 Union Impact