Show User Social Media
Hide User Social Media
Joined

Sep 8, 2006
Messages

13,632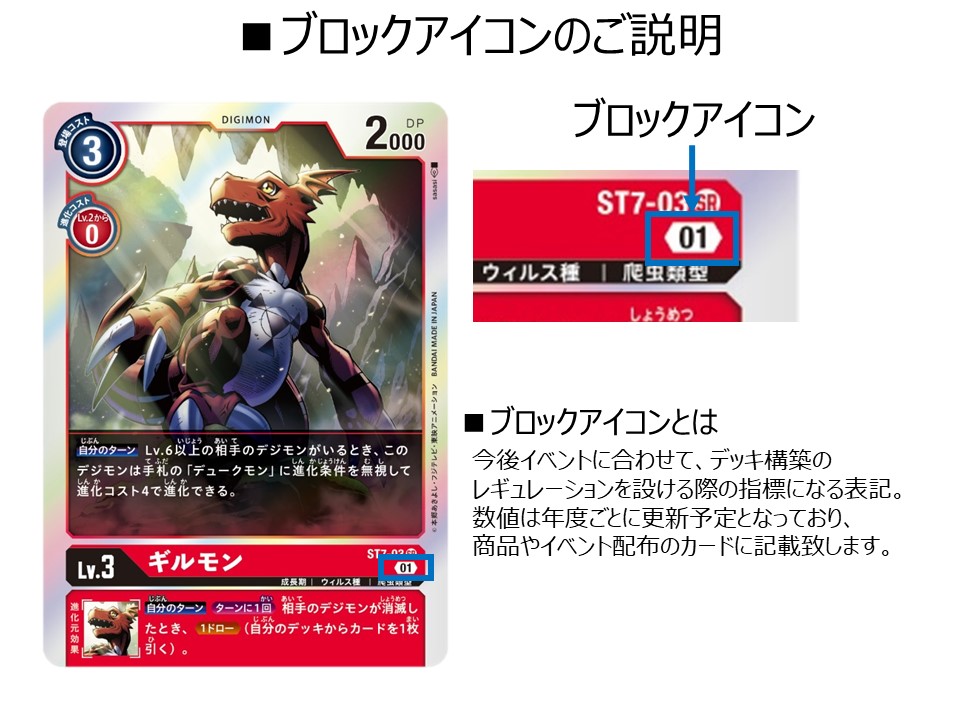 Recent cards shown off for the Digimon Card Game have had a small number on it with no explanation given for it's meaning.
The Digimon Card Game Twitter
finally provided an explanation.
All cards released after April 1st will have this new 'block icon'. It's being used as a release designation in case rule updates in the future means cards have to be removed from deck construction for future tournaments and events.
At the moment the plan is to increase the number every year, and there are no current plans for them to use it, but it's being put in place for if (when) it's needed.
The first cards to use the block icon are:
The 2nd promo card of Pulsemon
, along with
the 5th Tamer Battle Pack and associated Winner's Card.
Starter Decks 7 Dukemon & 8 ULForceV-dramon: (various early card previews below)
Booster Set 6 Double Diamond: (the only previews we have so far are below)
Sistermon Blanc & Sistermon Noir
We have clean card images for Booster Set 5 Battle of Omega, plus Tamer Battle Pack 4, 4th Scene Vote, & Vital Bracelet Pack-In Cards.
We also just got our first details & images for
Booster Set 6 Double Diamond & the Dukemon & ULForceV-dramon starter decks and pre-orders are u
p!
Plus we have the first details
for the 1 year anniversary of the card game, including a number of fun things!
And images from previous Digimon Card Game releases:
Starter Decks 1, 2, and 3, and first 10 promo cards
Booster Set 1 New Evolution
Booster Set 2 Ultimate Power
V-Tamer Promo Cards
Purple/Black Promo Set
Tamer Battle Pack 1 and Tamer Battle Winner's Card
Booster Set 3 Union Impact
Starter Decks 4, 5, & 6, plus Tamer Battle Pack 2 & winner's Card 2, & 1st 2 scene vote cards
Booster Set 4 Great Legend, Tamer Battle Pack 3, 3rd Scene Vote, Dark Digimon Promo Pack, & Apparel Cards