Show User Social Media
Hide User Social Media
Joined

Sep 8, 2006
Messages

12,053
We only found out about these a week ago, but now that we have ordering details and images I'd say a new thread is needed.
These are three t-Shirts themed using the Butter-Fly -tri. version- artwork of Taichi and Agumon.
Based on information from the Digimon Music producer, they were announced before the designs were completely finalized because they wanted to announce them on Wada Kouji's birthday.
The shirts are officially titled "Wada Kouji Butter-Fly -tri. version- Design T-Shirt"
Much of the information below is taken from the original article we did.
There are three designs...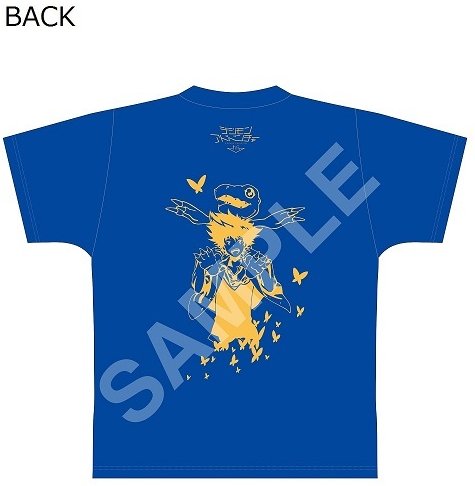 Blue
, which costs 3,500 yen.
Black
, which also costs 3,500 yen.
Colorful
, which costs 4,000 yen has it's image at the top of the news. Colorful while more... colorful, is specifically noted to only have printed material on the front of the shirt.
The shirts are available to order now, and ordering will be closed on March 10th.
The shirts are available in various sizes (given in inches and rounded):
S- Length: 26 Body Width: 19.3 Shoulder Width: 17.3 Sleeve Length: 7.5
M- Length: 27.6 Body Width: 20.5 Shoulder Width: 18.5 Sleeve Length: 7.9
L- Length: 29.1 Body Width: 21.6 Shoulder Width: 19.7 Sleeve Length: 8.7
XL- Length: 30.7 Body Width: 22.8 Shoulder Width: 20.8 Sleeve Length: 9.5
The shirts are 100% cotton.
You'll want to contact an intermediary to get this card set sent to you. WtW is not affiliated with any, but here are a selection of intermediaries that have worked well for various WtWers and their friends in the past:
From Japan
Rider Proxy
Nippon-Yasan
Japan Hero
The Bandai Premium store has also chosen to affiliate themselves/recommend three potential shops to be used as intermediaries for non-Japanese buyers:
Buyee
From Japan
(this From japan link shows various items that they waive commission fees for.)
Samurai Buyer
You'll want to provide your chosen intermediary with the link to the item. Just copy paste the links to the product pages for what you want and send them a message about it and they'll take care of it after they discuss pricing and their policies with you. The links embedded throughout the news article for the product items are exactly what you'll need to send them.
Some of the intermediaries have a full store front and may have the item listed, so you may want to check that first.
Thanks to garm for the translations.
Prior thread for the shirts is
here
.