Show User Social Media
Hide User Social Media
Joined

Sep 8, 2006
Messages

15,583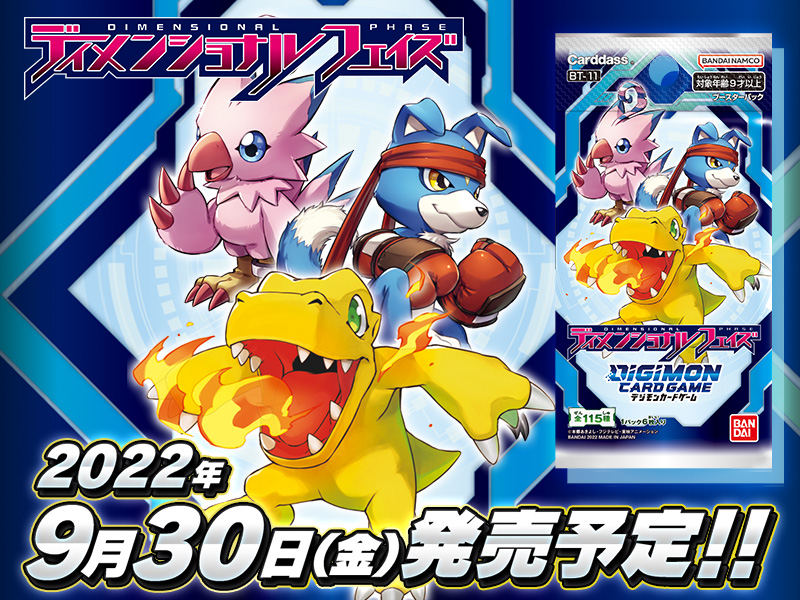 In an early review to go over purchase bonus', we have our first bit of art from Digimon Card Game Booster Set 11 Dimensional Phase.
The first art shown off, used for the packaging, features some nice new cartoony art of Agumon, Gaomon, & Piyomon, lining up with the 3 partner Digimon to the leads in Digimon World Re:Digitize.
More than suggestive to the theme being game based, the logo itself has some references to Re:Digitize also. The primary one being that the pink gradient used for the Japanese text in the logo is roughly identical to that used in the 'Digimon World' text in the game logo.
Then some of the promotions...
BT-11 will include 3 parallel cards of prior cards. It 'appears' these may be in the distribution of the set itself, although we will see.
The 'not quite' silhouetted cards they show are:
ULForceV-dramon from Booster 2
Mugendramon from EX-01 (Parallel card)
Mastemon from Starter 10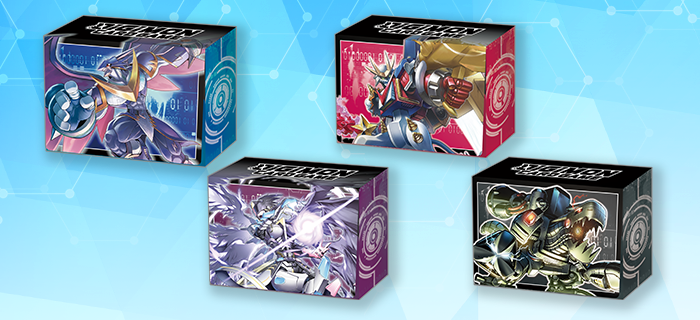 Various stores will have paper card cases. They will be given away one per box purchase of BT-11.
The box features the same 3 pieces of art teased for the parallel cards, plus Shoutmon x5 from BT-10.
They also tease box toppers with no further info.
Some fun early details before EX-03 is out, letting some energy build up.
Digimon Card Game Booster Set 11 Dimensional Phase will be released on September 30th, 2022.
We have
early details for Booster Set 11 Dimensional Phase
.
We have clean card images from
Booster Set 10 Xros Encounter, plus Battle Pack 12, Special Promo Pack 2022 v2, & Evolution Cup Cards
.
And images from previous Digimon Card Game releases:
Starter Decks 1, 2, and 3, and first 10 promo cards
Booster Set 1 New Evolution
Booster Set 2 Ultimate Power
V-Tamer Promo Cards
Purple/Black Promo Set
Tamer Battle Pack 1 and Tamer Battle Winner's Card
Booster Set 3 Union Impact
Starter Decks 4, 5, & 6, plus Tamer Battle Pack 2 & winner's Card 2, & 1st 2 scene vote cards
Booster Set 4 Great Legend, Tamer Battle Pack 3, 3rd Scene Vote, Dark Digimon Promo Pack, & Apparel Cards
Booster Set 5 Battle of Omega, plus Tamer Battle Pack 4, 4th Scene Vote, & Vital Bracelet Pack-In Cards
Starter Decks 7 & 8, plus Delay Promos, Tamers Battle Pack 5, 1st Anniversary Promos, & Pulsemon
Booster Set 6 Double Diamond Cards, the 1st Anniversary Adventure Pack, and more
Booster Set EX-01 Classic Collection, plus Tamer Battle Pack 6 & 7, Tyranomon & dual Zeromaru Promo Cards
Booster Set 7 Next Adventure, Campaign Cards, & Tamers 20th Promo Cards
Starter Decks 9 & 10, plus Tamers Battle Pack 8, Ghost Game Promos, Online Promos, Tamers Evolution Box 1, & Amazon Starter Promos
Booster Set 8 New Hero, Starter Deck 11, plus Tamer Battle Pack 9 & Event Cards
Booster Set 9 X Record, plus Battle Pack 10, Special Promo Pack 2022, Update Pack, & Evolution Box 2
Starter Decks 12 & 13, Luxury Finished Tamers, plus Battle Pack 11