Show User Social Media
Hide User Social Media
Joined

Sep 8, 2006
Messages

12,707
We don't often post about random new Digimon in the news section (except when they are relevant to other news) due to just how often new Digimon tend to pop up, but these two aren't quite your average Digimon.
We have info on new Digimon for the
20th Anniversary V-Pet
that will likely get a lot of people talking.
First up is BlitzGreymon.
His level is Ultimate, his type is Cyborg, and his attribute is Virus.
A subspecies of WarGreymon, it is an Ultimate form for Greymon-type Digimon, endowed with electricity-producing heavy weapons.
Attacks:
It can inflict damage using electricity against regular enemy troops, but against strong bulky foes, it uses both arms to pierce the foe with Plasma Stake, pouring in electricity, destroying them from within. [Plasma Stake]
The Thunder Vernier (thrusters) on its back can rotate forward to shoot thunder, but when reversed it can utilize its emissions to increase its propulsive power. [Thunder Vernier]
It releases plasma particles into its surroundings, using them to erect a barrier. [Elec Guard]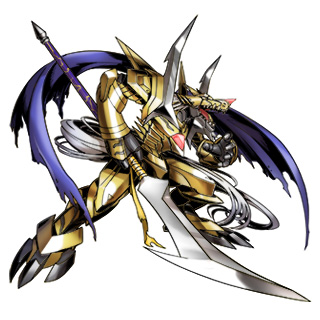 Then we have CresGarurumon.
His level is Ultimate, his type is Beast Knight, and his attribute is Data.
A final form of Garurumon. Just like Z'dGarurumon, it is a unique subspecies of MetalGarurumon.
Attacks:
Its body is coated with Gold Chrome Digizoit armor that can deflect physical attacks, and its specialty is deftly wielding the Yellow Beast Crescent Moon Blade. [Gold Beast Scimitar/Kijuuengetsutou]
It can spin its whole body, slicing with all of its sharp edges to assault its enemies using the Beast Wolf Great Rotation attack. [Beast Wolf Great Rotation/Juuroudaikaiten]
It is capable of molding its Kijuu Engetsutou into countless forms using ice, which it then uses to swing towards the enemy. [Fierce Ice Moon Fang/Geki Hyougetsuga]
I believe these are the first 'new' Digimon we know of for the 20th Anniversary V-Pets that aren't from Zubamon's line.
We're aware this is being discussed elsewhere on the forum, we chose to wait to post it as news until we had reasonably good translations of the details, and new Digimon like this certainly deserve a news thread for discussion.
We expect to find out more new Digimon from the 20th V-Pet next week.
Thanks to Ukyou for the translations and TMS for some additional details.
Update- Tweaked some translated details based on info from garm.