Show User Social Media
Hide User Social Media
Joined

Sep 8, 2006
Messages

16,925
We knew we'd be getting some sort of Card Game
announcement during the Challenge Cup in Bandai Card Games Metaverse Lobby event
, and now we have them.
The announcement is in fact a bunch of things, a number decently large.
First up, packaging previews for the new starter decks:
Starter Deck 15 The War Dragon of Courage
Starter Deck 16 The Steel Wolf of Friendship
Both will be out on May 26th.
Then we have card previews for the decks...
​
It was also noted by a few people, that from the previews, some interface elements have been tweaked for the cards themselves, which should also make it easier for those who are colorblind to play.
These were from a sample match showing off the decks, because of what's next...
And the previews aren't done for the Starter Decks, but it involves something new... (A lot of stuff below this is mechanic heavy, so since I don't play, there is a decent chance some terms may be wrong.)
WarGreymon & MetalGarurumon in the sets will both be 'Ace' cards, new types of cards with new mechanics.
Ace cards will have Ace after the name for easily labeling, but it's noted it doesn't count as the name of the Digimon.
Ace cards have 2 features:
1- Blast Evolution- Evolve the Digimon at no cost. (Not sure if they are all no cost or others are just low.)
2- High level/low cost
Using Ace activates overflow. If the card gets moved off the main playfield, you lose a lot of memory. (Both of the cards above are -4 for example.)
Blast Evolution is part of countering.
Ace will be minimal in the new Starter Decks...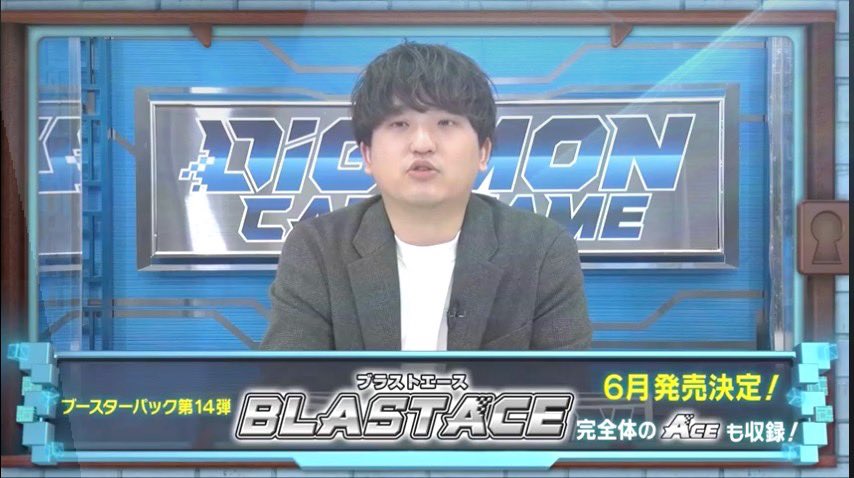 But as you could guess based on the name we knew, will be a major feature of Blast Ace, the 14th Booster Set, coming out in June.
We also get a first look at the logo for the new set.

​
Previews of a few well known Digimon that will have Ace cards in the new set. (A few issues with the renders, especially with MetalGreymon.)
New mechanics and changes also means...
The flow of the game is changing...
First up, game preparation:
1- Shuffle decks and digiegg decks
2- Rock-Paper-Scissors to decide who goes first
3- Draw 5 cards
4- You can look at your hand, and choose to redraw once if you want. If you choose to redraw, return all to the deck, shuffle, draw 5 again. (In other words, they are adding a mulligan.)
5- Place the top 5 cards of your on security
6- Set memory to 0 and begin.
Then we have battle flow:
1- Digimon attack call
2- [When attacking] Use effect
3- [Counter] The effect of a defending player's 'when a Digimon attacks' is used.
4- Defending players [Counter] effect activates, but only once per attack
5- [Block] Defending players Digimon with [Blocker] can block
6- Battle begin Digimon, or security check
And last up...
Events in Japan! This is an overview of various events for the next year, while also clarifying there is still some unannounced things coming.
Lots of changes and upgrades coming to the card game, plus we get a nice early set of previews.
Lots of images thanks to
the Digimon TCG account
(
2
) (
3
) (
4
) (
5
) (
6
),
de_gi_no_gen_2
(
2
) (
3
) (
4
) (
5
) (
6
) (
7
) (
8
) (
9
) (
10
) (
11
) (
12
) (
13
) (
14
), and
digicaplayer
(
2
).
We have early details for
Booster Set 14 and Starter 15 & 16 The War Dragon of Courage & The Steel Wolf of Friendship
.
We have clean card images from
Booster Set RB-01 Rising Wind, Tamer Battle Pack 16, Special Promo Pack 2023 v1, Frontier 20th, & Ghost Game Promos
.
And images from previous Digimon Card Game releases: