Show User Social Media
Hide User Social Media
Joined

Sep 8, 2006
Messages

17,385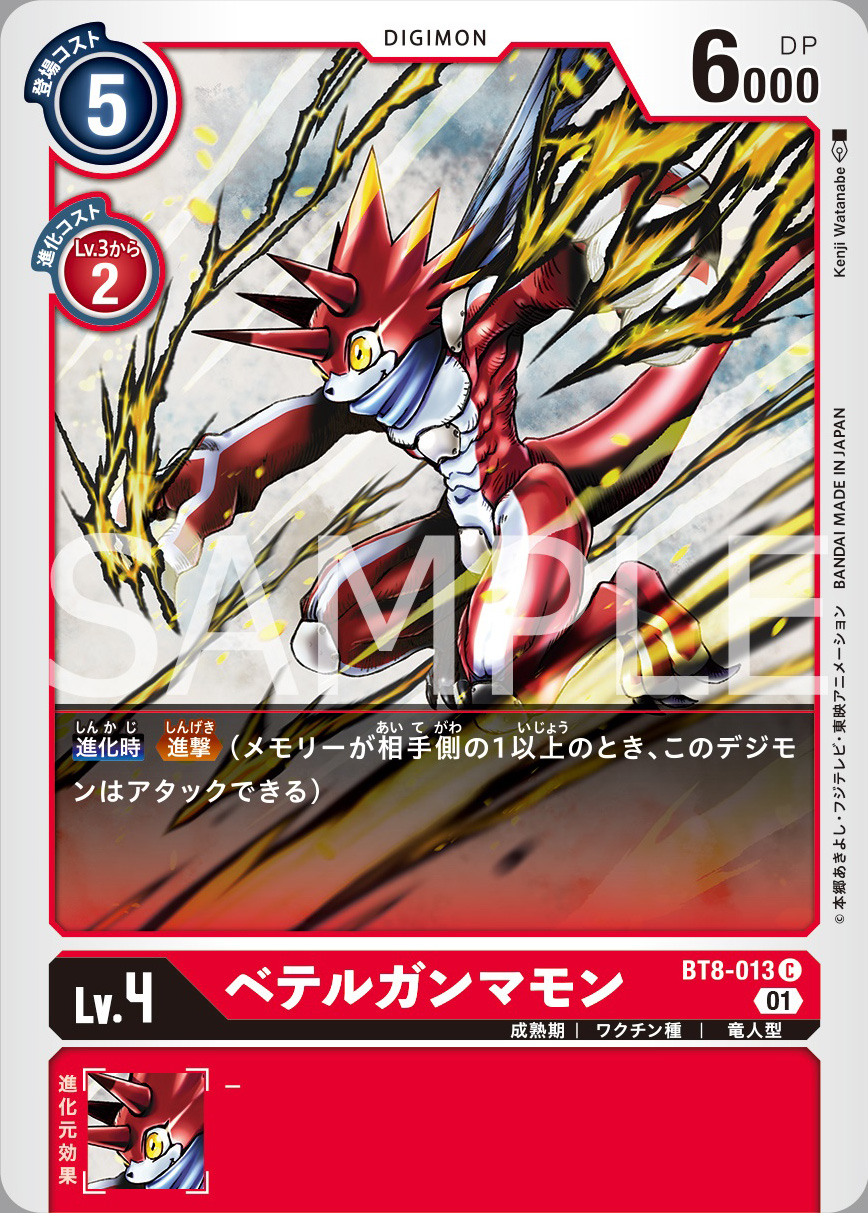 The Digimon Card Game Twitter
has updated with a card preview from Booster Set 8 New Hero. This time it's BetelGammamon.
In new artwork by Kenji Watanabe, BetalGammamon appears to be doing a combo of it's moves Sorblow, Sorshot, and a divekick (perhaps with one or two other unnnamed moves) for a really dynamic and speedy looking attack.
The card appeared in the most recent V-Jump
.
Previous previews for Booster Set 8 New Hero:
Packaging & Zhuqiaomon
V-Jump Previews
Gurimon and Hawkmon
Armadimon & Terriermon
Magnamon
Fladramon & Lighdramon
Imperialdramon: Fighter Mode & Daisuke and Ken
Halsemon & Shurimon
Silpymon & Top Gun
Gammamon & Hiro
Booster Set 8 New Hero will be out on November 26th in Japan.
We have clean card images from
Starter Decks 9 & 10, plus Tamers Battle Pack 8, Ghost Game Promos, Online Promos, Tamers Evolution Box 1, & Amazon Starter Promos
.
We have the first info for
Booster Set 8 New Hero
&
the Special Entry Set.
We have details for the
2nd Theme Booster, Digimon Tamers.
And images from previous Digimon Card Game releases:
Starter Decks 1, 2, and 3, and first 10 promo cards
Booster Set 1 New Evolution
Booster Set 2 Ultimate Power
V-Tamer Promo Cards
Purple/Black Promo Set
Tamer Battle Pack 1 and Tamer Battle Winner's Card
Booster Set 3 Union Impact
Starter Decks 4, 5, & 6, plus Tamer Battle Pack 2 & winner's Card 2, & 1st 2 scene vote cards
Booster Set 4 Great Legend, Tamer Battle Pack 3, 3rd Scene Vote, Dark Digimon Promo Pack, & Apparel Cards
Booster Set 5 Battle of Omega, plus Tamer Battle Pack 4, 4th Scene Vote, & Vital Bracelet Pack-In Cards
Starter Decks 7 & 8, plus Delay Promos, Tamers Battle Pack 5, 1st Anniversary Promos, & Pulsemon
Booster Set 6 Double Diamond Cards, the 1st Anniversary Adventure Pack, and more
Booster Set EX-01 Classic Collection, plus Tamer Battle Pack 6 & 7, Tyranomon & dual Zeromaru Promo Cards
Booster Set 7 Next Adventure, Campaign Cards, & Tamers 20th Promo Cards