Show User Social Media
Hide User Social Media
Joined

Sep 8, 2006
Messages

13,202
Bandai has announced 'Bandai TCG Online Lobby', an online event service for card games. They show off the service via the trailer above.
The service will open in December. It's described as 'a service that will allow you to play card games online, and allow you to communicate within a venue, as if it were an offline event'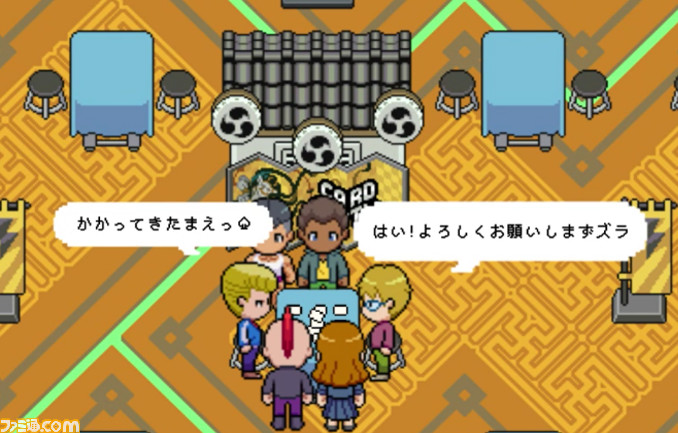 The first test event will be December 13th, with it fully opening in January 2021. While they appear to have plans to make it an 'always on' service eventually, they note that at first it will only be open during defined event periods.
Events will have specialized visuals and they hope it'll have an appearance of a place you'd want to be.
Some of their bullet points...
​
(Avatar choosing screen)
It's in browser, no app is needed.
Invitation to events will be via a lottery service.
It does require registration using a Bandai Namco ID.
The first event will for the Digimon Card Game, the 'Digimon Card Game Test Exchange Meeting' on December 13th at 2pm (Japan time), and will be open for 200 people. Registration is
here
.

​
(Left- Choose a stage to enter) (Right- Walk around a stage.)
When you enter, your avatar will be randomly generated, but you'll be able to select parts as you want to make the avatar you want. You'll also be able to set a profile comment, and a message to appear at the end of a match.
Venues will be made up of multiple 'stages' (places). You choose the stage to enter, at which point you'll be able to control your avatar. You can send messages to people, see profiles, etc.
​
(Left- Match screen) (Center- Remote match view) (Right- Victory screen after match)
Sit down at a table, and your opponent sits at the other side of the table, at which point you can challenge them and they can accept the match. Video chat will open where you can play a match and win stars and titles. The battle setup is the same as the recently launched Bandai TCG Connect.
Up to 5 people can walk up to the table and watch both video feeds to view the match.
(Shop terminal at venue)
A stage at the digital venues known as 'The Sale' will have terminals to purchase limited items. The way it's worded makes it sound like it's planned to be physical card accessories (likely sleeves, mats, etc.) that will be exclusive to events.
No items will be available on the December 13th test events.
(Staff avatars)
Events will have management staff on hand with clearly visible avatars.
They will send messages regarding event progress, mediation of issues, and will manage the event, including removing players causing issues.
As mentioned above, the first event will be the test event for the Digimon Card Game.
An interesting extension and new element to various Bandai card games, and their recent Bandai TCG Connect service. Very neat that the first event is for the Digimon Card Game.
Thanks to
Famitsu
for various details and images.