Show User Social Media
Hide User Social Media
Joined

Sep 8, 2006
Messages

13,779
Bandai has opened a new Digimon website.
Digimon Game Portal
is, as the name would suggest, a portal site for Digimon related games.
The frontpage has minimal information, swapping between logos and art for Survive, ReArise, and Hacker's Memory. It also embeds in the 2018 trailer for Survive, and the Digimon Game Twitter account, while also providing web links to the sites of various Digimon games that have come out over the past few years.
Most notably at the moment,
the site has a product page with a game timeline
that is nearly comprehensive for Digimon games. Various older mobile games aren't included, but overall the list is quite detailed: organized by year, has game logos, screenshots, titles, and genres, etc.
Perhaps most of interest for fans right now...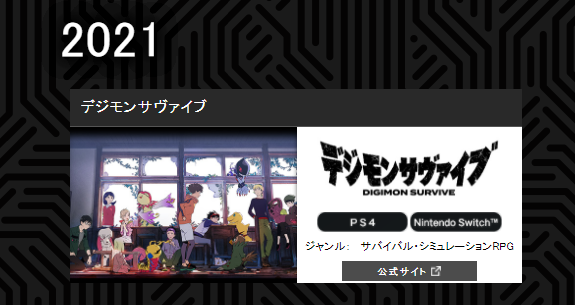 Digimon Survive is listed at the top under 2021. Fans have been waiting for news, and while this isn't quite it, it at least does show it isn't forgotten. And with a new game related subsite appearing, suggests that news may be coming sooner rather than later. (It's worth noting that the game was never announced for more than PS4 and Switch in Japan, which has been listed in materials consistently, so the lack of Xbox or PC mentions doesn't mean much of anything.)
With various companies preparing lots of game news around now, we shall see what shows up...
Also,
Digimon Game Community
, a prior attempt by Bandai at a central Digimon game site is still up, although long since inactive, not lasting long past the initial release of Hacker's Memory, the game it was originally put up to help promote.