Show User Social Media
Hide User Social Media
Joined

Sep 8, 2006
Messages

14,708
Time for some fun!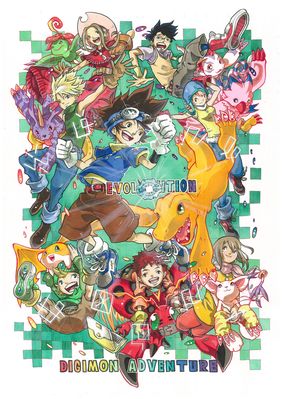 Naoki Akamine is known to Digimon fans for his artwork from the Digimon Universe: AppliMonsters manga, along with the one-shot manga for Digimon Story: Cyber Sleuth- Hacker's Memory.
Since those have ended he's done more
Digimon artwork via his pixiv
which looks really fantastic. After speaking to him and getting his permission, all of it is being reposted here so that more people can see them. He asks that people ask him for permission before sharing his artwork off his pixiv.
The image at the top is a drawing he did of Digimon Adventure before his Appmon manga began. It was posted around when Appmon was officially announced, so may have pre-dated any official involvement he had with the brand (or perhaps was posted right after he found out he'd be involved perhaps?)
It was posted with a simple message:
The rest of the images (thus far) are from 2018, after both the Appmon and Hacker's Memory mangas finished publication. Text in quote boxes are any titles/messages he posted with the images when they went up. Any text outside of the quote boxes is anything I thought might be worth adding.
Many of the images have alternate versions, which are also posted. There are also ones with concepts not 'quite' from the shows themselves (acting a bit representative or abstract in a few cases), which may not have any clarification minus the title of the image.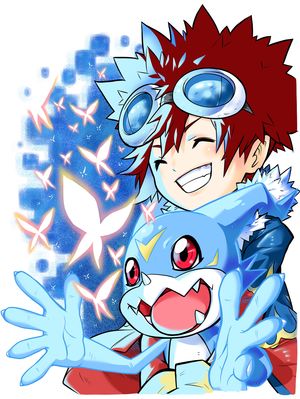 A fun straightforward image of Daisuke and V-mon smiling with butterflies around.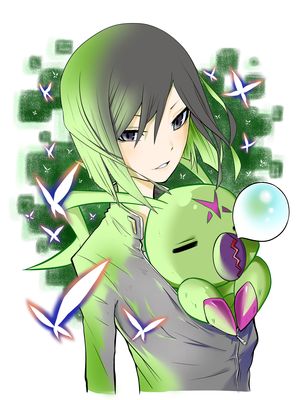 A similiar image of Ken and Wormmon. Wormmon looks cute while asleep.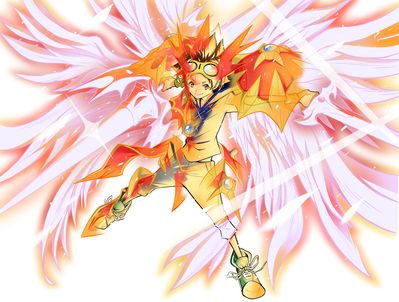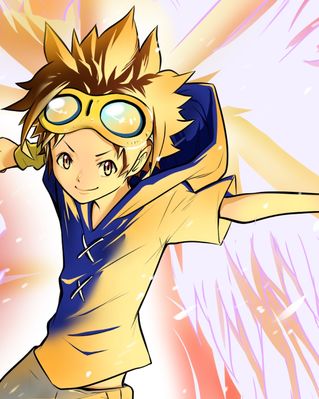 Takato and Guilmon Matrix Evolution
This image appears to be a representative image showing Dukemon beginning to appear over Takato as him and Guilmon are becoming Guilmon.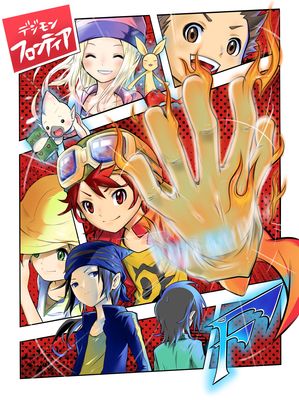 A very nice comic poster image for Digimon Frontier.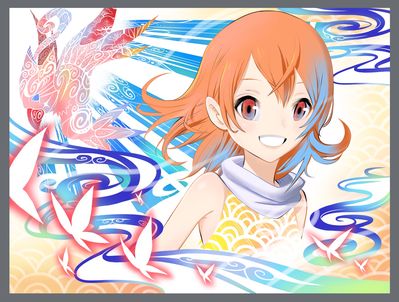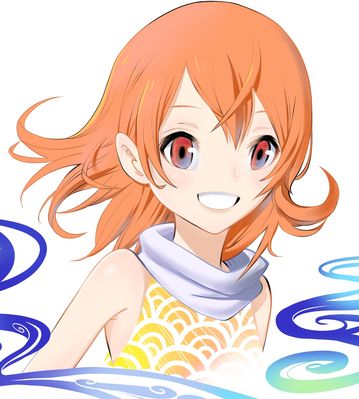 Sora and Piyomon, Okinawa Style
I believe this is meant to invoke the Okinawa style known as bingata, which uses stencils and dyes to create patterns in cloth. It adds a fun and unique look to Sora and Piyomon.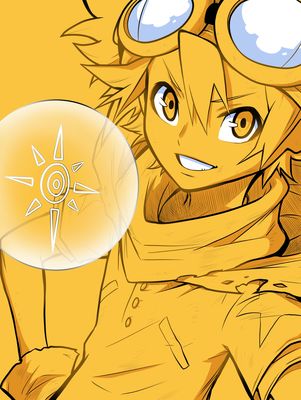 The Hero of Courage
I have really great power!! Thank You!! Taichi
A monochrome type image of Taichi and his crest which looks quite striking.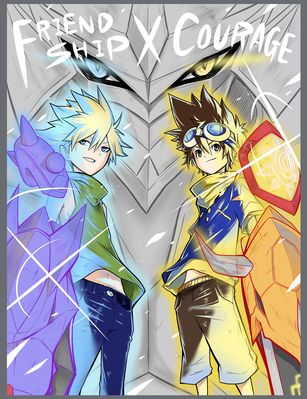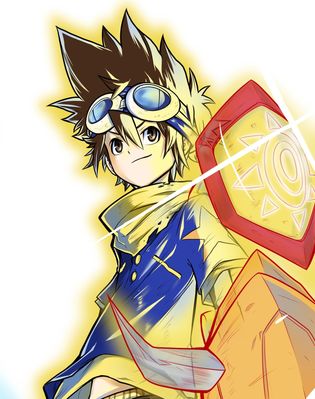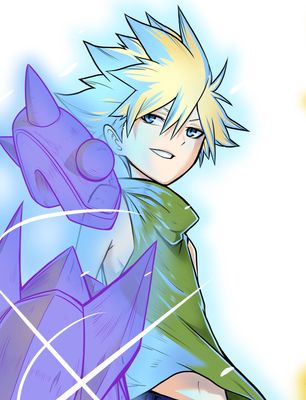 Courage and Friendship
Why is it so cool?
I wonder why I feel so shaken
Omegamo-o-o-o-o-o-o-o-o-n!!! LOL
The Omegamon image evokes the same style he used in his Takato image previously for a great visual. Having the standalone images of Taichi and Yamato shows some of the great detail included.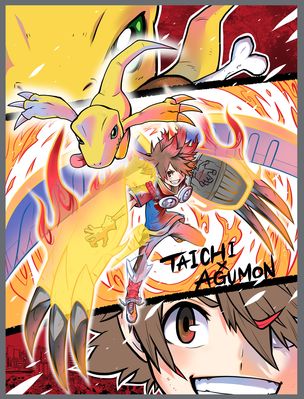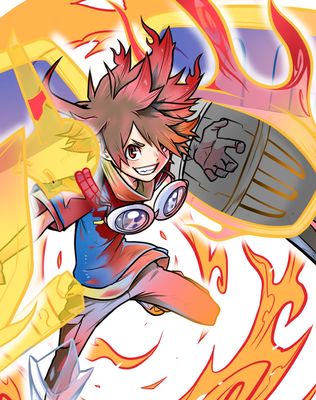 Taichi x Agumon Matrix Evolution!!
Ahhhh~~ I'm really looking forward to Digimon Survive~
By the way, a one-shot manga I did the illustration for is in the Jump GIGA 2018 SUMMER vol. 3, currently on sale! It'd be great if you could check it out!
This image is a slightly more complex comic style image of what he drew for Takato, but with Taichi and Agumon. There's great energy to the image, and even some humor with Agumon's tongue. Jump Giga 2018 Summer Volume 3 is no longer on shelves, but may be available if you look around a little bit.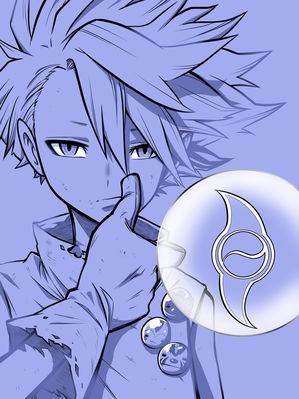 It was just for a short while, but...they were...our friends!
Pumpmooooon!! Gotsumooooon!! *cries*
Ahh~ I really want the Wargreymon line in Digimon Rearise~
A Yamato counterpart to the Taichi image. A unique touch compared to the prior image is that you can see Gabumon and his lower forms in the orbs on Yamato.
On to Appmon! With Akamine making the Appmon manga, his Appmon art has a look most of us are familiar with by now, and seeing him return to these characters is really fantastic!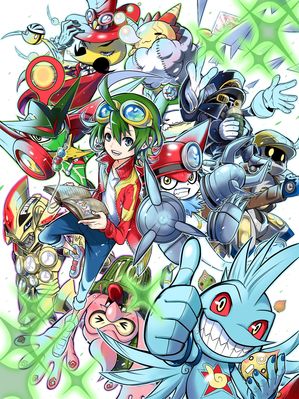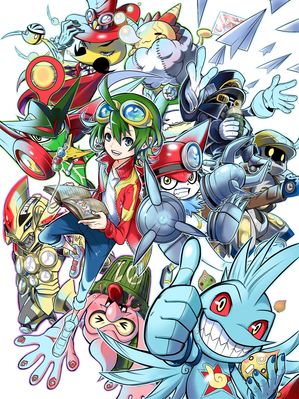 AppliMonsters!!
It's been a while, but was able to get permission so I finally drew some Appmon art! It's a series which I made a gatch-ton of great memories working on!
I hope to be able to draw them from time to time in the future too.
Its easy to pick up the anime to watch whenever on Amazon Prime or via rental.
It's a heated story of about an exciting adventure between humans and Appmon, who are AI born from apps!
Hope you'll check out the manga version that I was given the opportunity to work on, too!
This group shot of Haru, Gatchmon, with a number of other Appmon actually invokes a few images that showed up in the manga as splash pages or promotional images. The alternate version is the same, it just doesn't feature the visual effects.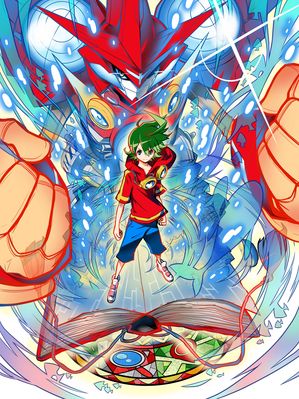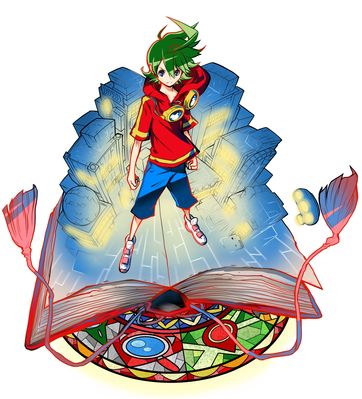 This is my story...
Globemon is so cool... I wish I could ride on his shoulder too...
The theme here appears to be Haru's story coming out of a book. The alternate is pared down to just Haru. The stained glass feature underneath adds a nice touch.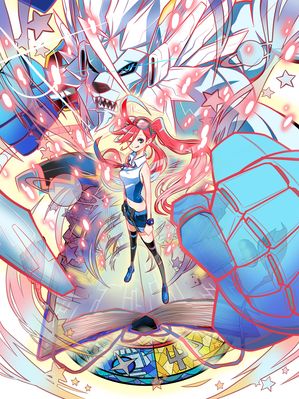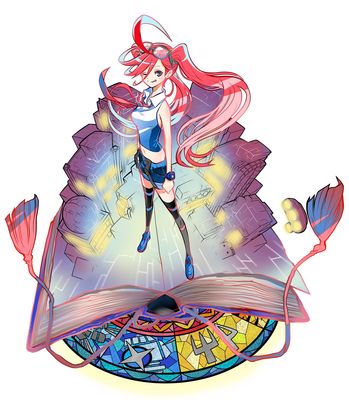 This is my story...
I get nervous when I have to draw girls (like Eri-chan)... since I have to make sure I draw them cute enough... and because she is the center of the universe! *laughs*
The theme continues with Eri. She's drawn with some great detail (you can see the Seven Code Band on her wrist for example.)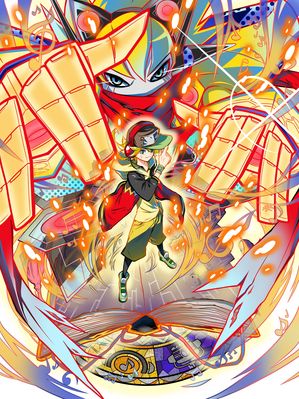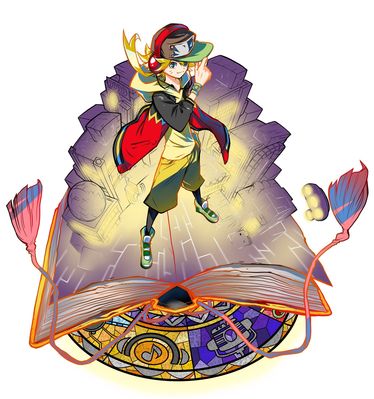 This is my feelin' it story...
Soon... not long from now... my G.E.M Series Wargreymon and Taichi-san will finally arrive!! I feel almost sick from the excitement!!! Yayyyyyy
Last up we have Astra. Astra's general style works great for an image like this, as he somehow looks both serious, but ready to run off aloof for fun.
Some really great art that I'm sure everyone will love. Hopefully there will be more to share in the future, as Akamine's style and visuals have a unique charm to them.
Thanks to garm for translation help.
Huge thanks to Naoki Akamine for permission to repost all of these.
Make sure to visit his pixiv
and check out his artwork!
The images have also been archived on
our gallery site
.
If you want to buy some of his work...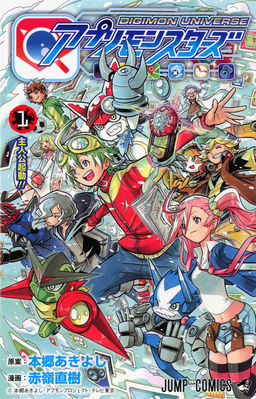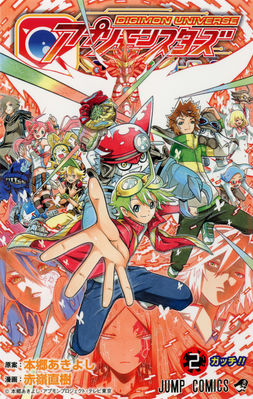 Both volumes of the Appmon manga by Naoki Akamine are still available to buy: (Affiliate links)
Digimon Universe: AppliMonsters Manga Volume 1
Digimon Universe: AppliMonsters Manga Volume 2
Since someone mentioned they don't see the product links... Some adblockers also remove CDJapan affiliate links. If possible, please set it as disabled for WtW. We don't have ads on the site, just appropriate text affiliate links.