Show User Social Media
Hide User Social Media
Joined

Sep 8, 2006
Messages

16,928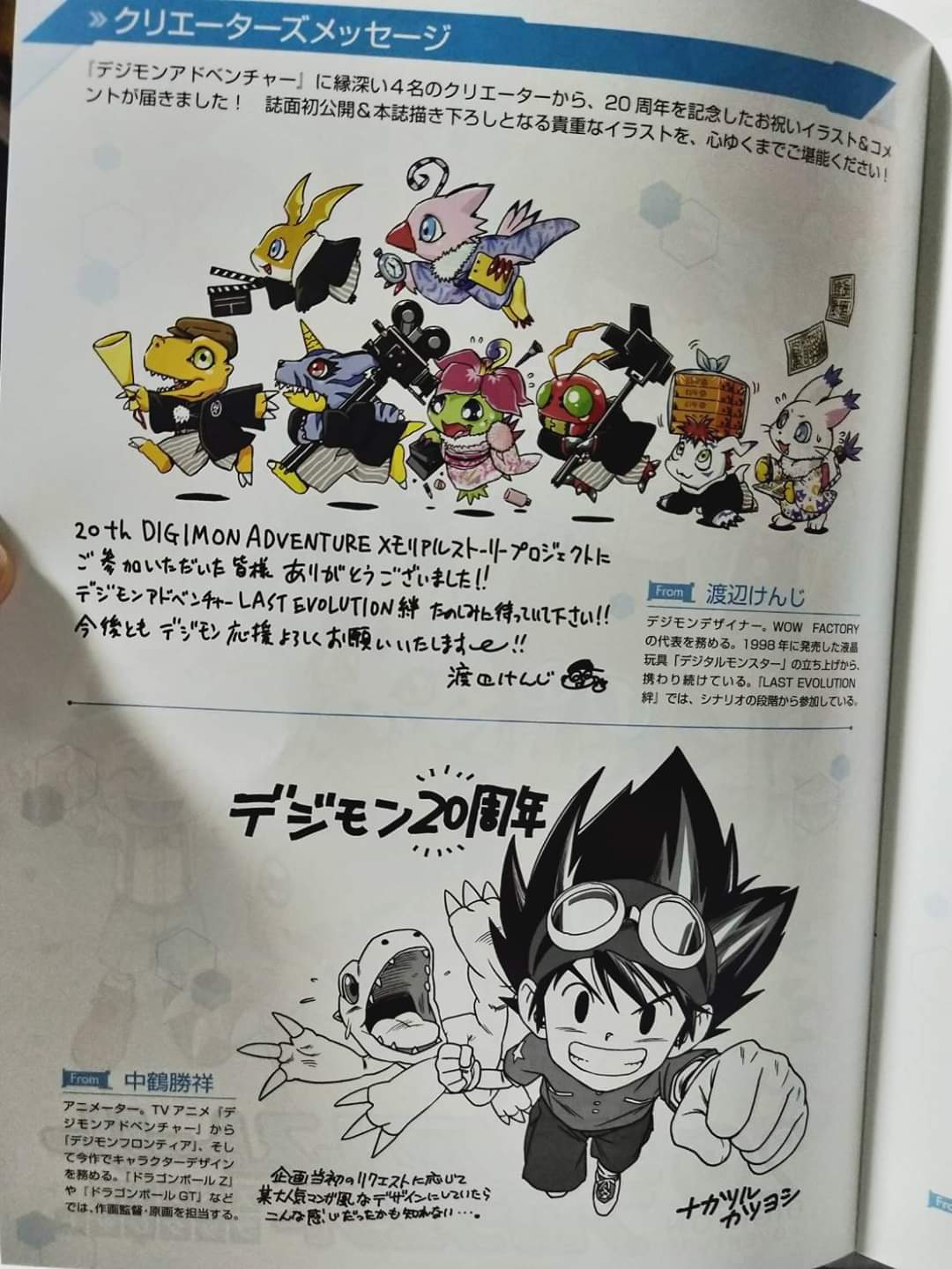 The early shipping products for
the Memorial Story crowdfunding project
have begun to ship and images began to show up a bit earlier in the day.
Once we have proper scans we'll go through everything (most of it is text), but for now a preview with the images showing off new artwork from the booklet.
Any translations will follow as time allows.
First up, 2 pages featuring illustrations and comments from 4 creators closely connected to Digimon to help celebrate the 20th Anniversary of Digimon Adventure.
The first page features:
Kenji Watanabe- Longtime Digimon designer who has been around for the history of the franchise and continues to do new designs (including for the new movie.)
He's drawn the Adventure Digimon working on the new movie.
Katsuyoshi Nakatsuru- Character designer for Digimon Adventure, 02, Tamers, and Frontier, the new movie, along with other Digimon materials. Also well known for his work on Dragon Ball Z and GT.
He's drawn Taichi and Agumon in a familiar art style.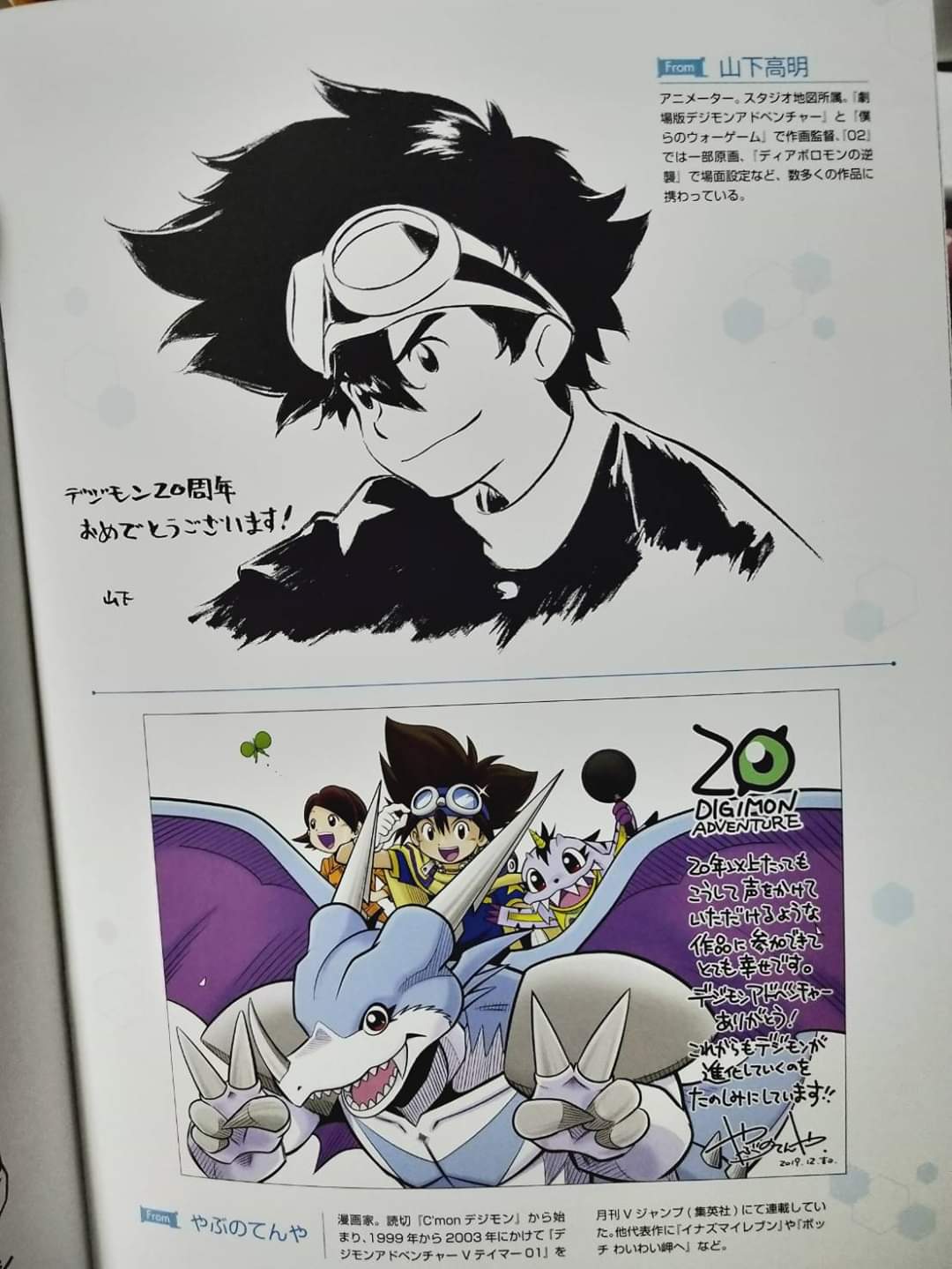 The second page features:
Takaaki Yamashita- Animation director for the original Adventure movie annd Children's War Game (plus character design for War Game), along with key animation for Adventure 02, and scenery design for Diablomon Strikes Back.
He's drawn Taichi (it appears he went with a look akin to War Game.)
Tenya Yabuno- The artist for Digimon V-Tamer and C'mon Digimon, who designed a number of early Digimon characters.
He's drawn the main leads from his manga, Digimon Adventure V-Tamer, along with a small butter-fly.
And last up...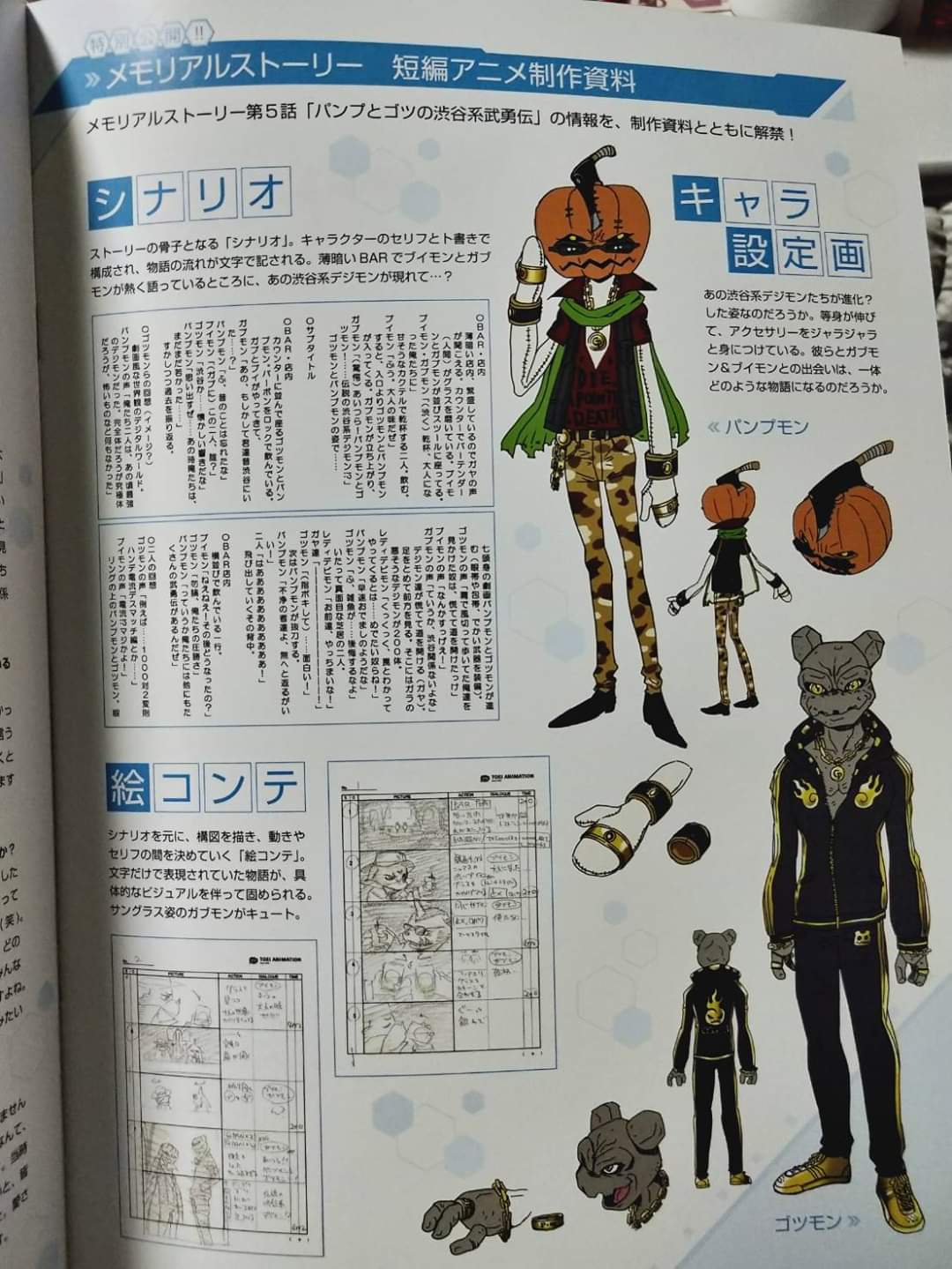 Information and production materials to act as a preview for Memorial Story 5- The Shibuya-ish Heroic Saga of Pump and Gotsu. This was the story that originally had
a hidden title until roughly half a year ago.
And we get to see the new designs for Pump and Gotsu which had been teased a bit in the past.
Some of the text does tease 'what' is happening by musing on 'if' they evolved, and what the story is behind the encounter... but the designs speak for themselves on how fun and ludicrous they look.
Some neat art to show off in the booklet.
More to come...
Thanks to a baidu user for the images.