Show User Social Media
Hide User Social Media
Joined

Sep 8, 2006
Messages

12,015
We had a small taste earlier...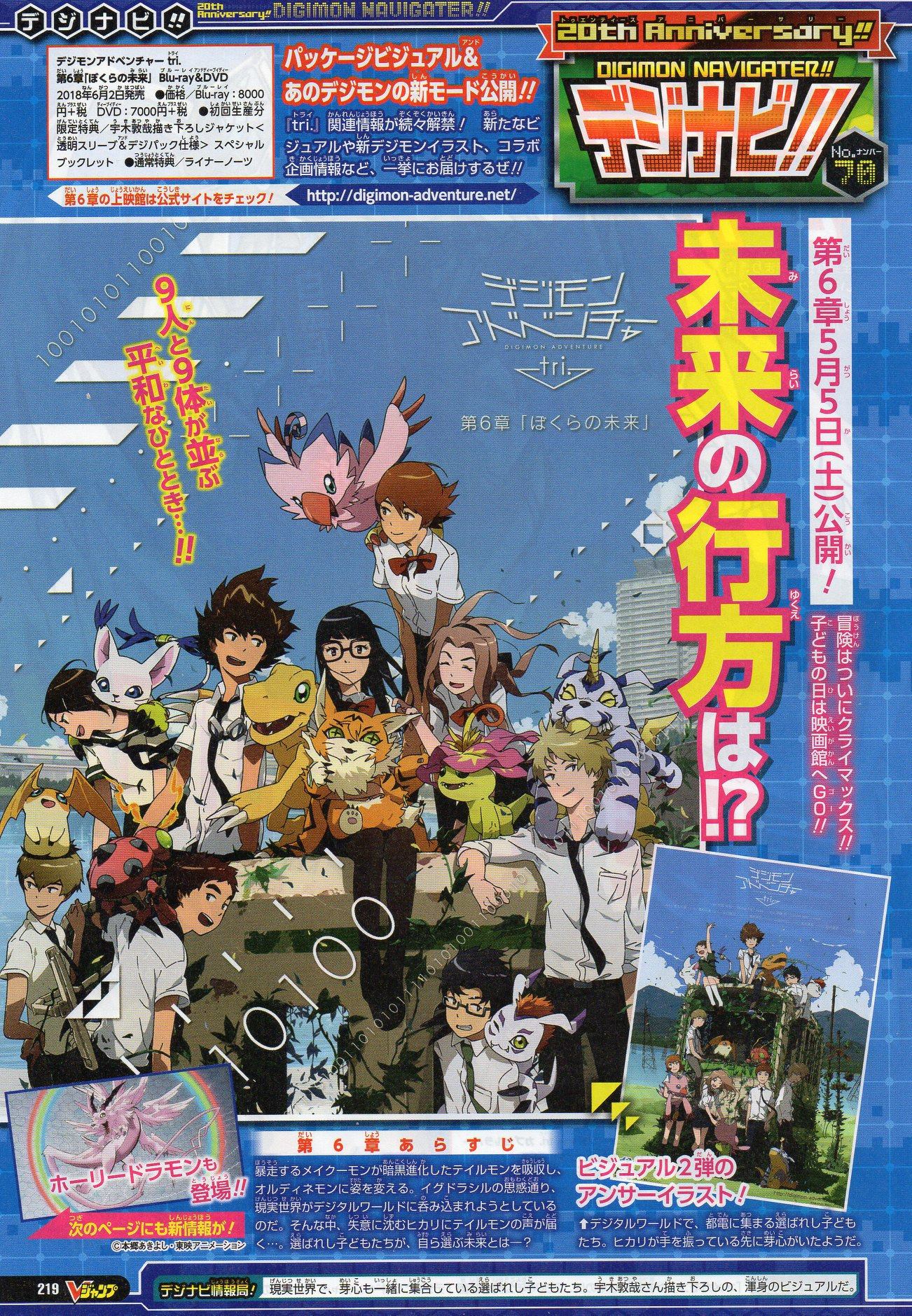 But now we have a bunch more from the April issue of V-Jump!
First up, just a basic tri. Part 6 teaser page showing off the new cover art, while also showing the resemblance to the train car art we got before tri. started.
The Blu-ray and DVD for tri. Part 6
is currently available to pre-order. (Normal versions are affiliate links)
Digimon Adventure tri. Part 6 Blu-ray
Digimon Adventure tri. Part 6 Blu-ray (Amazon Version)
Digimon Adventure tri. Part 6 DVD
Digimon Adventure tri. Part 6 DVD (Amazon Version)
Then next up, more tri.!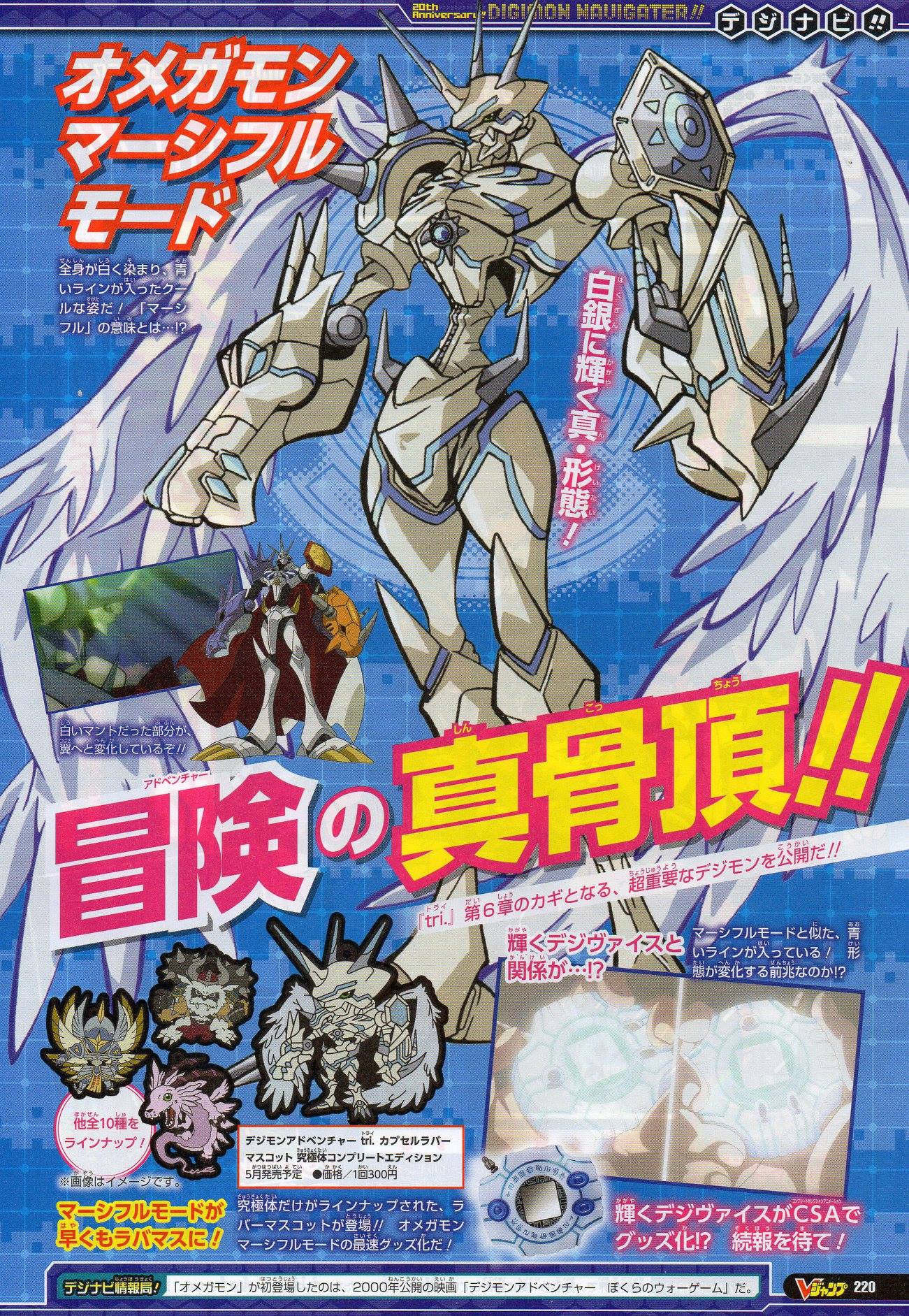 This page shows off Omegamon Merciful Mode (who we just got
his name and good images of recently
), along with teasing new products!
First, a new series of rubber straps. This set is called the 'Ultimate Level Complete Edition' and there will be 10 straps total. They'll be out in May and cost 300 yen each, random packed via gacha machines. We can see four of these new straps: Vikemon, Seraphimon, Holydramon, and Omegamon Merciful Mode.
Then they show us the 'Shining Digivice', which has blue line highlights like Merciful Mode. They wonder if it's related to the change in form...
They finish by teasing and showing off an upcoming CSA Shining Digivice! It's not mentioned, but the image is likely an early prototype. No further details on the new CSA Digivice for now, but they mention to stay tuned.
Update- We have the missing page.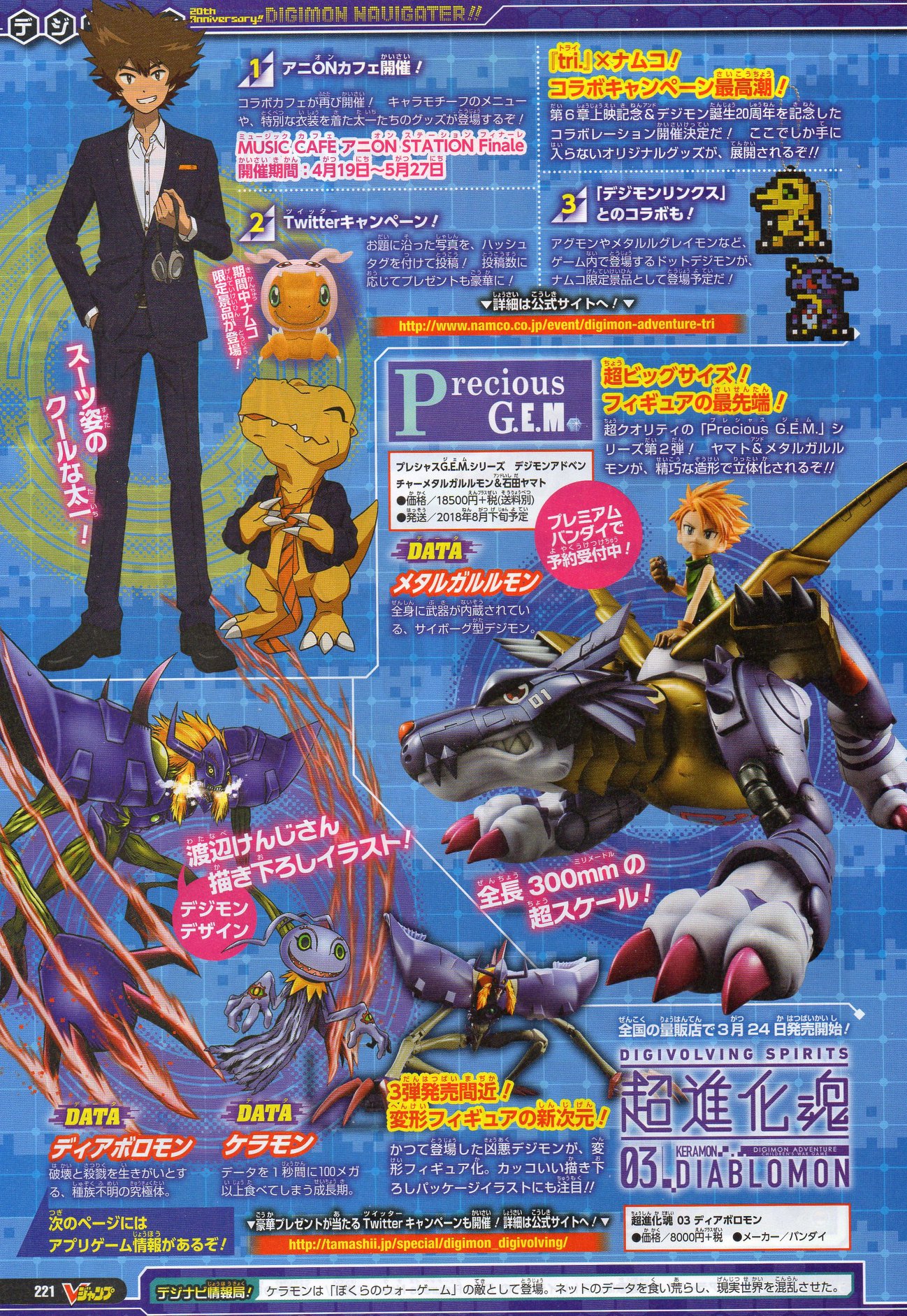 It shows off the Taichi and Agumon art from
the upcoming cafe
, while also mentioning the dates for it. We also get mention of an upcoming Twitter campaign like Namco has done for tri. a few times before. They finish the namco section by showing off the
sprite Digimon keychains and the plushies
that we just saw.
The rest of the page is dedicated to the upcoming
Diablomon Digivolving Spirits figure
and
Precious GEM MetalGarurumon
.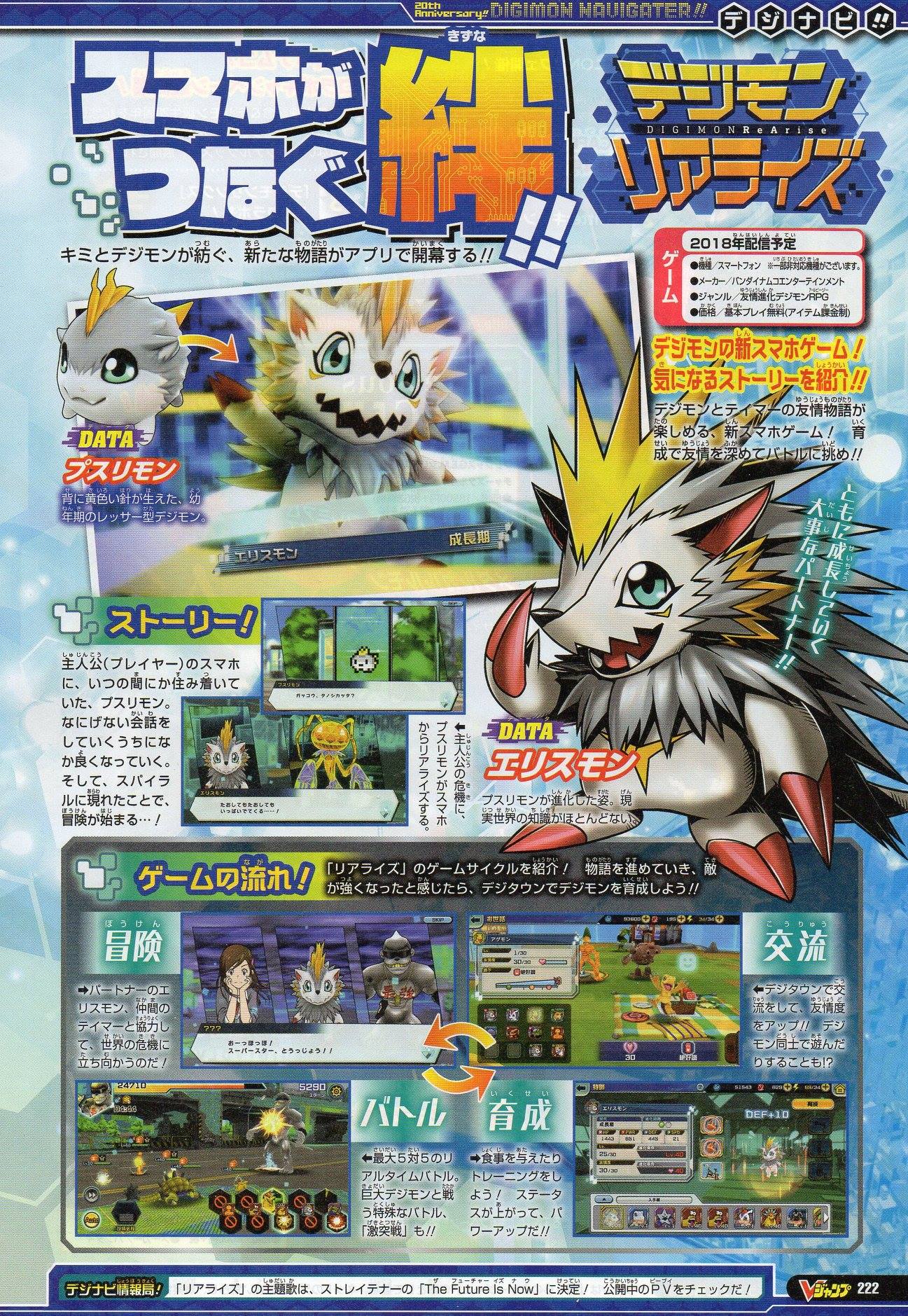 Then we have a page with
more ReArise info
!
Erismon's Baby 2 stage is named Pusurimon. And we have a short profile for him: A Baby 2 level Lesser type Digimon with yellow spines growing from its back.
The story for the game is...
One day, the protagonist happens to realise that Pusurimon has been living inside their smartphone since who knows when. They begin to talk, gradually becoming friends through their conversations. The adventure begins with the appearance of Spiral...!
Pusurimon realised from the protagonist's smartphone just as the protagonist was in danger.
As you progress through the games story, you can stop and go raise your Digimon in Digitown if you the enemies are getting to strong.
There are 4 aspects to the game. We've gotten info about these before, but this appear to give us even more information:
Adventure- Take on the crises that threaten the world with your partner Digimon Erismon, along with the help of your Tamer friends!
Battle- A real time battle that can be up to 5 vs 5. There are special 'clashes' when you fight a giant Digimon.
Raising- You can Feed Digimon or train them, raising their stats and powering them up.
Interaction- You can interact with your Digimon in Digitown and raise their friendship level. Digimon can also play with eachother.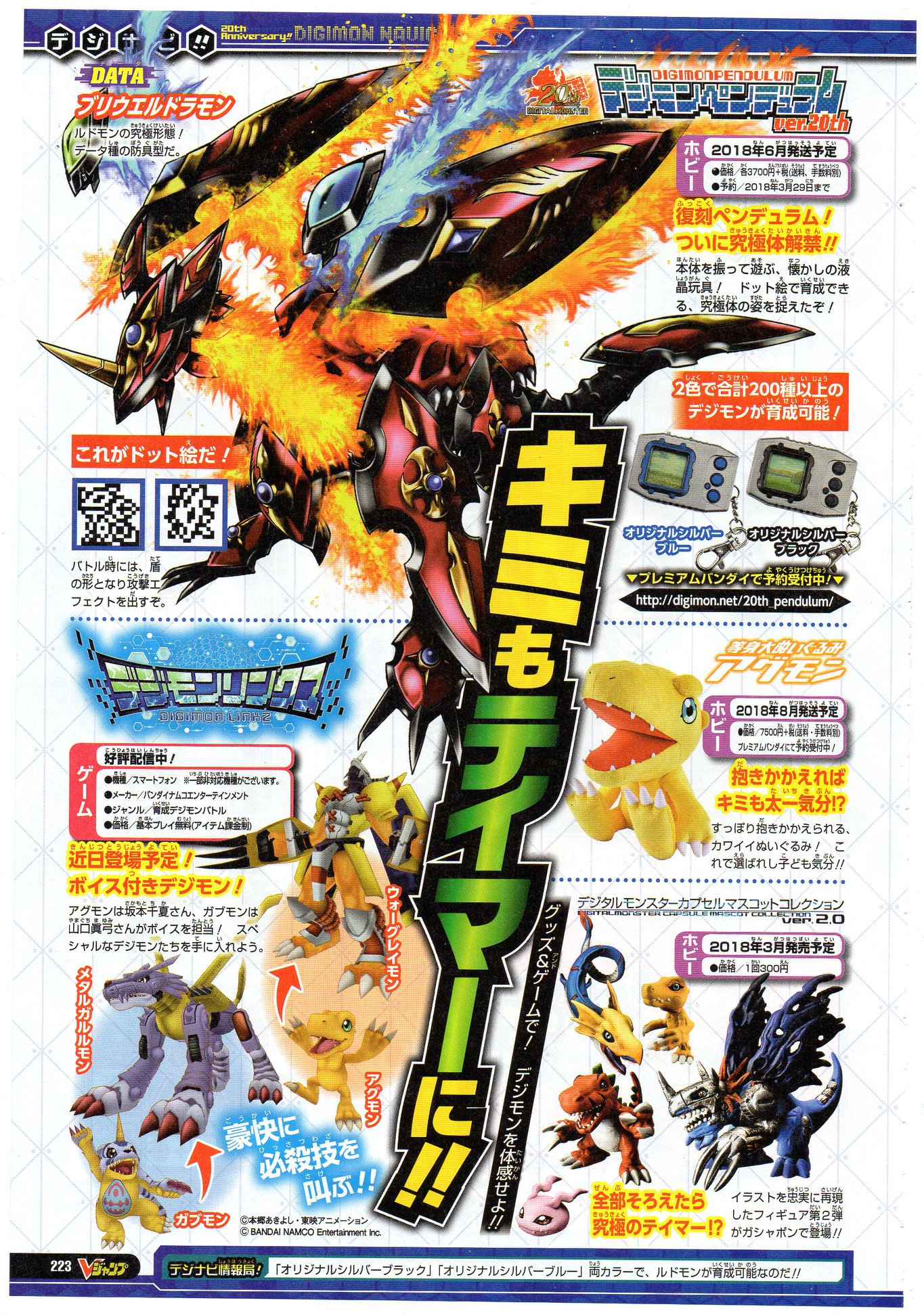 The last page
we went over previously
, but here is a quick overview, and detailing one extra thing...
It shows off Rudomon's Ultimate level, Pryweldramon/Bryweldramon, from the 20th Anniversary Pendulum.
We also get a quick look at the recent
2nd wave of the Capsule Mascot Collection
, along with the
lifesize tri. Agumon plush
.
They finish off with a preview of special versions of Agumon and Gabumon in Linkz. These versions will be voiced by Chika Sakamoto and Mayumi Yamaguchi (their actors in Adventure, tri., etc.)
Thanks to garm for the translations
Update- Thanks to
IxLOVExDigiMon
for the updated images and
Dimensao Digimon
for the heads up.
Update- Added more translated ReArise details from garm. Also changed the name of Erismon's Baby 2 to Pusurimon.