Show User Social Media
Hide User Social Media
Joined

Sep 8, 2006
Messages

17,382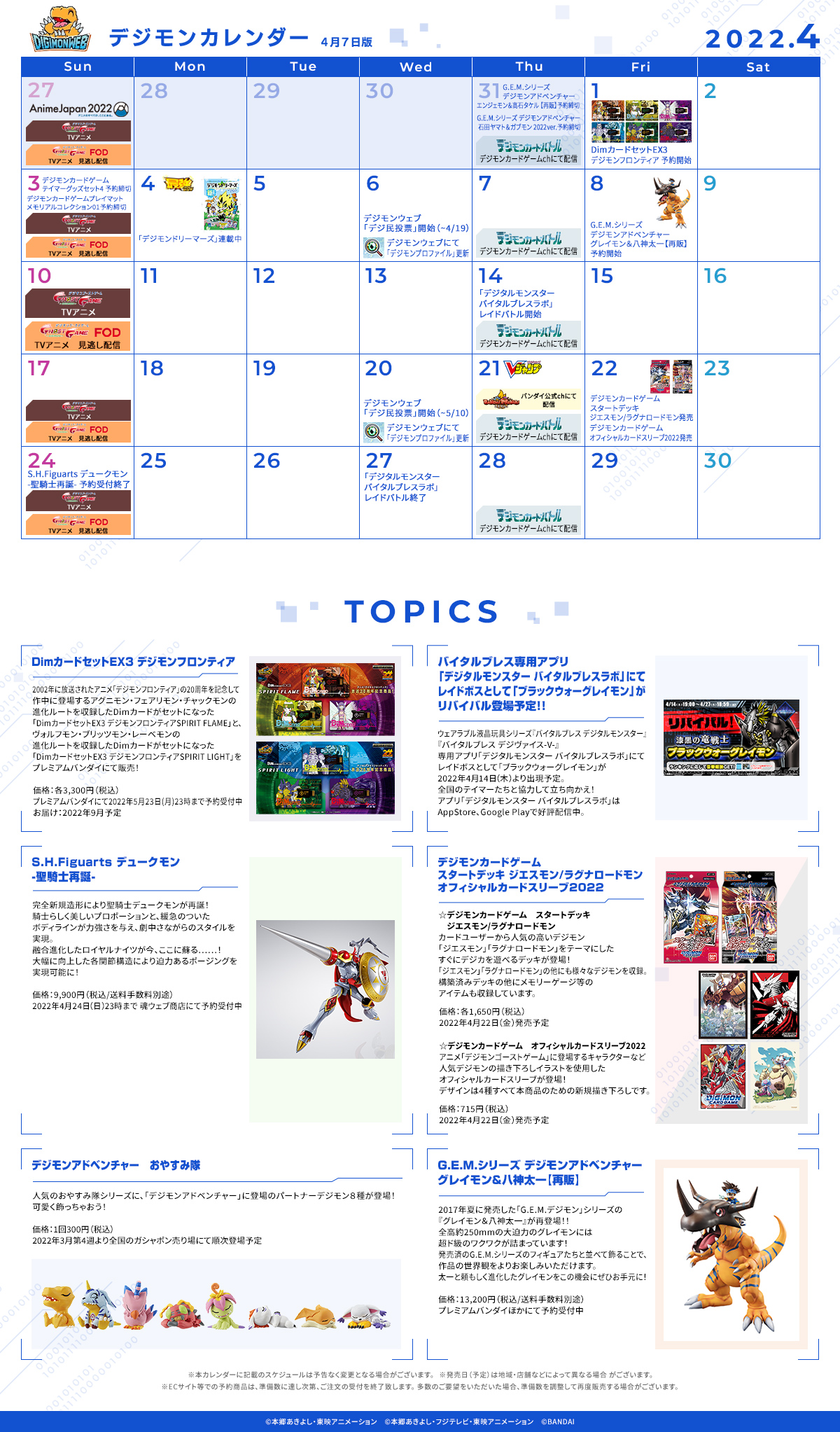 The April Digimon Calendar
has been uploaded!
'Digimon Calendar' will be delivered at the beginning of each month to allow easy 'at a glance' Digimon updates for what is coming up.
Recently they've begun to add things to the calendar later in the month as new things pop up. We may or may not do this in the future, as time allows, as most updates we end up covering on our own, often before they are in the calendar.
Digimon Calendar contains 2 sections...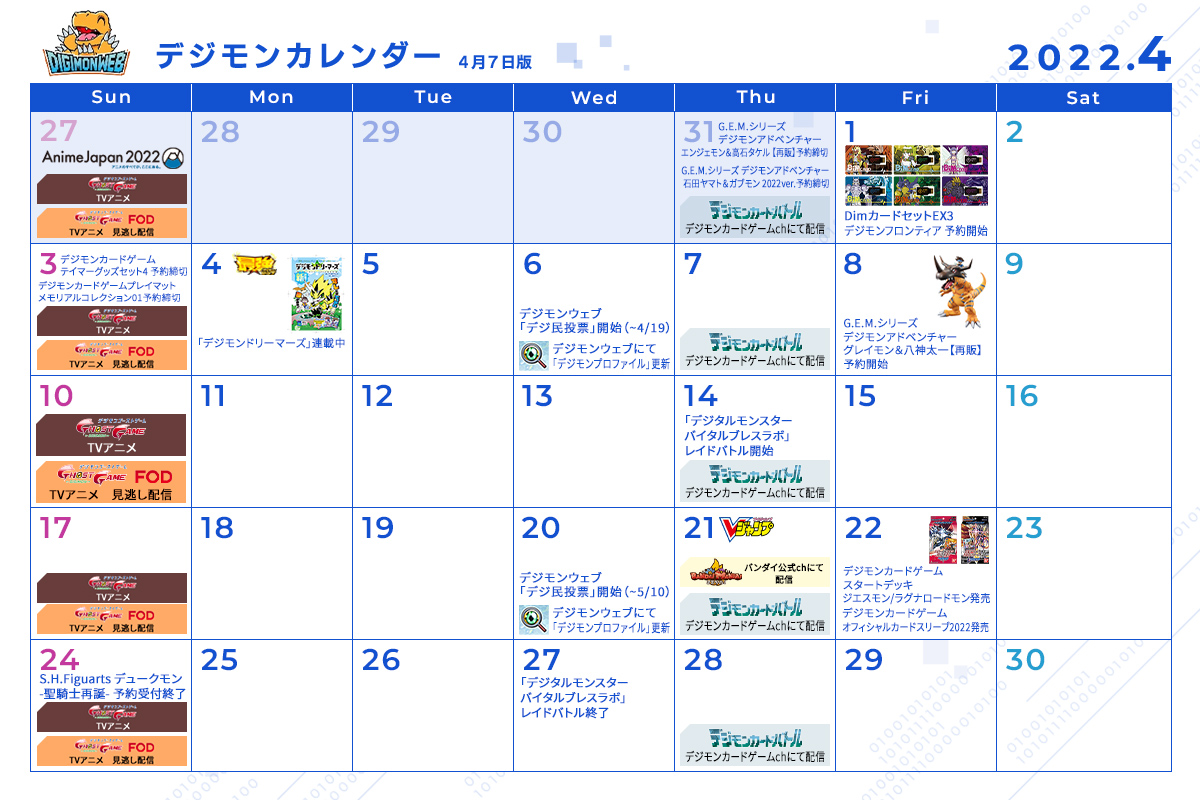 The actual calendar, which is quick at a glance details. (Dates/days are for Japan, based on on where you live it might be off slightly.)
It should be noted, the info, while decently wide, is not comprehensive. For example, they aren't showing Fun Digica and various other things which might be released as a surprise, along with some things that they just aren't announcing specific dates for (and some things that they've just chosen not to list.)
If there is a symbol in the top right, that means there is a magazine with planned Digimon content. For example- V-Jump is normally on the 21st. Saikyo Jump also includes new chapters of the manga 'Digimon Dreamers'
The brownish box on Sundays is for episodes of Digimon Ghost Game (with the orange box the same day being on demand repeats going up.)
Yellow boxes are for videos delivered via Bandai (the ones with the logo are delivered by Bandai Mania, which has been Digimon Classroom, Road to Digimon Card Master, etc.).
The slightly greyish boxes on Thursday are for Digimon Card Battle episodes.
Digimon Profile is the 2nd and 4th Wednesday of the month with the magnifying glass icon (as space allows.) Every other Wednesday is also a new fan poll.
There are also various additional things for April: (this isn't comprehensive, some smaller bits aren't translated)
April 1st- Pre-orders open for
Dim Cards EX3 Digimon Frontier
April 3rd- Card Game
Tamer Good Set 4
&
Memorial Collection 01 Playmat Pre-Orders
Close
April 8th- Pre-orders open for Greymon & Taichi GEM Figure re-release [WtW article will go up once pre-orders are open]
April 22nd- Card Game
Starter Deck 12 & 13
released
April 24th-
Dukemon Figuarts Pre-orders
close
April 17th is also when Digimon Ghost Game returns from hiatus.
On top of the calendar itself...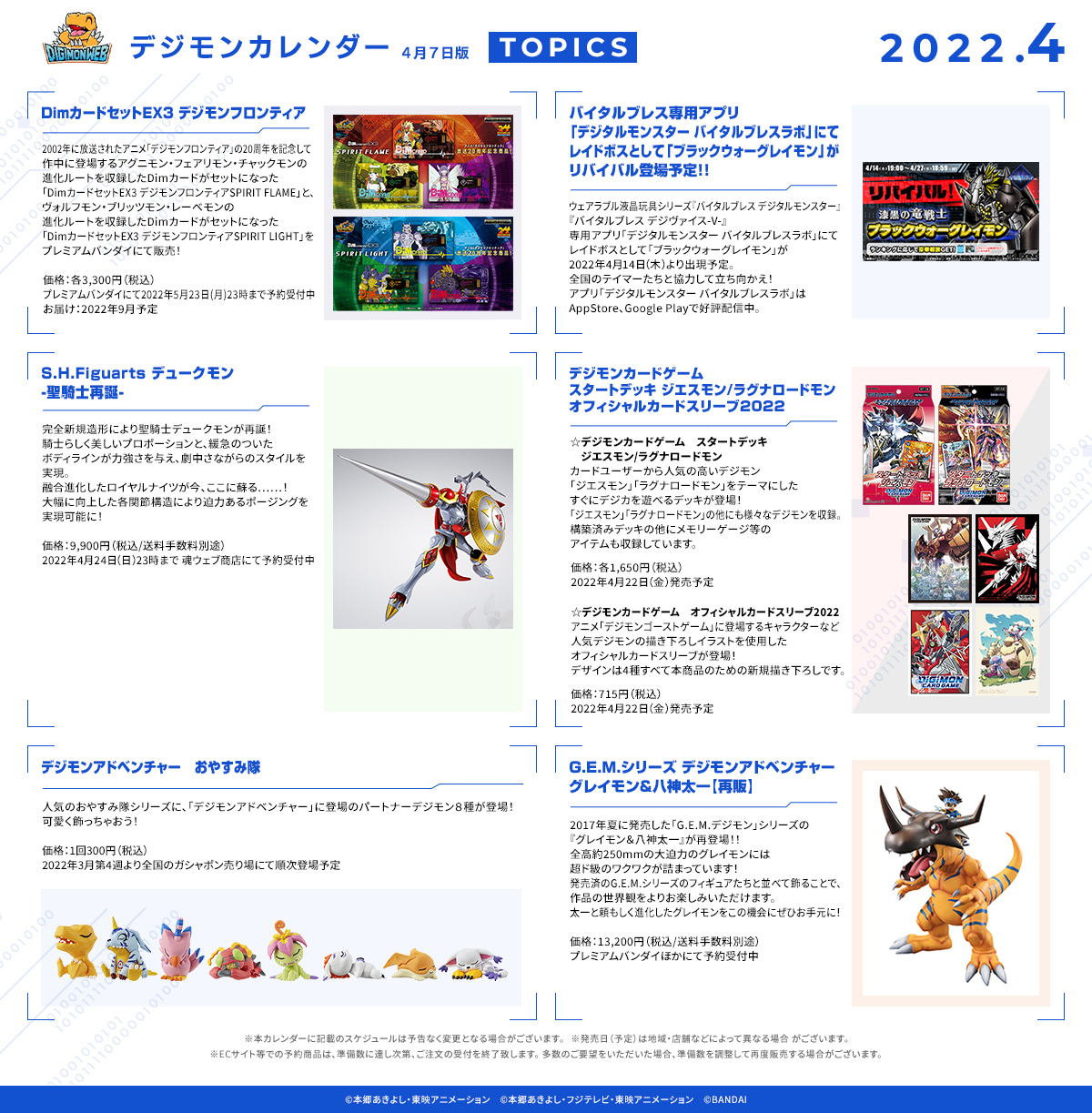 'Topics' covers a few specific items of note. These aren't 'always' related to the month, but are things they want you to know about:
Going over the
EX3 Dim Cards
BlackWarGreymon returning as a raid boss for the VB app
The
Dukemon Figuarts
the new starter decks and
sleeves
for the card game
the
Digimon Adventure sleeping
mini figures
the re-release of GEM Greymon & Taichi
April is a standard but somewhat focused month it feels like.