Show User Social Media
Hide User Social Media
Joined

Sep 8, 2006
Messages

15,226
We have some new Appmon updates courtesy of what appears to be pages from a toy catalogue.
First up, we get a reveal of the 5th AppliDriver...
and it's Yuujin!
Yuujin will have a new, upgraded AppliDrive called the AppliDrive DUO. This new AppliDrive (and Yuujin being an AppliDriver?) will happen in April.
Haru and the others will receive their upgrades to have DUOs around June.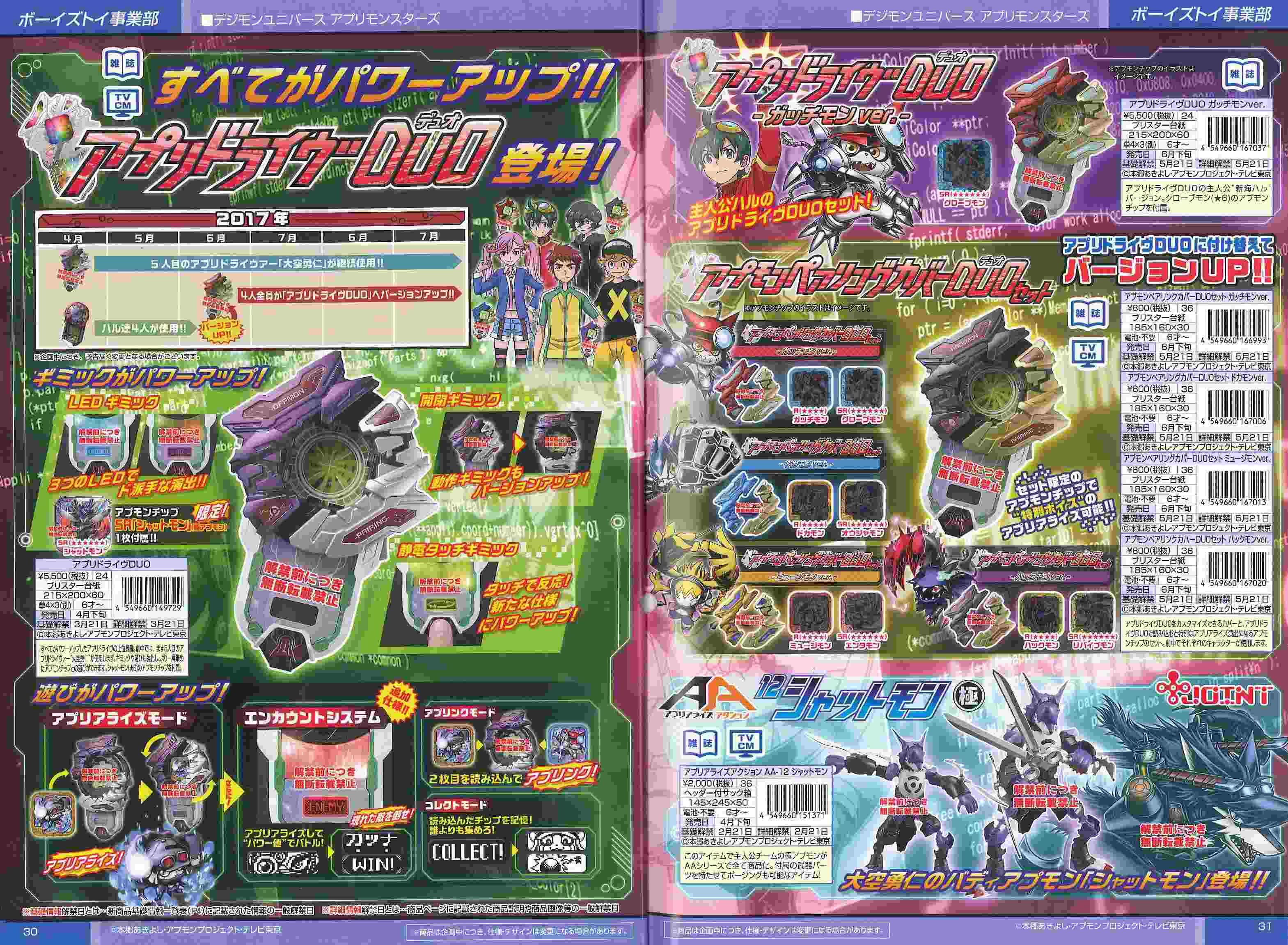 The new AppliDrive DUO will cost 5,500 yen for its product, and there will be sets called "Appmon Pairing Cover DUO" to convert them to Haru, Eri, Tora, and Rei's that cost 800 yen.
The DUO cover sets are:
Gatchmon Version- includes Gatchmon and Globemon Appmon Chips
Dokamon Version- includes Dokamon and Oujamon Appmon Chips
Musimon Version- includes Musimon and Entermon Appmon Chips
Hackmon Version- includes Hackmon and Revivemon Appmon Chips
Update- In June they will sell Haru's AppliDrive DUO that will come with a Globemon chip.
The new AppliDrive DUO will feature Appliarise mode, the Encount System, Applink, and a Collect mode.
Yuujin's Appmon Buddy will be Offmon, from the Appmon 3ds game (can Onmon be far behind?)
Images show Offmon's higher forms Logamon and Shutmon.
In addition, we get images of Biomon, Beautymon, Fakemon, Charismon, who are stated to be 'the strongest enemies.' (Update- A misunderstanding while writing for the article had incorrect details for these Appmon.)
The Shutmon figure that we
first found out about a few days ago
we have pictures for.
In addition, the Seven Code Band will appear in the show in March, so not to much of a wait for it.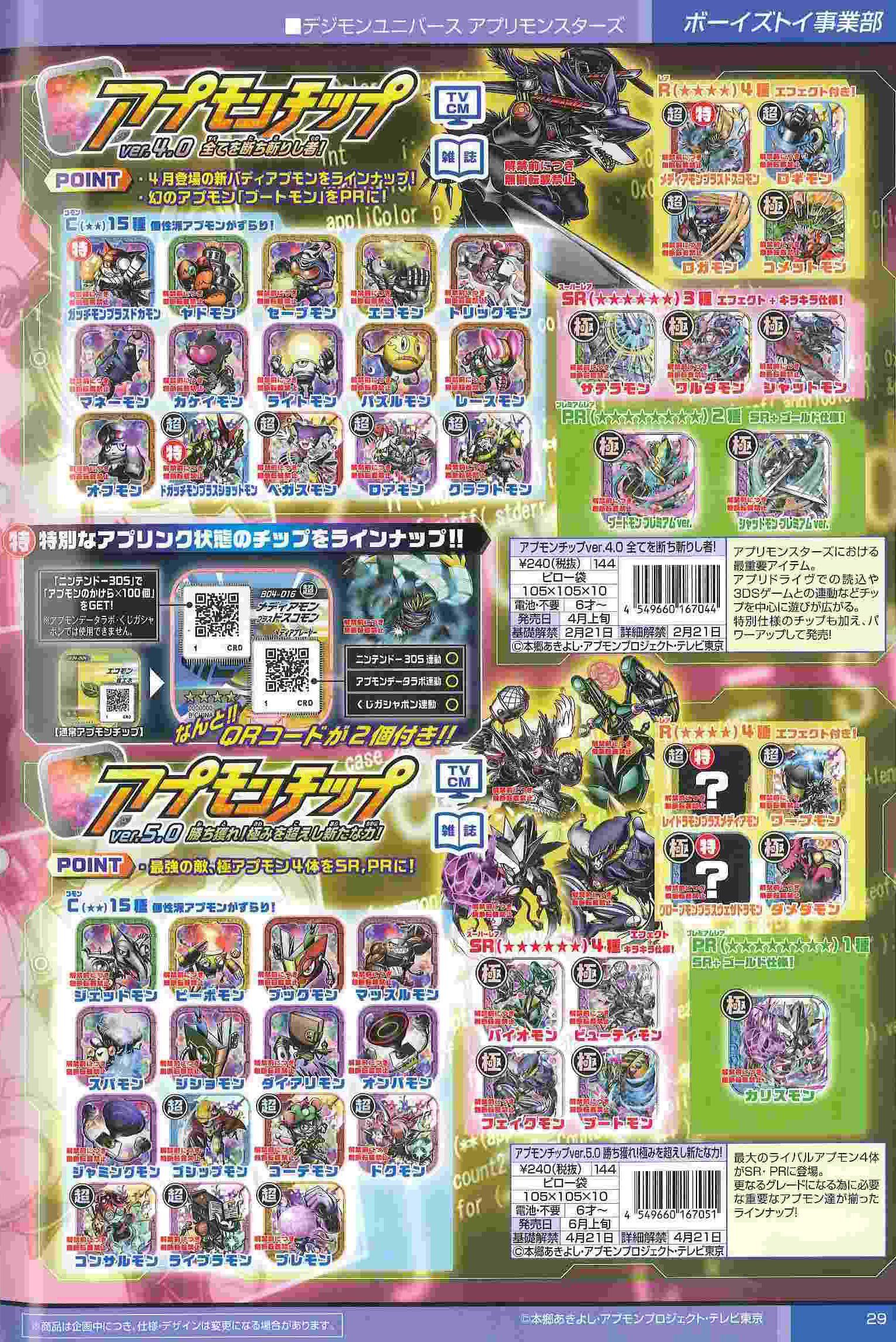 We finish with a look at a bunch of new/upcoming Appmon Chips. Thanks to garm for a full list of them....
4.0 (on sale early april)
Common:
Gatchmon Plus Dokamon
Yadomon
Savemon
Ecomon
Trickmon
Moneymon
Kakeimon
Lightmon
Puzzlemon
Racemon
Offmon
Dogtachmon Plus Shotmon
Vegasmon
Roamon
Craftmon
Rare:
Mediamon Plus Dosukomon
Logimon
Logomon
Cometmon
SR:
Satellamon
Warudamon
Shutmon
PR:
Bootmon Premium Ver.
Shutmon Premium Ver.
5.0 (on sale early june)
Common:
Jetmon
Pipomon
Bookmon
Musclemon
Spamon
Jishomon
Diarymon
Onpamon
Jammingmon
Gossipmon
Coordimon
Docmon
Consulmon
Libramon
Braimon
Rare:
Raidramon Plus Mediamon
Warpmon
Globemon Plus Weatherdramon
Damedamon
SR:
Biomon
Beautymon
Fakemon
Bootmon
Big thanks to
Peachy
for the images. Also thanks to Shadow Shinji who made us aware of some of this about a week ago (the image at the time was only of Yuujin and Offmon. It was so tiny and blurry and damaged it was impossible to tell if it was real or not.)