Show User Social Media
Hide User Social Media
Joined

Sep 8, 2006
Messages

16,175
We finally have the boxart for Appmon DVD-Box 1!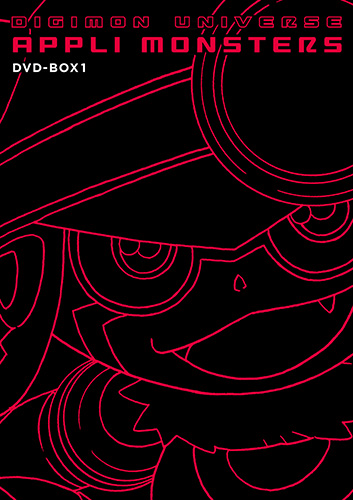 We believe this is the cover to the artbox and not the slipcover by Kenichi Ohnuki (at least for the moment, we aren't sure.)
In addition, each copy of DVD-Box 1 will come with a postcard. You send in and fill out the postcard before May 31st and you are
entered in a drawing for 1 of 100 prizes
. This will be Japan only.
The prizes:
Applidrive - 5 winners
Appmon 3DS game - 5 winners
Appmon Chip 3-pack set (1 pack from each of the 3 sets) - 20 winners
Appmon Chip Set 4 Gashapon set (all 12 varieties in the set will be included) - 5 winners
Appliarise Action Gatchmon - 7 winners
Appmon 7code Pad - 3 winners
Large Gatchmon Plush - 3 winners
Ichiban-kuji Appmon Can Badges (all 20 designs will be included) - 2 winners
TCG Set 2 Booster Pack - 5 winners
Data Carddass 4-card pocket binder - 5 winners
Appmon Buddy Collection gashapon keychains set 1 (all 5 designs included) - 5 winners
Appmon Buddy Collection gashapon keychains set 2 (all 4 designs included) - 5 winners
Lunchbox - 3 winners
Plastic cup - 3 winners
Chopsticks set - 3 winners
Appliarise Monsters - 1 box (includes 20 toys) - 3 winners
Crew Socks (you get 1 out of the 3 designs) - 3 winners
Stationery Set (colouring book, notepad, jigsaw puzzle) - 5 winners
B2 size (20.2 x 28.6 inches) Poster with Cast Autographs - 10 winners
Below is all the prior info we have about the DVD-Box
The first commercial for the upcoming Digimon Universe: AppliMonsters DVD-Boxes.
It's a standard but nice ad for the home video release of the show.
We found out the release schedule and plans for Appmon on DVD awhile ago
The first boxset will come out on April 4th, 2017 for 11,800 yen.
It contains episodes 1 thru 13.
Amazon currently has both a normal listing and an Amazon exclusive edition. (Normal versions are CDJapan affiliate links.)
Appmon DVD-Box 1 Pre-Order
Appmon DVD-Box 1 Amazon Edition Pre-Order
Listings for boxes 2 thru 4 are also up, all with the same price as box 1.
Appmon DVD-Box 2
, episodes 14 thru 25, July 4th, 2017
Appmon DVD-Box 3
, episodes 26 thru 37, October 3rd, 2017
Appmon DVD-Box 4
, episodes 38 thru 52, January 6th, 2018
The Amazon exclusive bonus item is a bit detailed to get...
You buy the 4 DVD-Boxes from Amazon Japan and each one comes with a voucher code. You use all 4 voucher codes on a special website once the boxes are out. They will only ship to Japan. In theory you could plan it out carefully with an intermediary if you really wanted it.
When the redemption works you will recieve a B2 sized (20 by 29 inches) cloth poster.
And the various listed features and extras for box 1:
The art box itself will have a brand new design on it.
A Slipcover designed by character designer Kenichi Ohnuki (who is also the art director for the series I think.)
A 'special' booklet.
As for on disk extras...
Clean OP
Clean ED
Promotional Video (it isn't clear if this is a single video or plural)
Character Introductions Video
It's a nice looking package.
We are taking donations
to make sure we can get a copy for the site to do a proper breakdown as we always try to do.
Our prior thread about the Appmon DVDs can be found
here
.
Update- We have a lot more to see now! Thanks to G-Santos for the heads up and
Animate Times
for the image.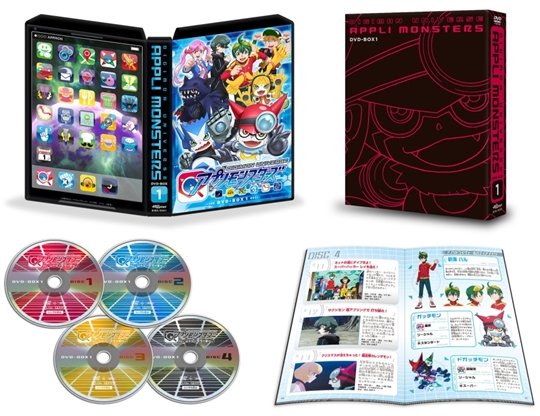 We have a nice look at the package (hopefully bigger soon), which we saw the front of recently, we also get to see the inner box.
I'm inclined to say the red/black is the inner box, while the 'art box' is in fact the slipcover.
We also get our first look at the booklet, and the four disks themselves.