Show User Social Media
Hide User Social Media
Joined

Sep 8, 2006
Messages

14,713
We have the first solid info on a Western country running Appmon!
Digimon Universe: AppliMonsters is currently
scheduled to begin a run on French channel 'Boing'
on Saturday, October 21st at 5:50pm under the title "Digimon Appmon."
Character names given in the short description given for episode 1 stick to the Japanese names: Haru Shinkai, Gatchmon, Messemon, Yujin.
The first episode is listed as "Résultat de la recherche: Haru Shinkai! Gatchmon fait son entrée" which translated to English roughly as "Search Result: Haru Shinkai! Gatchmon makes his Entrance" which is reasonably close to what has generally been used as the translated Japanese title of episode 1.
Toei has often done licensing in various European companies completely separate from many English speaking countries, so while it's good we have confirmation of what appears to be the first western country getting a version of Appmon, it doesn't necessarily give us solid info on what to expect for the rest of us (or it could be announced tomorrow for all we know.)
Thanks to a number of people for sending this in.
Update- Thanks to
Marotaku
we have a few more details and a commercial for the French run on Boing.
If the embed doesn't work here is a
direct link
.
The October 21st showing is apparently an early airing of episode 1, with the full run beginning on October 23rd at 5:45pm.
Update- It's also been confirmed for Hong Kong, dubbed in Cantonese, as Digimon App Generation, beginning October 26th on TVB.
Thanks to
DigiSoul
for the heads up on that detail.
We won't be going over every country getting a localized version of Appmon, but since these appear to be among the first (with the first western release), it seemed notable.
Update- Another update via our friend
Marotaku
! It's the French Appmon logo!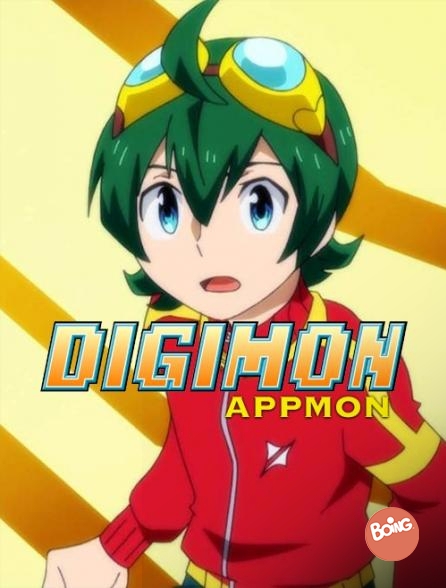 Well... that is certainly a logo that exists.
Update- The opening and the ending as aired in France!
So in show they are using a shortened version of the English promotional/sales logo.
It uses the Japanese OP and ED themes, but it's running sped up with no pitch correction to account for the framerate difference between film and PAL. The little bit of dialogue we get sounds fine, so it appears the dub is correctly recorded for PAL.