Show User Social Media
Hide User Social Media
Joined

Jan 2, 2012
Messages

1,044
I thought this should have its own thread instead of just using the anime episode preview thread, even if there are still no threads for the other chapters.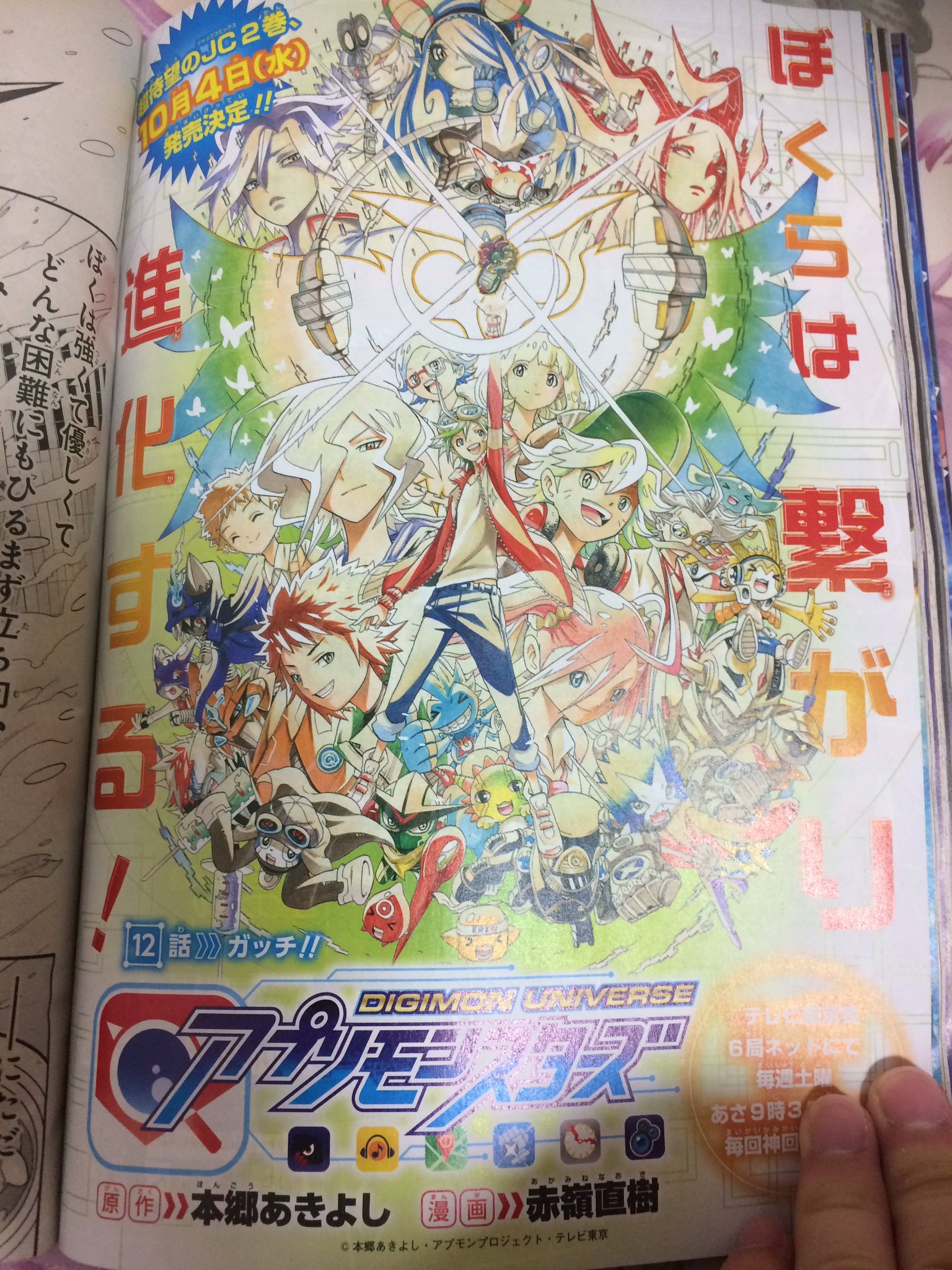 The chapter's title is Gatch!! (ガッチ!!).
Here is the info I have from 2ch.
The power levels are as follows:
-Poseidomon: 405000
-Rebootmon: 420000
-Uranosmon: 435000
-Gaiamon: 450000
-Hadesmon: 472000
Those follow the expected power calculations with the Appli Drive DUO.
-There's no Yūjin betrayal subplot.
--2ch users believe the differences between the anime and the manga are to prevent spoilers for the anime. I'll assume that's also the reason Deusmon is an App Fusion here, which will obviously not be true in the anime. I'm pretty sure they only put that fusion in the 3DS game to make him obtainable, as he's the only God that doesn't look like its supposed Ultimate components. Spoiler prevention might also be why they went with strange decisions like having Hajime be inside Fakemon and Sleepmon being Leviathan.
-Deusmon is defeated by all the people lending their power in a way similar to the Genkidama in
Dragon Ball
or the golden book in
Konjiki no Gash!!
. There's also mentions that Leviathan was actually possessing Deusmon, if I translated it correctly, so she might not actually be a component.
-The last page features Eri, Astra, Knight, and Mienumon. No context is given, but it's mentioned that Eri and Astra have "good vibes".
-There's no mention by 2ch user of Minerva doing anything.
One 2ch user believes the reason the manga has only 12 chapters is due to budget. I don't know how realistic of a guess that is though, as this implies they had a similar budget to the XW manga and split into two different manga.
One thing that I want to mention. Remember the theory that Mienumon is connected to Minerva? Well, I was looking at Leviathan in the chapter cover, and I can't help but notice how she looks like Mienumon and Warudamon. Similar hair to Warudamon, color scheme also similar, and Leviathan's horns look like some thing that would come from Mienumon's headband if they were in the same evo line, even though we know they can't be. Also, Leviathan's L around her left eye (see last month's image) seems to connect to Mienumon's black eye and Warudamon's left cheek tattoo thing.
I don't know if any of this means anything, but I though I should point it out.
Also, for those who theorised the God forms are an Appmon + human fusion because of DCD's Bond Awakening, it at least doesn't seem to be so in the manga. If the humans were part of the fusion, I think someone would have mentioned it on 2ch by now. That said, if the spoiler prevention theory is correct, that doesn't mean it can't happen in the anime.