Show User Social Media
Hide User Social Media
Joined

Sep 8, 2006
Messages

17,382
It looks like it's time for the ongoing card previews for Booster Set 9 to start! And we start off with probably the obvious one you would start with for an X-Antibody themed set...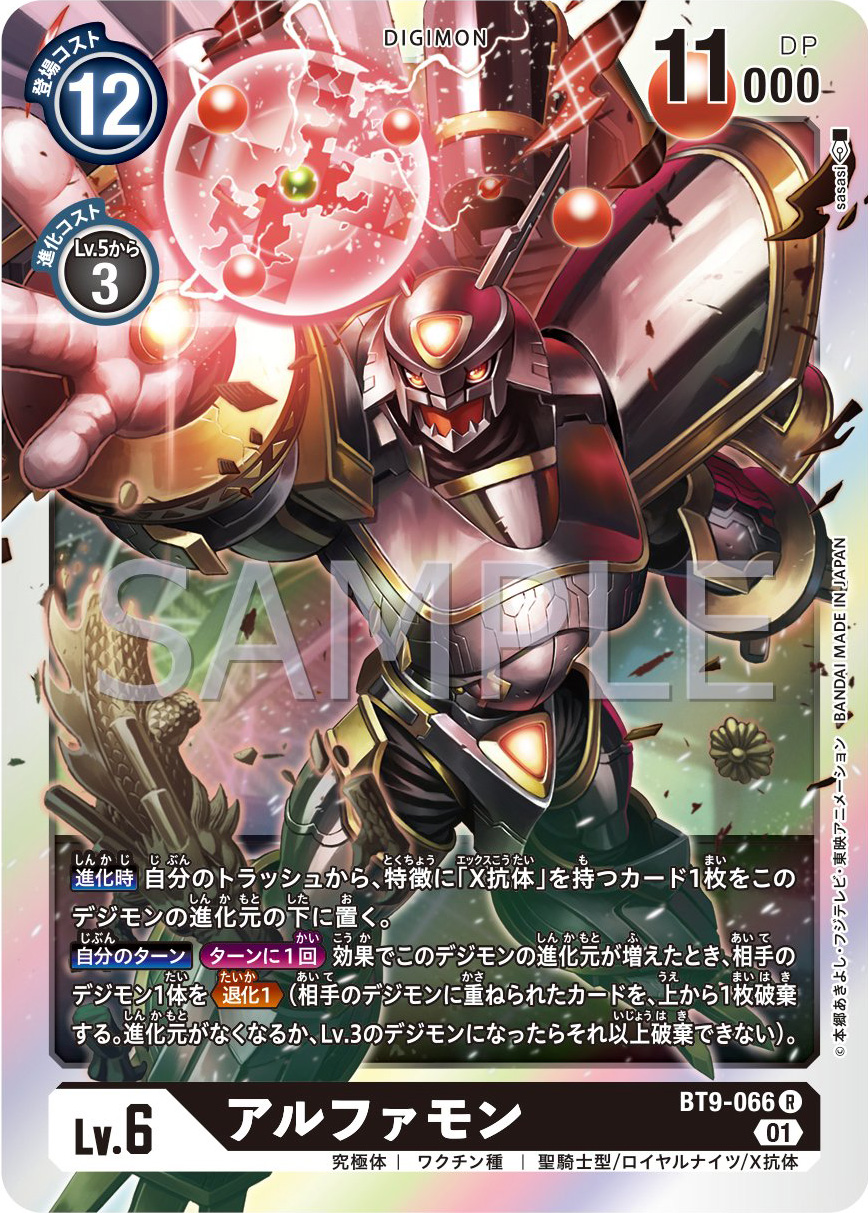 The Digimon Card Game Twitter
has updated with a card preview from Booster Set 9 X record. This time it's Alphamon.
We've actually seen this artwork of Alphamon before, even though it is new for this Booster Set. It's really nice art that is also being used on the packaging for Booster Set 9.
Previous previews for Booster Set 9 X Record:
Pack Art & Monochrome Flip Art
Dukemon X & X-Antibody
Booster Set 9 X Record will be out on February 25th in Japan.
We have clean card images from
Booster Set EX-02 Digital Hazard & Limited Card Set Online
.
We have the first info for
Booster Set 9 X-Record
.
And images from previous Digimon Card Game releases:
Starter Decks 1, 2, and 3, and first 10 promo cards
Booster Set 1 New Evolution
Booster Set 2 Ultimate Power
V-Tamer Promo Cards
Purple/Black Promo Set
Tamer Battle Pack 1 and Tamer Battle Winner's Card
Booster Set 3 Union Impact
Starter Decks 4, 5, & 6, plus Tamer Battle Pack 2 & winner's Card 2, & 1st 2 scene vote cards
Booster Set 4 Great Legend, Tamer Battle Pack 3, 3rd Scene Vote, Dark Digimon Promo Pack, & Apparel Cards
Booster Set 5 Battle of Omega, plus Tamer Battle Pack 4, 4th Scene Vote, & Vital Bracelet Pack-In Cards
Starter Decks 7 & 8, plus Delay Promos, Tamers Battle Pack 5, 1st Anniversary Promos, & Pulsemon
Booster Set 6 Double Diamond Cards, the 1st Anniversary Adventure Pack, and more
Booster Set EX-01 Classic Collection, plus Tamer Battle Pack 6 & 7, Tyranomon & dual Zeromaru Promo Cards
Booster Set 7 Next Adventure, Campaign Cards, & Tamers 20th Promo Cards
Starter Decks 9 & 10, plus Tamers Battle Pack 8, Ghost Game Promos, Online Promos, Tamers Evolution Box 1, & Amazon Starter Promos
Booster Set 8 New Hero, Starter Deck 11, plus Tamer Battle Pack 9 & Event Cards