Show User Social Media
Hide User Social Media
Joined

Sep 8, 2006
Messages

13,357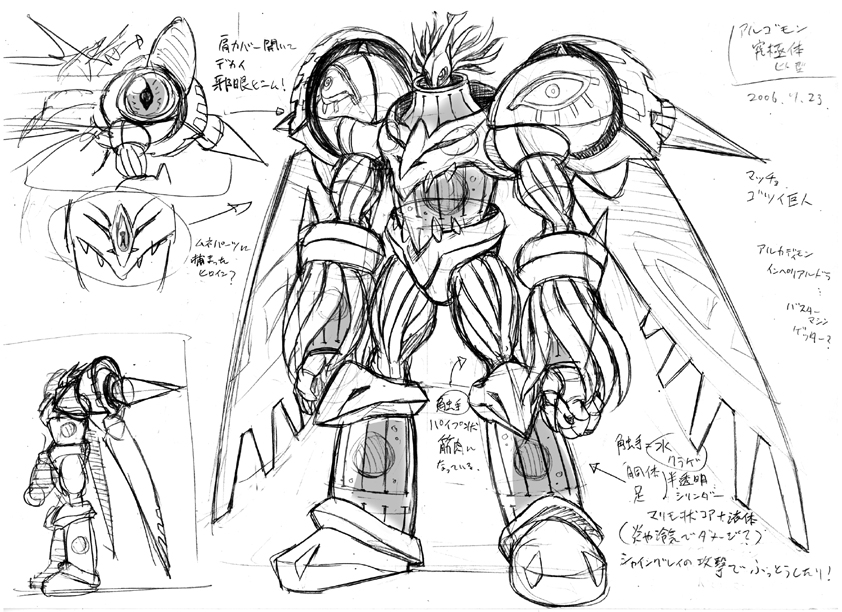 From Soh Moriyama
, we get a look at an early rough design for Algomon!
This is a rough early design of Algomon's Ultimate form from the Digimon Savers movie.
The date listed on the art is January (or July) 23rd, 2006. The movie came out December 7th, 2006.
Translations of his 2 tweets (
1
) (
2
) that accompanied the art: (Updated with a translation from onkei.)
The final colors for Algomon Ultimate level were not my idea, but I think that the purple and green that were applied on him since the beginning ended up making him into a creepy-looking monster similar to the EVA-01.

Also, here is one of the tossed rough drafts of Algo from the archives. It looks almost like a super robot. The story was aiming for a kaiju-story though, so that's how it ended up.
And on top of that, the handwritten notes: (due to it being handwriting these may not be wholey accurate)
Algomon Ultimate Level, Humanoid form (July 23, 2006)
A giant, macho, super-thick body.
Arkadimon - Imperialdra... Buster machine getter?
Tentacles = aurelia. The body and legs > Semi-transparent cylinders. The core looks like marimo in suspension. (They're damaged by flames or cold air?) Maybe blown to bits by ShineGrey's attack?
Tentacles of thighs form into pipes that make up his muscles.
The parts on his shoulders open up to reveal giant eyes!
The heroine trapped within the parts in his chest?
Algomon has taken on a greater relevance to modern fans as he's played a large role in Digimon Adventure:, getting to see some early design work for him is quite fun.
Last edited: