Show User Social Media
Hide User Social Media
Joined

Sep 8, 2006
Messages

13,342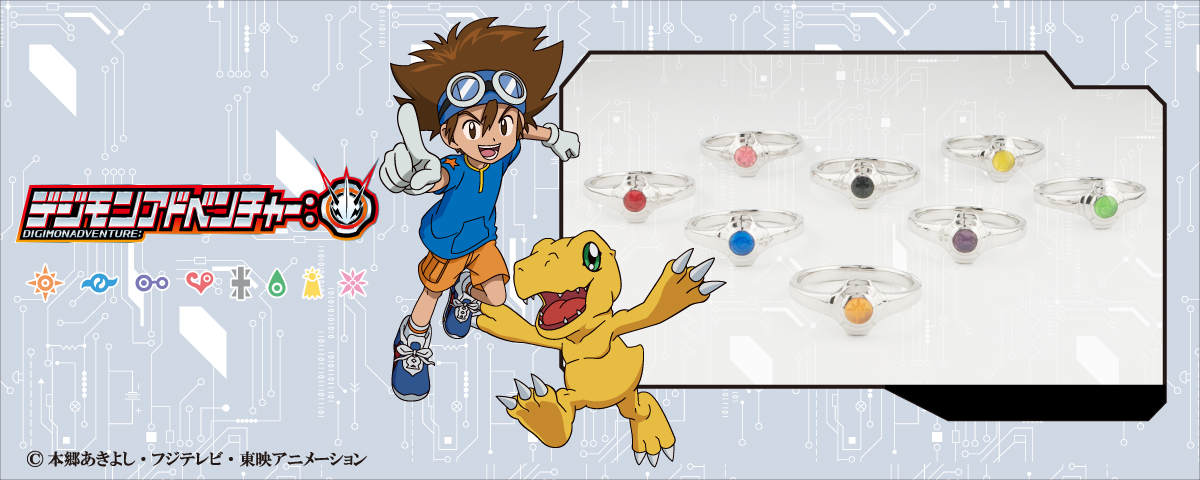 Jewelry company Eterno Recit has announced collaboration rings with Digimon Adventure:
.
They're making 8 rings, one based on each kid/Digimon pair from Digimon Adventure:.
Each ring is 11,000 yen and will be shipped a month after the order is placed. Rings come in odd number sizes between 5 and 21.
Each ring is made from Silver 925 that is rhodium plated, with the 'gem' being artificial and made of epoxy and showing the accompanying crest behind it.
The underside of the part that has the crest has a silhouette imprint of the Digimon on it.
Images of each ring at different angles...
Plenty of nice preview images to look at there...
Each ring also includes...
A guarantee card (if it's like other ones, it'd be the little art card in the image, which is signed/stamped by someone at the company as the rings are being put in the box.
The rings in a sample image of them being worn.
Each ring currently shows as being available until 2022 begins.
If you want to order them:
Taichi
,
Yamato
,
Koushiro
,
Sora
,
Jou
,
Mimi
,
Takeru
,
Hikari
You'll want to contact an intermediary to get these items sent to you. WtW is not affiliated with any, but here are a selection of intermediaries that have worked well for various WtWers and their friends in the past:
From Japan
Rider Proxy
You'll want to provide your chosen intermediary with the link to the item. Just copy paste the link to the product pages for what you want and send them a message about it and they'll take care of it after they discuss pricing and their policies with you. The links embedded in the news article for the products are exactly what you'll need to send them.
Some of the intermediaries have a full storefront and may have the item listed, so you may want to check that first.