Show User Social Media
Hide User Social Media
Joined

Sep 8, 2006
Messages

13,163
A few different product updates today...
First up, a new series of Digimon Adventure: shirts.
Each shirt is available in M, L, and XL
There are 3 shirts, and each come in 2 colors.
Omegamon in black or charcoal. The Omegamon design is made up of various words related to Omegamon.
Crest in white or black. This shirt features outlines of all 8 crests.
Agumon in pink or blue.- The Agumon test on the front features Agumon's eye where the O is. THe abck has some Agumon footprints at the bottom.
Each shirt includes a bonus...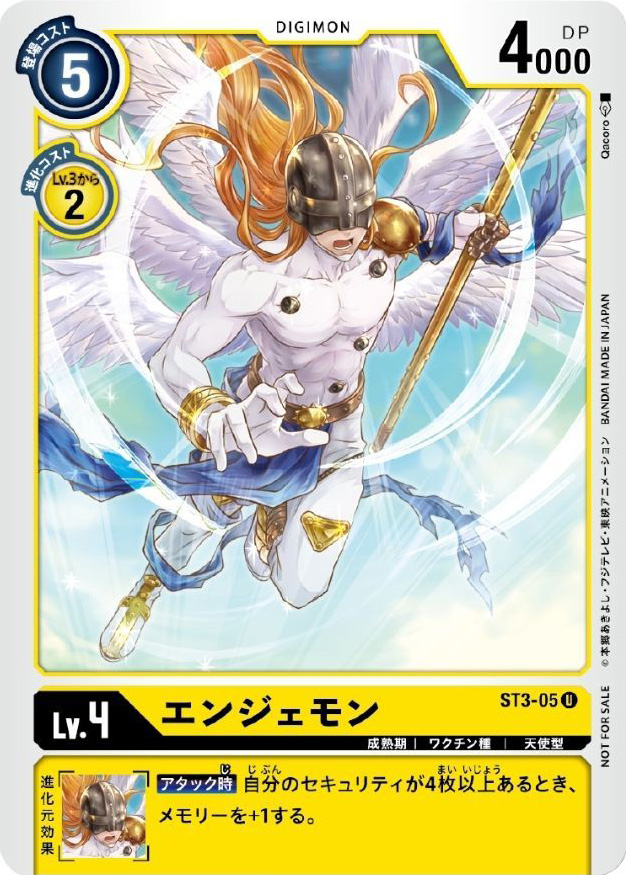 A parallel card of Angemon from Starter Deck 3 (ST3-05.) Like other parallel cards, this features new artwork, and functions as if it were the same card as ST3-05.
Some great looking Angemon art.
Each shirt is 3,300 yen each and are available
at Premium Bandai
. They ship in December.
It is noted the card will also come with various kid friendly products in December.
Then something for those who like to make things...
​
Digimon Adventure: fabric has been announced
for those who like crafts.
This themed fabrics will be sold in squares measuring 3.6 by 3.6 feet for 1,650 yen.
They give examples of things to make from it including various types of bags and gym clothes.
Both types are available now.
And last up, a number of existing products can be ordered from CDJapan (affiliate links for all.)
The first batch of products are all things that became available
at GraffArts a few weeks ago
. They are up for general pre-order and will ship in December. Various items are discounted.
First up, from the image above is
an A4 size clear file
. It costs 400 yen, and I believe all the art is new (it's designed to look very much like profile art, so while it looks familiar, I'm reasonably sure it is in fact new.)
Then on the right side of the image are sticky notes that come in leather cases. Each leather case comes with a silhouette of the Digimon and a crest design, along with digimoji of the Digimon names. Each of these is 500 yen.
Greymon
,
Garurumon
,
Birdramon
,
Kabuterimon
,
Togemon
,
Ikkakumon
,
Angemon
,
Angewomon
And a few more items in a second image.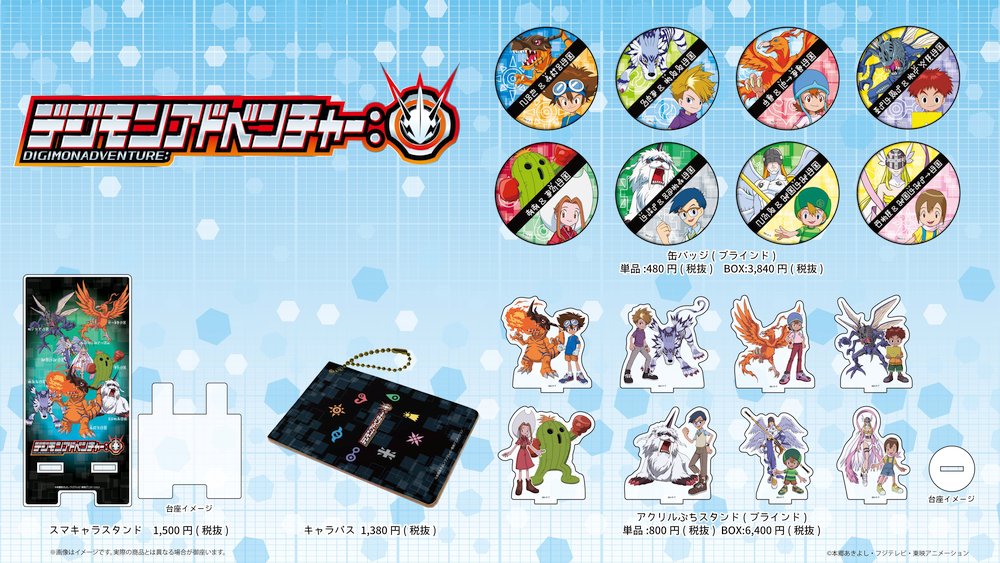 On the far left is a phone stand
featuring the new art of the Digimon. It costs 1,500 yen.
Directly to the right
is a pass case
featuring the show logo and crests. It's 1,380 yen.
Then at the top left
are can badges
. These also feature the new character art (and in Greymon's case, lacking the flame effect.) Each is dual color with a different color for the kid and Digimon, with digimoji splitting down the middle. A box is 3,840 yen.
Last up below that
are petite acrylic stands
featuring the new art. Each is a kid/Digimon pair. A box is 6,400 yen.
Just a bunch of product stuff. The shirts all look interesting and people are always happy to see new card art. It'll be interesting to see what people make with the fabric, and getting a general release for store specific products is always good.