Show User Social Media
Hide User Social Media
Joined

Sep 8, 2006
Messages

13,214
A few things...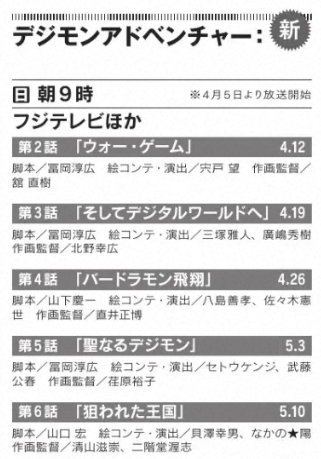 A couple of guide listings for Digimon Adventure:.
These have short plot descriptions for episodes 2 thru 5, along with titles up to episode 6.
Plot synopsis/descriptions by their nature will have minor spoilers, so consider this fair warning.
Updated- Seconds after I posted rough titles onkei showed up with full translations of the titles and descriptions.
Episode 2 - War Game
April 12th / Screenplay by Atsuhiro Tomioka
Elementary school student Taichi Yagami, along with a strange Digimon creature who calls himself Agumon, take down a Digimon causing cyber terrorism throughout Tokyo. However, the Digimon's attack wasn't over. This time, it was attacking the USA military's tactical network. During that, Taichi and Greymon (Agumon's evolved form) meet a boy named Yamato Ishida and his Digimon partner Garurumon (Gabumon's evolved form) inside the digital area. Taichi calls for Yamato and Garurumon to form a team with them and fight the threat.
Episode 3 - To the Digital World
April 19th / Screenplay by Atsuhiro Tomioka
The USA military's tactical network is invaded by a Digimon and the military system goes haywire. Taichi and his team fight desperately to stop the missiles, but the more they take down the enemy Digimon, the more it evolves. Then missiles are launched at Tokyo. The enemy Digimon shoots out balls of light that directly hit Greymon and Garurumon, when a giant white Digimon appears...?!
Episode 4 - Birdramon Flies
April 26th / Screenplay by Kenichi Yamashita
Blackouts occur throughout the city. Taichi and Koushiro Izumi, who knows a lot about the internet, worry that something has happened in the Digital World where Agumon and the others are. Koushiro estimates that if the blackout continues for more than 72 hours, it will paralyze all of Tokyo's municipal functions. "We're the only ones who can do something about this!" so the kids head once more to the Digital World. But the world they came upon looked vastly different from how they'd seen it before. Also, Taichi thought that he had reached the Digital World with Koushiro, but who came with him instead was Taichi's childhood friend, Sora Takenouchi.
Episode 5 - The Holy Digimon
May 3rd / Screenplay by Atsuhiro Tomioka
The deadline for Tokyo's municipal functions ceasing is approaching. Taichi, Agumon, and Sora search for a solution and aim for the "temple" that was written on a lithograph in the Digital World. Meanwhile, Koushiro who arrived in a different part of the Digital World, communicates with Taichi while gathering information with a Digimon that he met there, Tentomon. But then, Koushiro and Tentomon are swallowed up by a mysterious giant Digimon...?!
Episode 6 - The Targeted Kingdom
May 10th / Screen by Hiroshi Yamaguchi
On top of that,
the Digimon Web Twitter
showed a neat vintage playset from the original Digimon Adventure...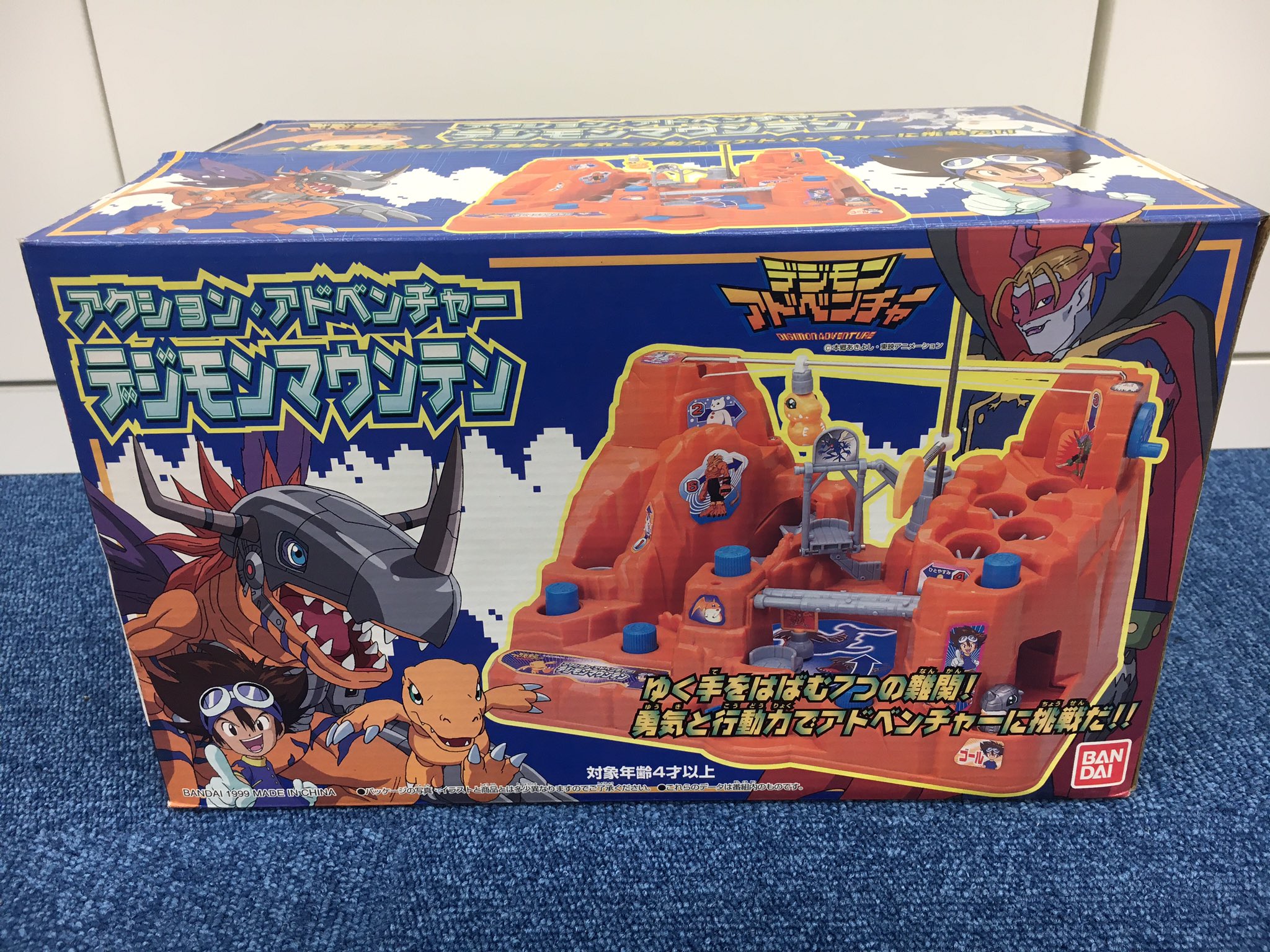 A quicky translation of the text they posted with it, will be cleaned up later:
From out of the warehouse... "Action Adventure Digimon Mountain"
Agumon & MetalGreymon jump and cross bridges through an adventure to stop Vamdemon. It's big and there are many play gimmicks that cause the tension to rise!
Thanks to a baidu user for the guide listings.
Last edited: