Show User Social Media
Hide User Social Media
Joined

Sep 8, 2006
Messages

15,804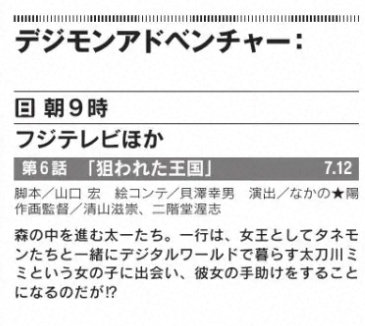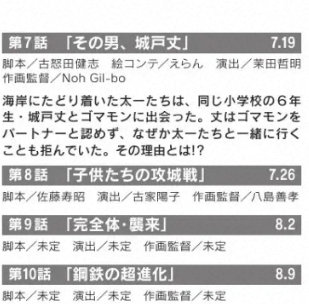 A couple of new guide listings for Digimon Adventure:.
These have short plot descriptions for episode 7, along with titles up to episode 10 (the official episode title translations in the end may very well be different than these.)
Episode 6 is also included, and airs this weekend, with most of the details below already known.
Plot synopsis/descriptions by their nature will have minor spoilers, so consider this fair warning.
Episode 6 - "The Targeted Kingdom"
Screenplay: Hiroshi Yamaguchi
Taichi and his group advance deeper into the forests. They meet a young girl named Mimi Tachikawa, who lives in the Digital World with Tanemon who treat her as their queen. They end up having to help her but...?!
Episode 7 - "That Man, Jou Kido"
Screenplay: Kenji Konuta
Taichi's group arrive at the coast to meet Jou Kido, a sixth grader from their school, and Gomamon. Jou won't accept Gomamon as his partner and also refuses to join Taichi's group for some reason. What is that reason?!
Episode 8 - "The Children's Siege of the Castle"
Screenplay: Toshiaki Satou
Episode 9 - "Perfect Levels Invade"
Screenplay: TBA
Episode 10 - "The Steel Super Evolution"
Screenplay: TBA
Thanks to onkei for translations and a friend of the site for images.