Show User Social Media
Hide User Social Media
Joined

Sep 8, 2006
Messages

13,599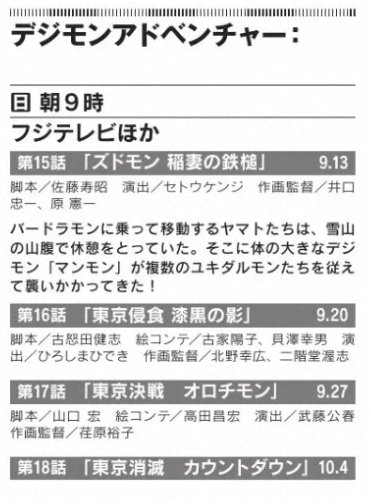 New guide listings for Digimon Adventure:.
These have episode titles and plot synopsis' for episodes 15 thru 18(the official episode title translations in the end may very well be different than these.)
The first image has a longer plot synopsis for each episode. Images 2 has staff details, plus a short synopsis for 15. Stuff for episode 15 isn't being translated as we already have similar information
from on display at Adventure Sunday Market
.
Plot synopsis/descriptions by their nature will have minor spoilers, so consider this fair warning.
Ep 16, Invasion of Tokyo- The Jet-Black Shadow
Taichi Yagami, Koushiro Izumi, and Mimi Tachikawa pass through a cave tunnel in order to reach the spot where they will be rejoining with Yamato's group. Once they step out of it, however, they see the familiar Tokyo scenery before them. They wonder if they have returned to their world. Unable to understand what happened, they each head back to their homes, but even though the place does not appear any different from the Tokyo that they know, something is off. Unable to reach their homes, they remain discomforted and confused when a Digimon with lots of eyes called 'Eyesmon' appears.
Ep 17, Last Battle in Tokyo- Orochimon
Just when they thought they'd beaten the powerful Tuskmon, the even larger eight-headed Orochimon appears before Taichi and co. Orochimon's power is overwhelming, and they cannot stand against it even working together. They end up running away, scattering in different directions. Meanwhile, in the real Shibuya, Orochimon's presence is causing several malfunctions. If they don't do something, Taichi's sister Hikari and Yamato's brother Takeru, along with several other Tokyo citizens, will be in danger. ALthough Taichi and Yamato are separated from their friends, they gather up their courage to take down Orochimon in a reckless strategy.
Ep 18, Countdown to Tokyo's Annihilation
Although they manage to defeat Orochimon, a mysterious countdown suddenly begins right after. This phenomenon occurs in the real world's Tokyo as well, with the digital devices that people are carrying malfunctioning. Taichi and co are on alert when Orochimon's evolved Ultimate form "Nidhoggmon" appears. Nidhoggmon's moves correlate with the countdown- when it reaches zero, it has the ability to destroy Tokyo. Taichi and co are unable to stand a chance against this powerful Ultimate... Just then, a strange reaction occurs within the bodies of Hikari and Takeru back in the real world.
Nice to get it all for episodes we haven't seen anything of yet, which appear to be big episodes!
Thanks to
Digi_Channel
for the heads up, a baidu user for the images, and onkei for translations.