Show User Social Media
Hide User Social Media
Joined

Sep 8, 2006
Messages

16,175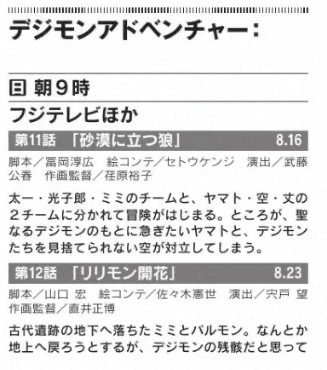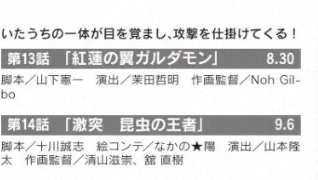 New guide listings for Digimon Adventure:.
These have episode titles and plot synopsis' for episodes 11 thru 14 (the official episode title translations in the end may very well be different than these.)
The first image has a longer plot synopsis for each episode. Images 2 and 3 have staff details, while image 2 also includes short synopsis of the plot for those episodes.
Plot synopsis/descriptions by their nature will have minor spoilers, so consider this fair warning.
Episode 11 - The Wolf Standing In The Desert
Screenplay- Atsuhiro Tomioka
The adventure begins with Taichi, Koushiro, and Mimi breaking off into one team, while Yamato, Sora, and Jou team up in another. However, an argument breaks out between Yamato, who wants to hurry to the holy Digimon ASAP and Sora, who refuses to abandon the Digimon.
Long summary: The group of children decide to split into two groups to search for the holy Digimon. Taichi Yagami, Koushiro Izumi, and Mimi Tachikawa form one group, while Yamato Ishida, Sora Takenouchi, and Jou Kido form another. Yamato's group goes to the desert, where they rescue small Digimon trying to escape from a violent dark Digimon, Scorpiomon. These Digimon were in the midst of running to find Leomon, who is fighting back against the dark Digimon. Yamato wishes to hurry and find the holy Digimon, while Sora refuses to abandon the Digimon, and the two fight, ending with Yamato leaving with his Digimon partner Gabumon to go his own way. Although Yamato has a reason for wanting to hurry...?!
Episode 12 - Lilimon Blooms
Screenplay- Hiroshi Yamaguchi
Mimi and Palmon fall into the underground level of ancient ruins. While they attempt to climb back up to ground level, one of the Digimon that they thought was a collection of remains wakes up and attacks them!
Long summary: Mimi and her Digimon partner Palmon fall to the underground of ancient ruins. There, they find piles of remains of Digimon who had been shot and thrown down there to die. Mimi tries to find a way back to the surface, but one of the Digimon that she'd thought was dead wakes up and attacks her. Just when she thought she was done for, another Digimon wakes up and rescues Mimi. During all of this, Taichi and Koushiro race to the underground to rescue Mimi.
Episode 13 - Garudamon of Crimson Wings
Screenplay- Kenichi Yamashita
Long summary: Yamato, Sora, and Jou's group arrive at a deep jungle. Yamato comes upon a swarm of Funbeemon that is being attacked by Waspmon. The Waspmon capture every last one of the Funbeemon and bring them to CannonBeemon, a Digimon who looks like a giant wasp's nest stronghold. Sora hears that the captured Funbeemon will be made into servants of the dark Digimon and decides to go rescue the Funbeemon.
Episode 14 - Clash! The Bug King
Screenplay- Masashi Sogo
Long summary: Taichi, Koushiro, and Mimi arrive at the bottom of the Great Canyon where rock cliffs extend for miles. They are attacked by several Kuwagamon, who are being manipulated by the SoundBirdmon. The Kuwagamon chase after them as though they are hunting, so Greymon, Kabuterimon, and Togemon fight back. However, Taichi's group is eventually lost in the Canyon's labyrinth-like depths. Lying in wait ahead of them was the even more powerful Okuwamon. Although they escape from Okuwamon's attack, Koushiro and Kabuterimon get separated from the others.
Nice to get it all for episodes we haven't seen anything of yet!
Thanks to onkei for translations and a friend of the site for images.
Last edited: