Show User Social Media
Hide User Social Media
Joined

Sep 8, 2006
Messages

15,585
A huge batch this week!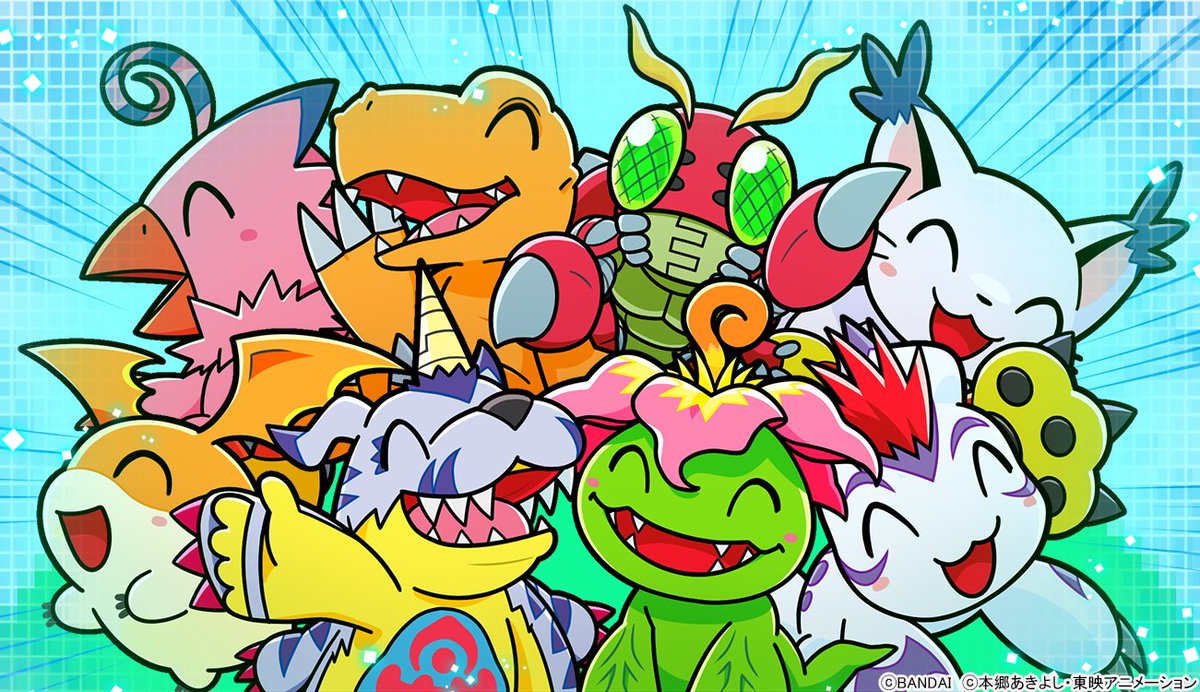 After Digimon Adventure: episode 67 aired
,
Digimon Web
put up social media art of all 8 partner Digimon to celebrate the end of the series with episode 67. The attached message:
It started in April 2020 & Taichi, Agumon, & the others kept running.

It was an adventure where various Digimon appeared, became friends, fought, & strengthened bonds.

A message from Agumon & the others

"Thank you for your support

️"
And new art from Kenji Watanabe!
The art shows off
Taichi and Agumon walking off hand in hand, wearing various 'Watanabe style gear' that he often adds to images he draws. The attached message:
Digimon Adventure: finished! Thanks to everyone who watched it! To all the staff members, I think it was very difficult to make this with the problems of coronavirus. Thank you very much for your hard work!
And then from cast/crew members we have a ton! These are ones we came across on social media, there are likely plenty more that aren't here.
From Volcano Ota
, who played many roles throughout the series. To say nothing of his work effectively being in charge of the franchise at Bandai (many years ago):
I didn't think I'd be able to be involved in Digimon Adventure: with so many 'mon' (and non-mon) roles.
I won't ever forget it.
Thank everyone who watched & supported it as they could, and everyone involved with the production & broadcast of the show for their hard work.
From
the Digimon_TV account
...
Thanks for watching the show that started in April

We're glad we were able to safely bring you the adventure of Taichi & Agumon to everyone

The new "Digimon Ghost Game" will start next week.

Hiro & Gammmamon will do their best.
And before photos, a bit more art...
Jubeinine
(
2
) (
3
) worked on animation for the episode, and posted (in both a single piece, and multiple pieces) some artwork of Taichi and Yamato celebrate, which they happily are allowing us to repost. The text on the full image reads "Thank you for watching!" They also posted a message with it:
It's a dream come true to be working on the final episode of Digimon Adventure:.
Thank you very much for directing Mr. Shishido!
Update- A few more!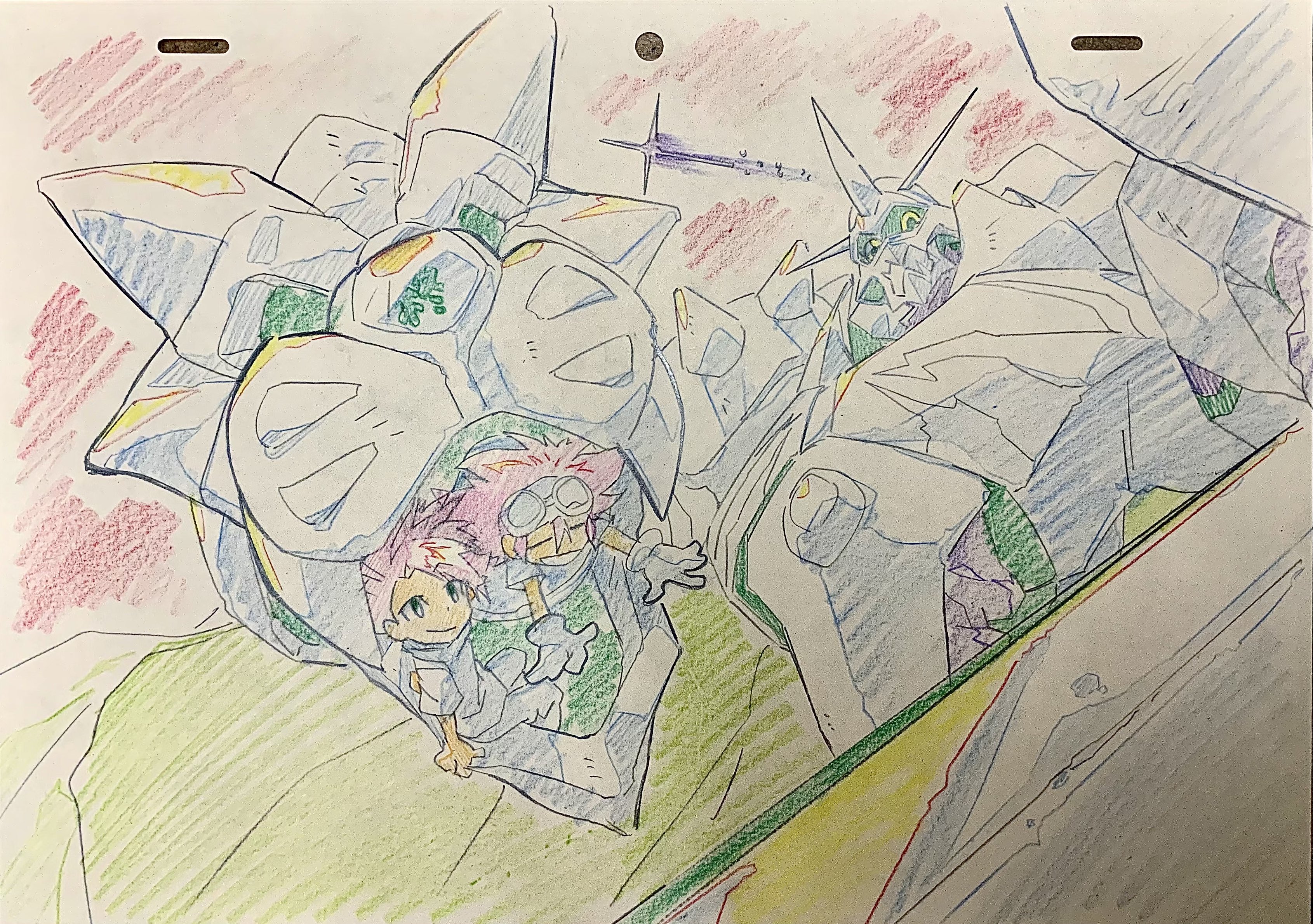 Yoshiyamu Yuu
did key animation and layouts for Adventure: in various places from beginning to end (he worked on the opening in fact.) He posted a fun drawing of Omegamon with Taichi and Yamato, along with a message:
I participated in the final layouts for Digimon.
I worked on it from around the area where Omegamon & Negamon collide and flew around with T-lights.

It's been a fun year and a half.
Thank you for watching.
Jordan Bayes
(
2
) worked on animation for the final episode and shaded artwork and a message:
I worked on the final episode of Digimon Adventure! I was lucky enough to animate part of Omnimon's fight. It's been great working on a series I have loved since elementary school. Can't wait for what's next from Digimon!
And last for the 'update'. The official Digimon Adventure: account on line posted a few things (Thanks to shin for images and translations.)
​
Many messages from the Line account were framed as being 'from' Koushiro himself. It posted a few messages earlier:
Thank you for being with us this last year and a half or so for Digimon Adventure:!


Being able to spend time with everyone during the broadcasts... was an incredible pleasure!
And now, starting in October, a new series — "Digimon Ghost Game" — will begin!


As of September 27th, this account will change its name to "Anime - 'Digimon Ghost Game' " so if you would like to continue to follow this account, please do!
Once again... thank you so much!
The adventure continues to a new world.
We'll see you again somewhere someday !
From
Takayoshi Tanimoto
, who did the opening theme and all the insert songs for Adventure:
Thank you! Thank you for the support! Some other time we'll talk about the music again...♪
He later posted again
, commenting that he's moved by all the warm and positive messages. He wanted to note that Break the Chain in the final episode was a newly recorded orchestral version. He also mentioned the new arrangement was by Kousuke Yamashita. [Yamashita was the musical composer for Xros Wars and Hunters.]
Then
from Atori Shigematsu
, Piyomon in Adventure: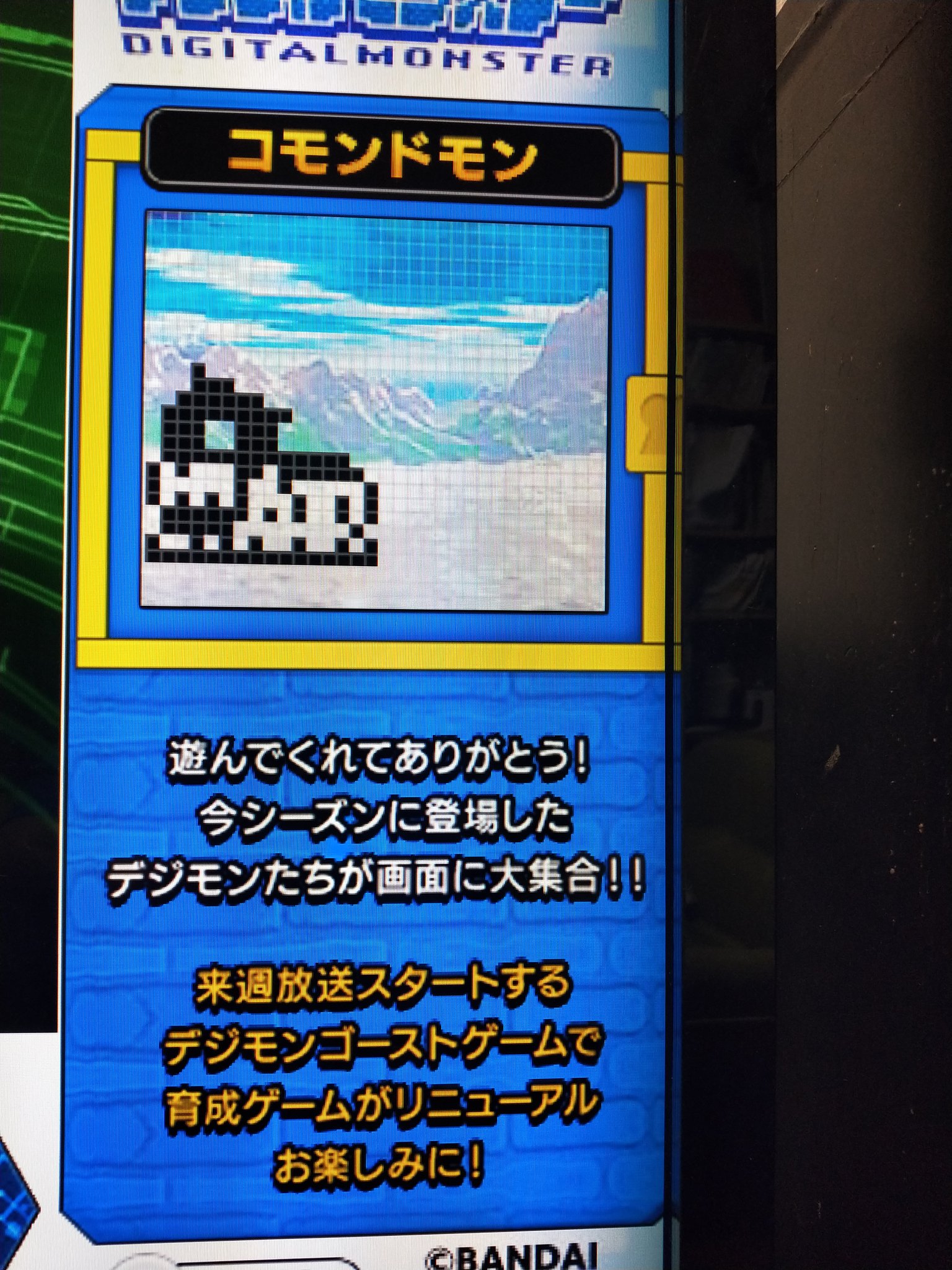 Thank you all for watching.
I'm grateful I got to be involved in the work known as Digimon during the Reiwa era, and that I was able to perform the role to the end. I'll be even happier if people who I met in a few years, or in a decade say this. "I saw Digimon:!"
She later added
...
​
We had our picture taken for the last episode. The hard work of the staff recording during the hardships of Corona are immeasurable...
& to my precious partner Ryoko Shiraishi, thank you for a year & a half❤
Ryoko Shiraishi is of course, Sora in Adventure:.
The other 2 pictured to the left in the first photo appear to be Yumiko Kobayashi & Takahiro Sakurai (Koushiro & Tentomon.)
Megumi Han, Takeru in Adventure:,
also had something to say
...
V[ictory]! Anime! Digimon Adventure:
After many encounters, adventures, & battles, they have entered a new future.
As Takeru, I met Patamon again & had an adventure with Taichi & the others.
After the infinite dream, an unknown horizon awaits.
From the bottom of my heart, thanks for watching.
She posted again later
, in response to the Digimon Web post with the social art from the top...
Thank you so much

Thank you so very much

I love you so much and I miss you already!
[She appears to be talking about Takeru and Patamon]
Update-
More from Megumi Ha
n. She also said more
on her blog
.
To send to Miwa Matsumoto, who was recording for Patamon remotely, so I took a picture with Misaka Watada (Hikari) and Mie Sonozaki (Tailmon).

Agumon & Gabumon were watching over everyone, even at the end, while everyone couldn't meet

More Digimon thoughts on the blog...
From Misaki Watada
, Hikari in Digimon Adventure: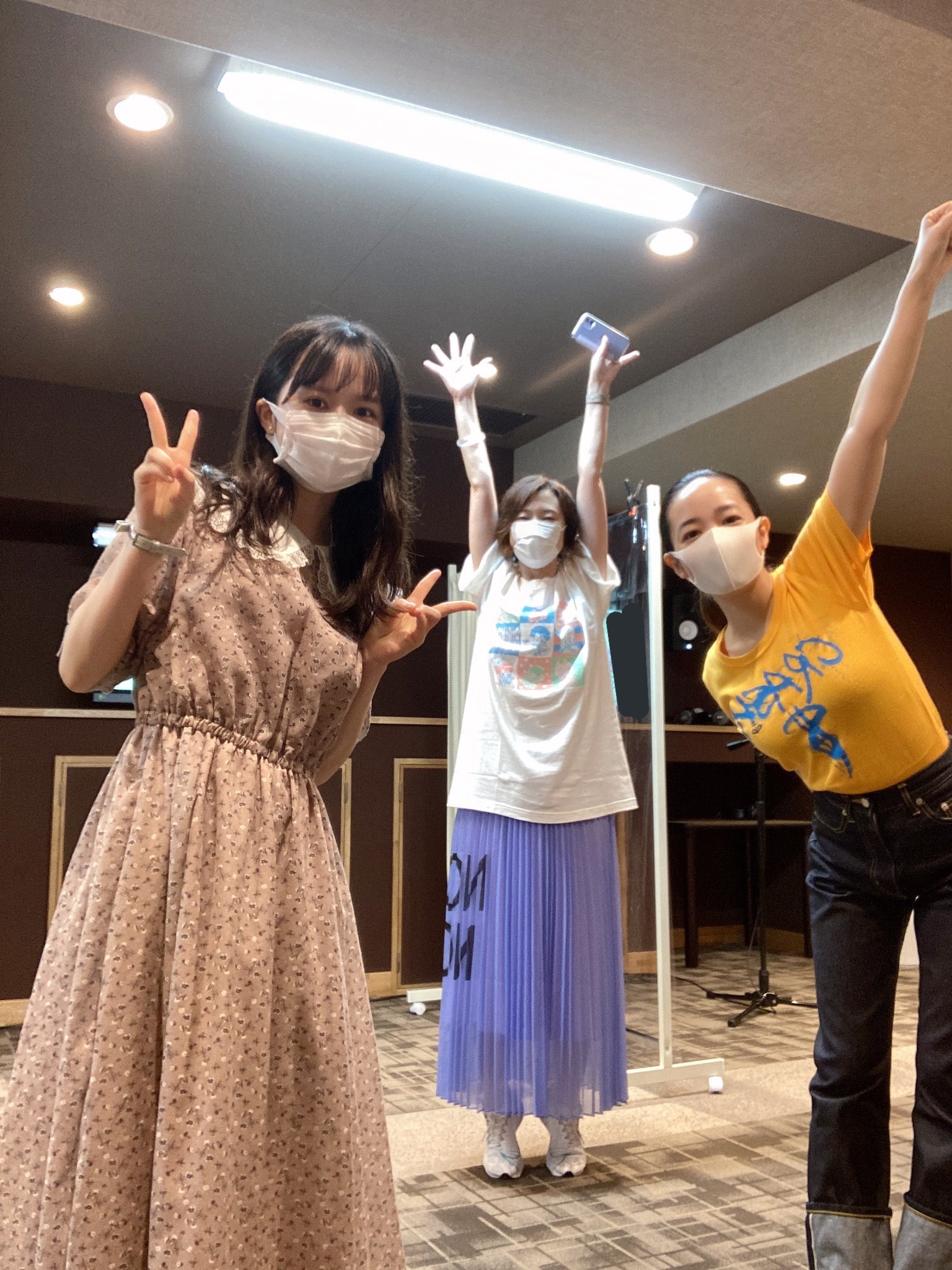 I took a commemorative photo taken with Ms. Sonozaki who played Tailmon & Ms. Han who played Takeru

Full of energy! & the way she hid the monitor with her body

♡笑

I love it...
Mie Sonozaki
, Tailmon in Adventure: also posted...
The three of us basically recorded scattered due to Coronavirus.

A lot has happened in the past year and a half, thank you for the support.

From another angle...
With Misaki Watada as Hikari and Megumi Han as Takeru.

By the way I'm wearing the Digimon chibi character shirt.
From Chinami Nishimura
, Lopmon in Digimon Adventure:
​
It's been awhile since I played Lopmon in Xros Wars.
A pity we couldn't record all together...
I often recorded with Hirokai Hirata, who played Leomon. We took a photo together at the end.
I hope the new series will be great also!
In the first image you can see them posing with the last script for the series.
Update- From
Daisuke Yokoyama
, the voice of Komondomon in Digimon Adventure:...
​
He
tweeted
a link to his blog where he wrote a bit more than would work on Twitter:
Today was the last day of the journey of Digimon Adventure:!
Taichi, Agummon, & the others' journey came to an end, and I felt a twinge of sadness when I thought we were saying goodbye.
I was happy to see the places they've been and the Digimon they met on their journey.
Ah, I did my best for Komondomon in this story... I'm looking back. lol


During the voiceover for the final episode...
Although I wasn't able to greet all the voice actors due to the coronavirus, I had a wonderful time seeing the amazing work of the voice actors up close.

And everyone who watched it!
Thank you so much! ❀.(*´◡`*)❀.

Komondomon did his best, a great job~~~~!

Waahhhoooooo!
Update-
Thoughts from AiM
, who was half the voice of Valdrmon.
Thank you so much to everyone who watched Digimon ADventure: I was happy to be able to perform once again with Youto Kazama

I'm sure it was tough for recording during Coronavirus, but thanks to all the actors and staff for their hard work on all 67 episodes!

If you are in an area where it will be broadcast in the future, watch it until the end please!
Youto Kazama
, the other half of Valdrmon responded:
No way! In the final episode I got to play that role with Ai Maeda again!
In the booth, I put all my feelings into words!

Thank you, Thank you! (*´∀`)
Hiroshi Izawa
, the writer of C'mon Digimon, V-Tamer, & helped with planning/design cooperation for Ghost Game had a message for fans also...
Thank you for the long adventure. In the end the partners weren't separated & they were always together. It was a work filled with the feelings of boys, girls, & Digimon. See you in the new world.
Shortly after he made
a second tweet
, seemingly realizing he forgot to mention something...
And I'm looking forward to Digimon Ghost Game starting next week
And then speaking of Ghost Game...
The Fujitown Laketown Store
, often a place with Adventure: stuff, looks to continue that tradition for Ghost Game.
A commemorative exhibition
(
2
) (
3
) is running there now until October 25th.
There is a photo spot, where you can get a photo of yourself in the Ghost Game poster. They note if you shoot with a flash you might see something mysterious in the photo...
A recording script is on display, as are designs from the show.
A 'search for mistakes' question challenge to get stickers.
And for reference book fans, we got a stack of updates earlier in the week, a bunch for
the leads from Ghost Game
,
plus 2 to celebrate
the 10th anniversary of the finale of Xros Wars, before it became Hunters:
​
Puyomon
Puyoyomon
Jellymon
Curimon
Gurimon
Gammamon
Pyonmon
Bosamon
Angoramon
Shoutmon x7 Superior Mode
Luminamon (Nene Version)
Then we have a number of things to look at from China!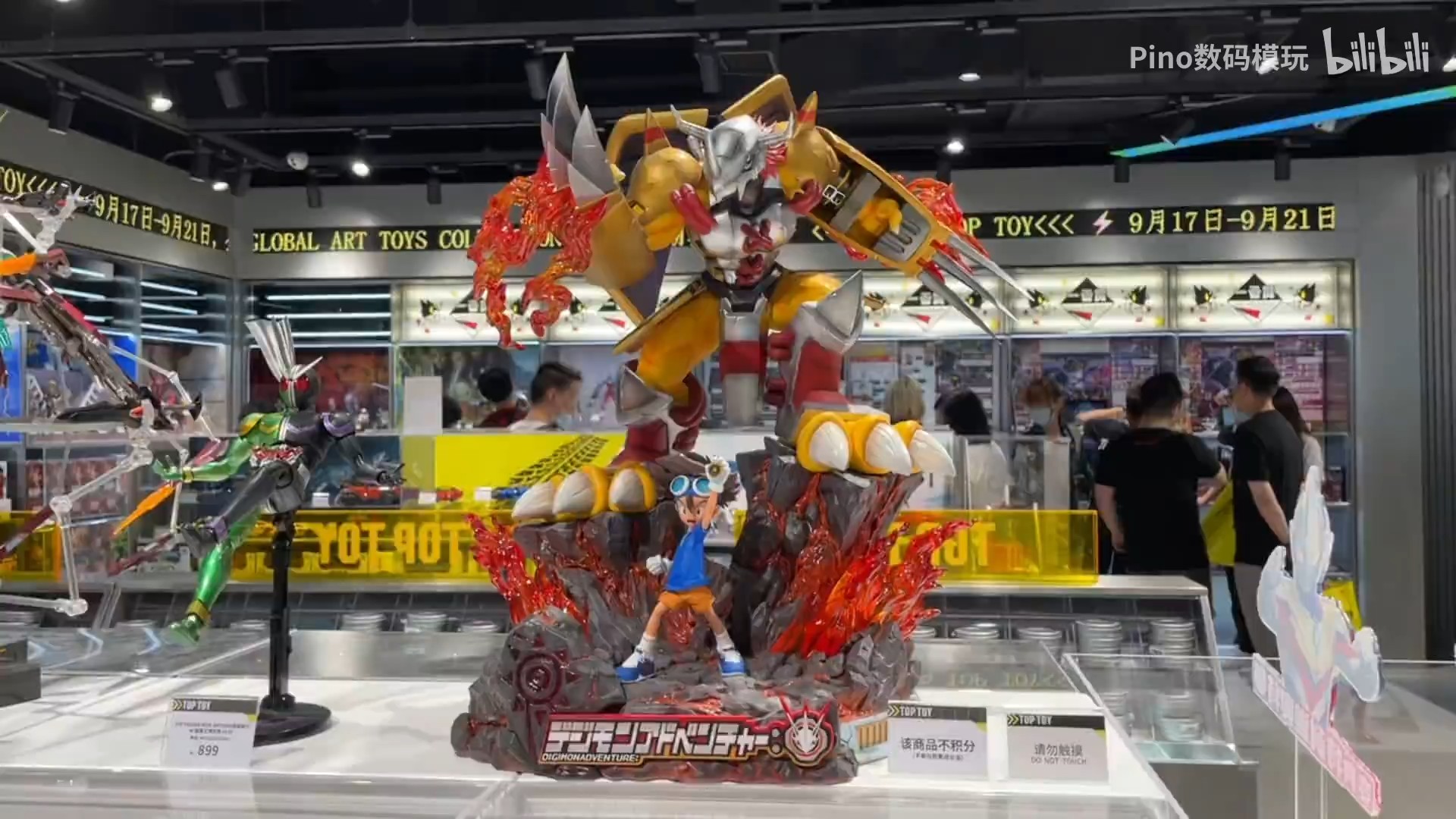 The Taichi & WarGreymon Adventure: figure is on display, and we have video of it showing off various angles.
It isn't embeddable, but the video is right
here
.
This actually 'is' orderable in the US
, for a super high cost of over $1000.
Then some updates on other things from China
...
Photos from the Digimon Exhibition in China. It looks really nice. Everything is displayed in a pleasing fashion, and hopefully we get more images.
Some unembeddable videos:
Video 1
Video 2
Video 3
Products Video
And then cards!
Images of some of those new cards coming out in China.
These are collector's cards, with power levels and other things on them. The QR code on the back takes you the page of the Digimon on the reference book. An 'ad' card takes you to a video service that streams Adventure.
Big big batch this week. Likely things missed, especially from other cast/crew members of Adventure:. Really fun week of material celebrating the end of the show.
If we see more we weill try and add them later.
Last edited: