Show User Social Media
Hide User Social Media
Joined

Sep 8, 2006
Messages

15,595

Digimon Karaoke collaborations have been popular the last few years, and it's time for an Adventure: one. This time it's once again
with Karatez Karaoke
.
The main key art image this time is new art of all the kids and their Digimon (evolved one level up) from Adventure:. The art looks to be reminiscent of a number of 'running from the side' images we've seen before, and looks quite nice. Plus, as we will see later, there is a bit more new art...
The collaboration will run between November 7th and January 6th at a number of Karatez stores.
First up is the collaboration drink menu.
The collaboration drinks will be available at the following Karatez locations: Ikebukuro Sunshine Street, Shinjuku Kabukicho, Shibuya Dogenzaka, Akihabara Showadoriguchi, Ueno, Sakuragi-cho, Funabashi.
Each drink is 556 yen.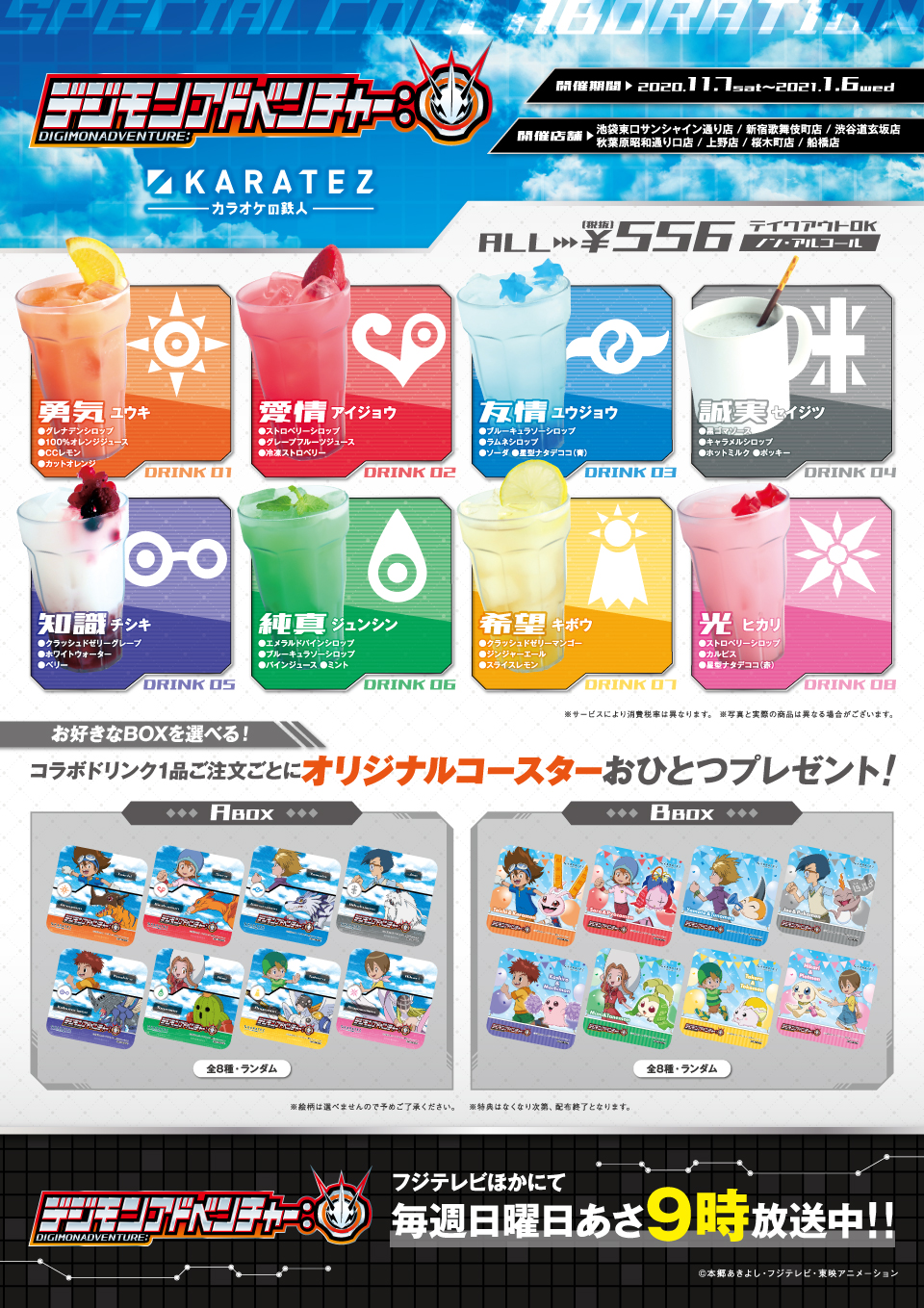 Drink 1- Courage
Grenadine Syrup, 100% orange juice, CC Lemon, with an orange slice
Drink 2- Love
Strawberry syrup, grapefruit juice, and frozen strawberry
Drink 3- Friendship
Blue curacao syrup, ramune syrup, soda water, and star-shaped nata de coco (blue)
Drink 4- Sincerity
Black sesame sauce, caramel syrup, hot milk, and Pocky
Drink 5- Knowledge
Crushed grape jelly, white water, and berries
Drink 6- Purity
Emerald pineapple syrup, blue curacao syrup, pineapple juice, and mint
Drink 7- Hope
Crushed mango jelly, ginger ale, and a lemon slice
Drink 8- Light
Strawberry syrup, calpis, and star-shaped nata de coco (red)
Each drink order gets you one coaster (at random) featuring the new artwork of each character.
You can choose what set your random coaster comes from:
A- The kids and Digimon from the key art
B- The kids are from the key art, and they are joined by the lower levels of the Digimon having fun in the celebration.
Collaboration drinks can be ordered for take-out, and take-out can be ordered without doing karaoke at the front desk.
Then we have products
The collaboration goods will be sold at the Ikebukuro Sunshine Street and Akihabara Showadoriguchi locations.
Each features the new artwork of the kids and their Digimon.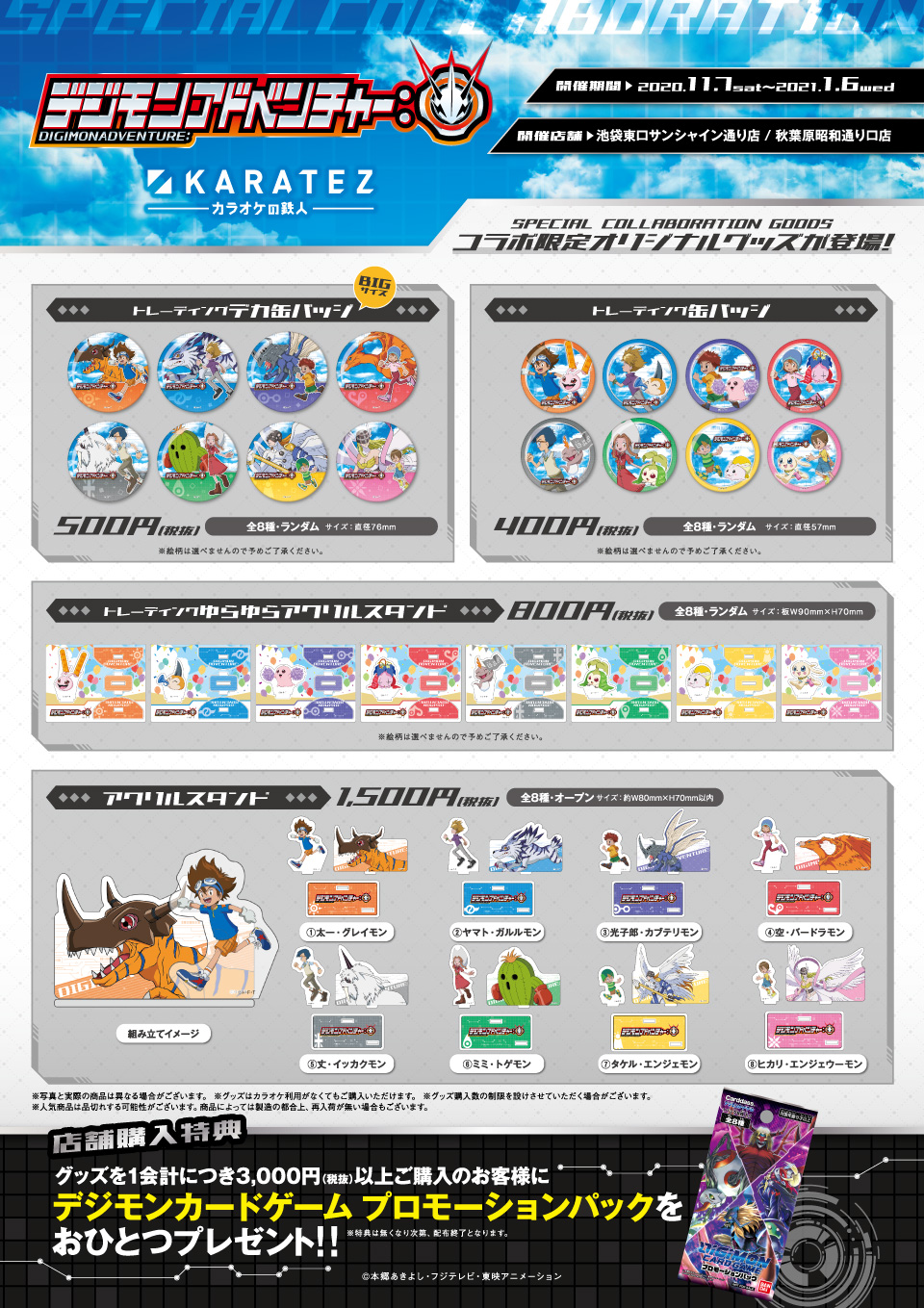 The products all feature the new art of the kids and their Digimon.
Big Can Badges- 500 yen each, random, 8 available
Can Badges- 400 yen, random, 8 available
Acrylic stands (Digimon at their lower level)- 800 yen each, random, 8 available
Acrylic stands (kids and the Digimon evolved)- 1,500 yen each, 8 available (not random)
The items will be made available on Animate Online to purchase at some point.
If you spend 3,000 or more you'll get the recent black/purple Digimon Card Game promo pack.
The products are mostly cuteish, if basic. The drinks feel like a step up from the recent batch announced for the kitchen car (not sure I'd want any of them still, but they don't look so bad.)
Thanks to onkei for translation help.