Show User Social Media
Hide User Social Media
Joined

Sep 8, 2006
Messages

16,175
A few big updates!
First, a Digimon Adventure 20th teaser. There isn't 'much' new here, but a few interesting things that we will all no doubt dicuss quite a bit.
Update- A few reports of the embed not working on a handful of mobile browsers, so here is
a direct link
.
The dialogue from the trailer is as follows:
Taichi: At the time, when we were just children, everything we witnessed was an amazing irreplaceable adventure for us.
Agumon: Taichi, what are we going to do tomorrow?
The text in the trailer reads "To all the children who walked together with Digimon."
A tweet from
the Digimon Adventure 20th account
says that the poster artwork from character designer Katsuyoshi Nakatsuru is based on a 'certain scene' from the movie, and asks everyone to remember Taichi and Agumon this way until the movie releases.
On top of that,
the Digimon Adventure website
has completely updated with a new theme and news, which we will be covering shortly!
Plus a cast list!
We won't list the full cast, because we don't need to, the voices of all 8 of the main characters and their Digimon are returning from Digimon Adventure tri.!
Other bits from the website will be translated in a bit.
Update- Removed the Youtube link as Toei pulled it down and mirrored it.
Also, the Digimon Adventure 20th site has added a page dedicated to listing the
history of Digimon animation
!
Update- Clean versions of a couple things...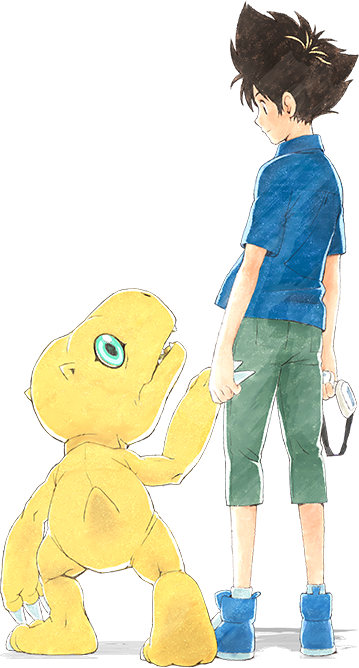 A clean version of the new Adventure movie logo. We took the vector file and rendered it into a high resolution PNG, plus the biggest version of the new Taichi and Agumon art we could find!
Update- A few messages... Plus added and cleaned up translated bits above.
A baby that was born crying is now old enough to be a part of the Seijinshiki [coming of age ceremony].
Although it was not an easy road, with the hard work and efforts of many staffs and the blessings of everyone who was involved, it grew up steadily. The eldest son grew up and a younger brother named '02' was born, and then with 'Tamers' and 'Frontier' it became four brothers.
After that more and more staffs joined to become cousins and relatives we turned into a huge family and clan. The memories of the production of each work have a deeply emotional presence in our hearts.
There are fans who support each work and are passionate about it, and their passion is in engraved in our memories. The fans too are positioned as an important work. I want you to stay with us.
From the last twenty years ago.
Twenty years from now.
From my position as the first producer, as long as I am mentally and physically strong, I want to keep watching over this work.
From the shadows of the pillar. (This is a lie, I'm scared)
-Seki Hiromi, Digimon Series Original Producer
At this milestone of the 20th Anniversary, what is Digimon? I thought this was a difficult challenge.
The only thing I decided at the beginning was to do a movie.
At that time, it was simply a drawing and as I thought about the drawing and the image quality aspect I became conscious of the words 'what is a movie?' As I continued to solve it, the aspects concentrated into a single film is the entertainment factor, the various implications hidden within and even now, wondering what to do when I get lost?
It's turning into a big pillar to naturally return to. What I'm trying to say here is that for about 90 minutes I want the people watching the movie to be glued to the screen and then go home thinking 'Wow, that was fun!'
We are working hard keeping this goal in our minds. To all the people who met Digimon in these past 20 years. And to all the people who will meet Digimon for the first time. I will deliver a story of 'Kizuna' (bonds).
-Yosuke Kinoshita, Digimon Adventure 20th Anniversary Movie Producer
Thanks to Ayushi for the translations.