Show User Social Media
Hide User Social Media
Joined

Sep 8, 2006
Messages

15,591
Another collaboration!
There will be a Digimon Adventure 20th collaboration event at
Karatez Karaoke
(Karaoke no Tetsujin.)
The artwork for the event will be the tiles from the 20th Memorial Image.
The collaboration will run between July 13th and September 1st at their Sakuragicho location. Products will also be available at the Shinjuku Kabukicho location beginning on August 1st.
There's a number of things they'll be doing for the collaboration, so let's do products first...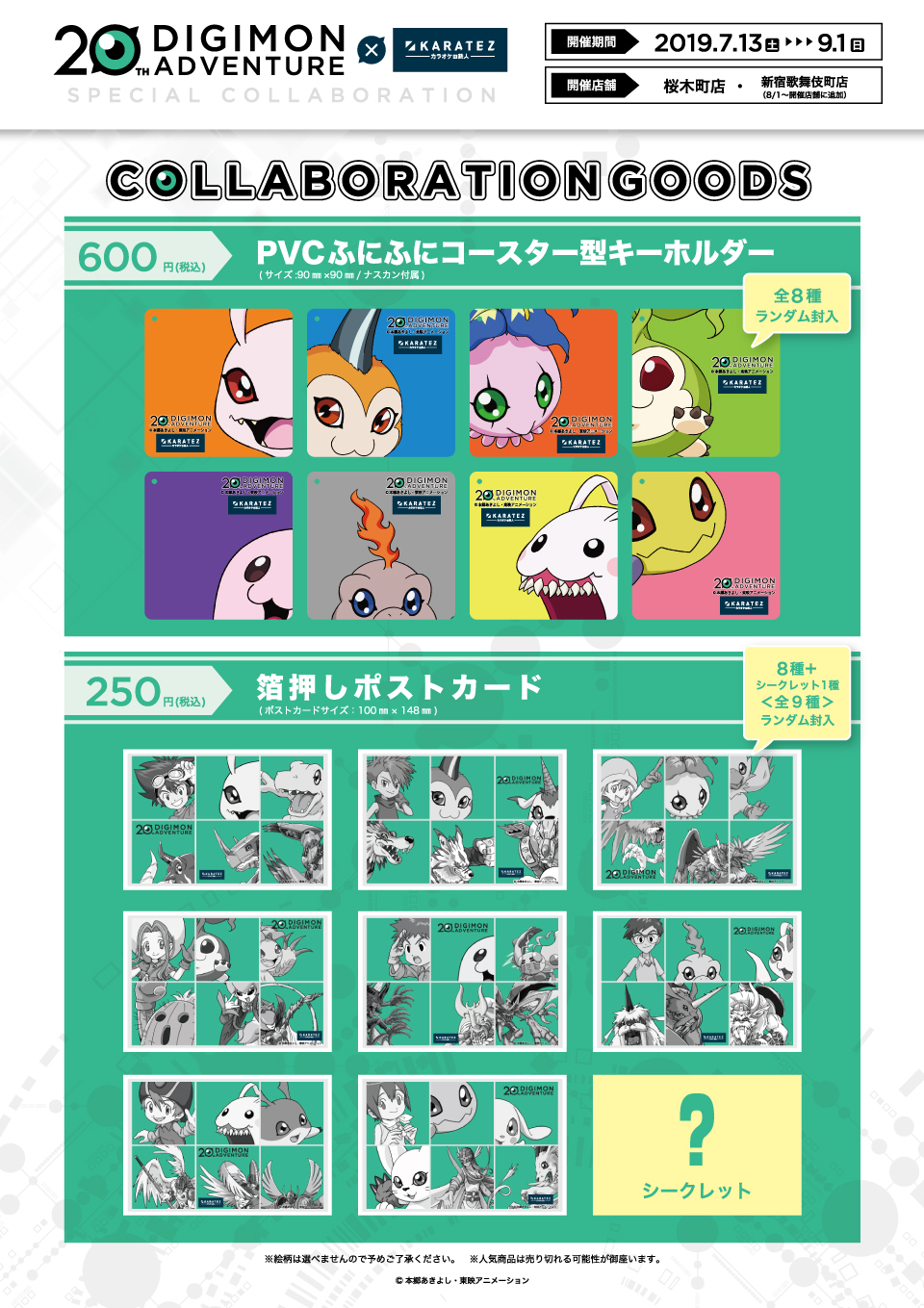 PVC Squishy Coaster-Shaped Keychains of the Baby Digimon. There are 8 total, and they will be 600 yen and given randomly.
Character Postcards. Each one features one of the kids and the various forms of their Digimon. There are 9, the 9 you'd expect, with one being a secret for now. Each is 250 yen and they will be given randomly.
Onto the menu items...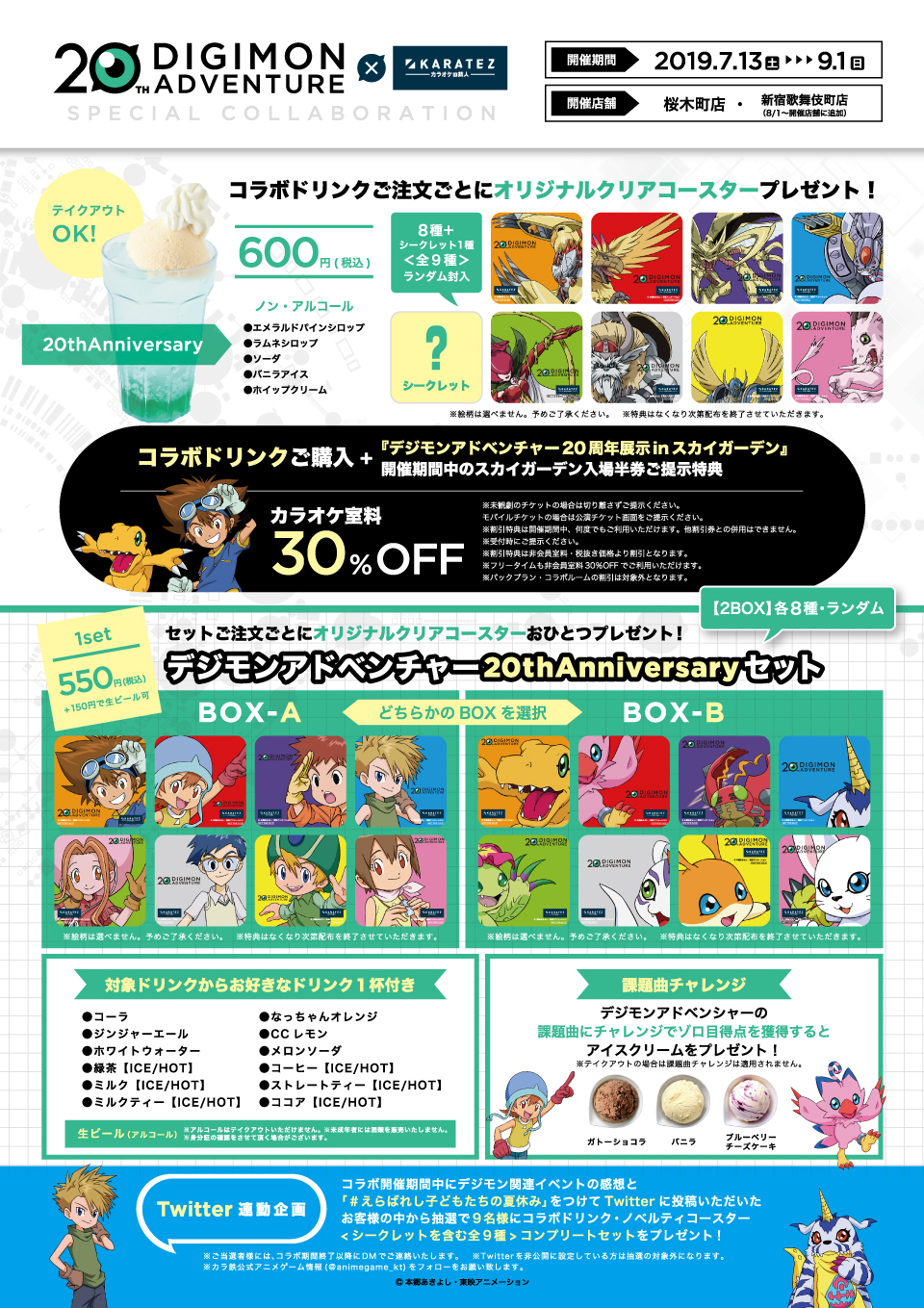 First up is a custom drink for the collaboration. It's soda water with emerald pine syrup, ramune syrup, vanilla ice cream, and whipped cream (it can be ordered as a take out drink also.) It costs 600 yen, and includes one of 9 original clear coasters featuring the Ultimage level Digimon (same as the other, we know 8, but the 9th is a secret.)
As a bonus, if you order the collaboration drink 'and' show your ticket from
Digimon Adventure 20th Anniversary Exhibit in Sky Garden
, you get 30% off karaoke room admission.
There will also be a 'Digimon Adventure 20th Anniversary set' for 500 yen (or 700 yen if you'd prefer draft beer.)
There are two box choices with 8 random clear coasters each. You can choose if you'd prefer Box-A or Box-B. Box-A features the kids, Box-B features the Digimon in their child forms (adult for Tailmon.)
The drink selection for these are: Cola, ginger ale, white water, green tea (iced or hot), milk (iced or hot), milk tea (iced or hot), Nacchan Orange, CC Lemon, melon soda, coffee (iced or hot), straight tea (iced or hot), cocoa (iced or hot), draft beer (ID required.)
When you purchase the set you can also enter a song challenge where, if you get a repdigit from the listed songs (meaning your score is a repeating number- 99, 88, 77, 66) you get a free ice cream and can choose between gateau chocolate, vanilla, and blueberry cheesecake.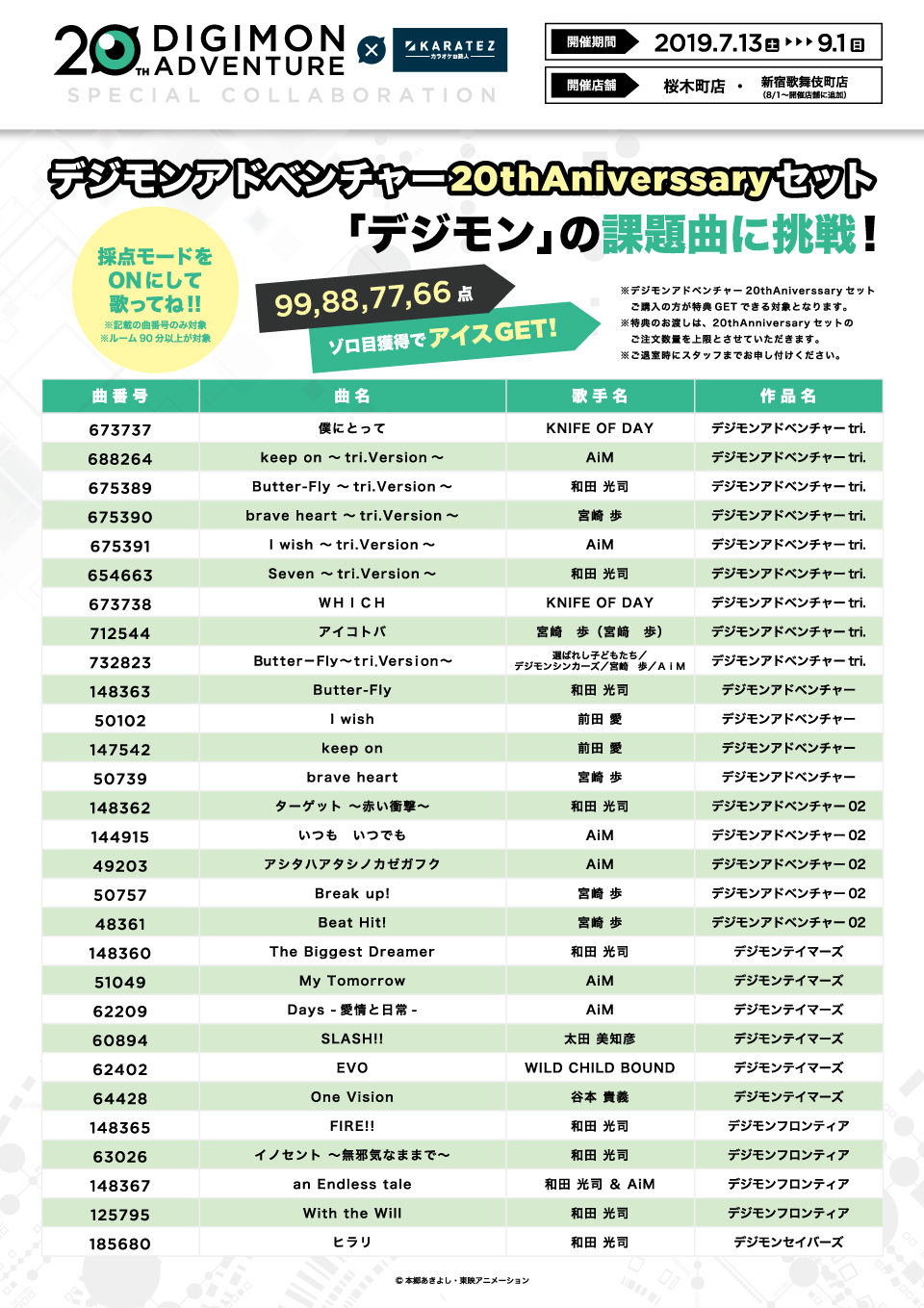 You can only enter the song challenge if you sing one of the songs below, have rented a room for over 90 minutes, and got an Anniversary set (as mentioned above.) The song choices for the song challenge are:
Boku ni totte
keep on ~tri Version~
Butter-Fly ~tri Version~
brave heart ~tri Version~
I wish ~tri Version~
Seven ~tri Version~
WHICH
Aikotoba
Butter-Fly ~tri Version~ (Chosen Children version)
Butter-Fly
I wish
keep on
brave heart
Target ~Akai Shougeki~
Itsumo Itsudemo
Ashita wa Atashi no Kaze ga Fuku
Break up!
Beat Hit!
The Biggest Dreamer
My Tomorrow
Days ~Aijou to Nichijou~
SLASH!!
EVO
One Vision
FIRE!!
Innocent ~Mujaki na mama de~
an Endless tale
With the Will
Hirari
If you go to Karatez durng the collaboration and tweet using the hashtag #えらばれし子供たちの夏休み (translates to ChosenChildrensSummerVacation) they will enter you in a lottery. 9 people will get a free collaboration set and a set of all 9 of the coasters that are normally random with the drink.
Looks to be a fun karaoke event for those able to go.
Update- Heavily, HEAVILY, expanded the above. Thanks to onkei for translations.