Show User Social Media
Hide User Social Media
Joined

Sep 8, 2006
Messages

17,396
After getting a very early sneak preview of unfinished molds almost a year ago
, it's about time to pre-order the Super Complete Selection Animation D-3.
Super Complete Selection Animation is an upgraded version of the Complete Selection Animation line. They feature 'prop' style Digivices with sound effects, voices, games, and lights. Super upgrades them with color screens, and some fun little non-game play features.
Two models will be available, a blue Daisuke model and a black Ken model.
On top of the new D-3, a promo card featuring the packaging art is also included with both models.
Daisuke & Ken card is a parallel card of an existing card. Based on pre-order numbers they may stop offering it. The card may be offered again at events in the future.
The SCSA D-3 features a brand new D-3 mold based on how it appears in the show.
They also included rubber texturing on the grips.
A new feature for this SCSA is a microphone, which activates features in each one.
Then we have the features...
First up, voices and music.
For the Daisuke model...
Reiko Kikuchi & Junko Noda return as Daisuke and V-mon for new recordings that total over 450 words.
Various popular Digimon songs play including...
Songs include:
Target ~Akai Shougeki~
Break Up!
Brave Heart
Beat Hit!
Butter-Fly!
Ashita wa Atashi no Kaze ga Fuku
Alright, Let's Go To The Digital World!
Let's Go Home ~Target Instruments~
Some lines can be activated while the songs play.
For the Ken model...
Romi Park and Naozumi Takahashi return as Ken and Wormmon for new recordings that total over 450 words.
The same music/dialogue feature is in the Ken model, but with a slightly different song lineup...
Target ~Akai Shougeki~
Brave Heart
Beat Hit!
Butter-Fly!
Itsumo Itsudemo
Smile of Darkness ~Digimon Kaiser's Theme~
Clash!!
Fight to the Death
Each also has the Digimon Analyzer appear for 15 Digimon, with the voice of Hiroaki Hirata narrating.
The main modes are a bit different between models.
First up, Daisuke...
Swapbetween real and Digital Worlds
Swapping modes changes the form of the partner Digimon and songs will change.
Real World- Chibimon has many lines, and he can evolve to V-mon!
Digital World- Destroy Dark Towers!
For Ken...
Switch between Digimon Kaiser and Ken modes
Build a Dark Tower on the map as the Digimon Kaiser
Ken and Wormmon interactions in Ken mode.
Evolution!
For Daisuke...
Say Digimental up to activate armor evolution. (They note it's looking for words, you can say anything.)
They have reproduced evolution scenes, and in fact, this SCSA has the most of any SCSA with 9 main character scenes.
After evolution you can hear their lines and activate special moves.
For Ken...
Use your voice to trigger Dark Evolutions!
Trigger Wormmon evolutions also!
You can also search for Digimentals to find them on the map for both.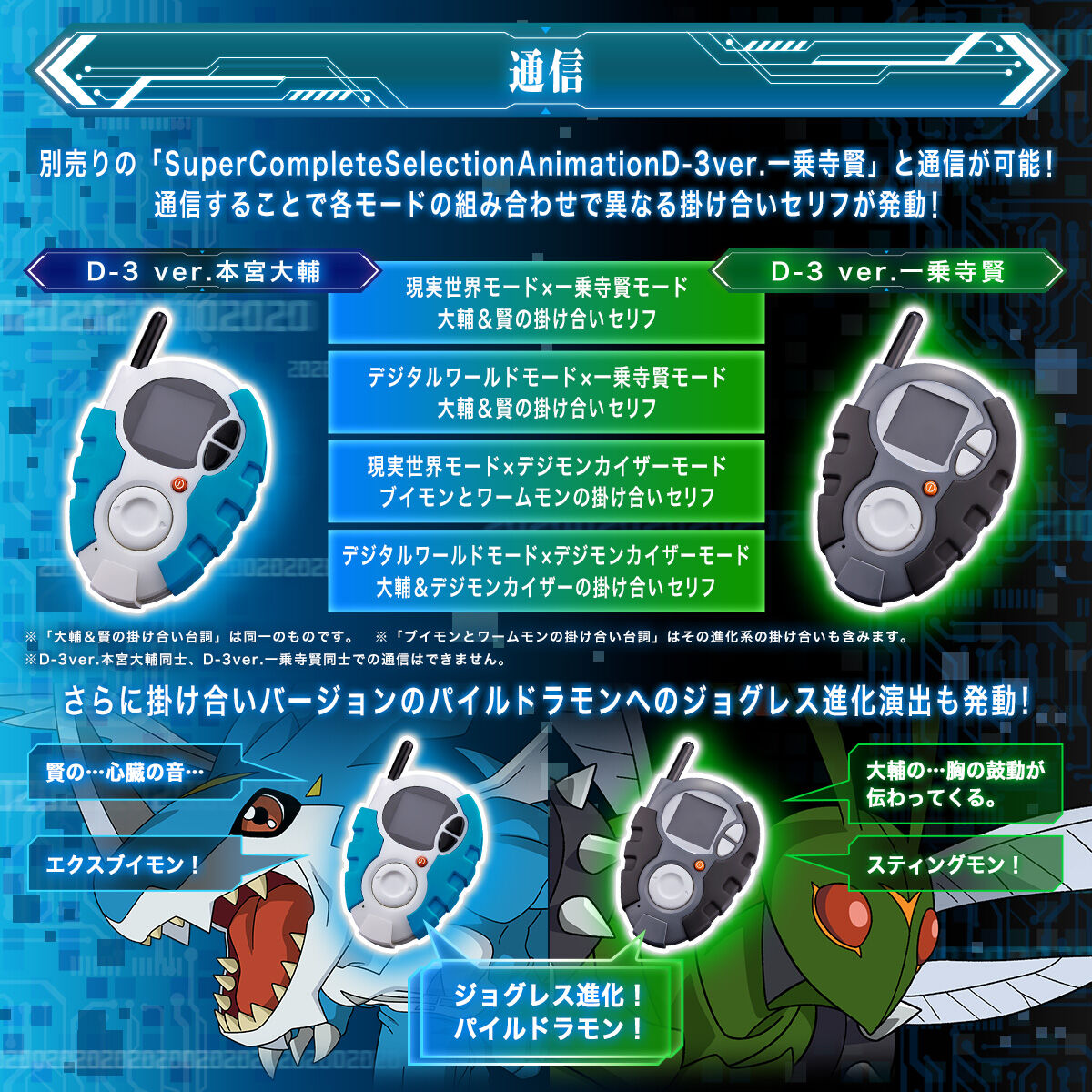 It can communicate with the other D-3 for different dialogue lines, based on what mode they are in.
In addition, jogress evolution to Paildramon can be activated!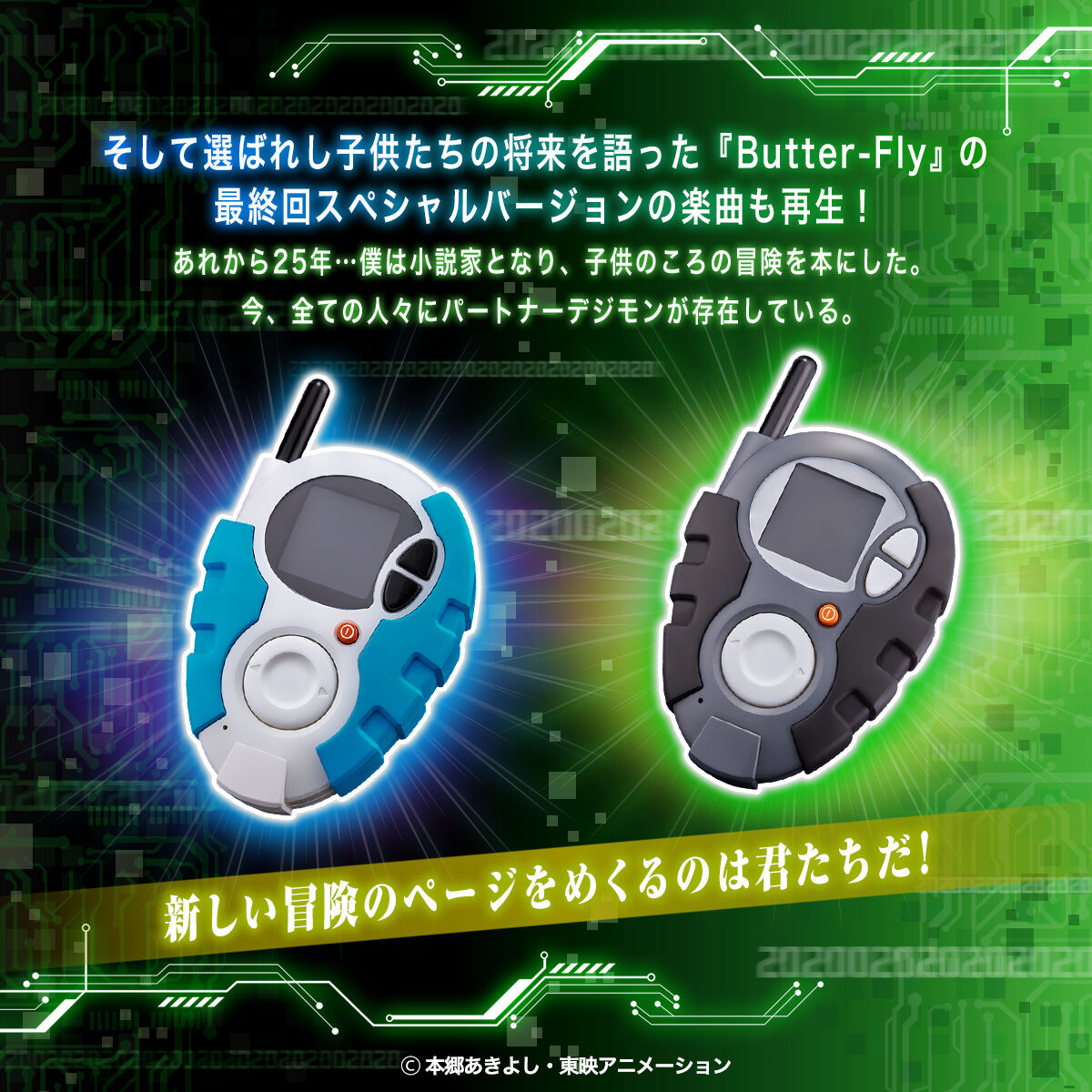 The final special version of Butter-Fly plays, along with dialogue, speaking of the future of the Chosen Children, where everyone has a partner Digimon.
Now you are the one who turns the pages to a new adventure!
Pre-orders open in a bit over 2.5 hours for both SCSA D-Scanners at Premium Bandai.
They are 14,300 each at Premium Bandai. Pre-orders close on October 23 and they ship in March 2024. Pre-orders may close early based on sales. It's also possible the cards will stop being available.
Digimon Adventure 02 Super Complete Selection Animation D-3 Version Daisuke Motomiya
SuperCompleteSelectionAnimation D-3ver.本宮大輔
Digimon Adventure 02 Super Complete Selection Animation D-3 Version Ken Ichijouji
SuperCompleteSelectionAnimation D-3ver.一乗寺賢
Super nice looking. The molds look fantastic and the contents feel pretty solid for 02 based stuff.
SCSA stuff has generally shown up at Premium Bandai US, so it may be worth waiting a bit... but if you can't...
A few extra bits...
Premium Bandai Japan is currently harder to access, so a bit extra for those who want to pre-order and not wait to see if there is an international release.
Some intermediaries will want not only want the urls of the items above, but may ask for the product name in Japanese as written on the page. Those names are given above, directly below the pre-order links.
If you want to be sure to nab something...
We've currently pared down the list of intermediaries we list due to some places closing and others becoming iffy in their communication, calling into question their reliability. If you have any stories, positive or negative, about any intermediaries, DM me with them so we can figure out who might be worth adding (or re-adding), since these aren't affiliate links or anything, simply suggested ways to make it easier for fans to nab stuff.
You'll want to contact an intermediary to get these items sent to you. WtW is not affiliated with any, but here are a selection of intermediaries that have worked well for various WtWers and their friends in the past:
From Japan
Rider Proxy
You'll want to provide your chosen intermediary with the link to the item. Just copy paste the link to the product pages for what you want and send them a message about it and they'll take care of it after they discuss pricing and their policies with you. The links embedded in the news article for the products are exactly what you'll need to send them.
Some of the intermediaries have a full storefront and may have the item listed, so you may want to check that first.