Show User Social Media
Hide User Social Media
Joined

Sep 8, 2006
Messages

13,214
FIrst up... we have some new information on something we
found out about awhile ago
.
We have a much better look at the 2nd wave of 20th V-Pets!
Also, they've revealed what the new colors are: Alphamon, Zubamon, and Omegamon.
The colors in these renders appear slightly different in some cases than what we had seen in the original preliminary images in V-Jump (possibly due to the color balance being wrong in V-Jump or the designs being earlier in the design process.)
It appears there will also be an 'early bird' bonus when orders go up: Shikishi boards with an illustration by Kenji Watanabe.
The price will be 3,780 yen and more details are to come in June (which based on previous information is when pre-orders will also begin.)
Update- A few small updates and clarifications from the new issue of V-Jump.
We get a preview of the exclusive egg from each new color, but they don't clarify if there will be exclusive Digimon or not, just that the eggs will hatch into a 'special Digimon' (and they don't specify what exactly that means.)
The first 9,000 orders will be the ones to receive the shikishi boards for their specific design. They don't say the exact breakdown, but we expect it's 3,000 for each V-Pet.
Pre-orders are confirmed for June as was expected.
Thanks to garm for translations.
In addition, we've found out about two NEW items for the 20th anniversary that are sure to be very extremely popular with fans.
New releases for the 15th Anniversary Digimon Adventure Digivice!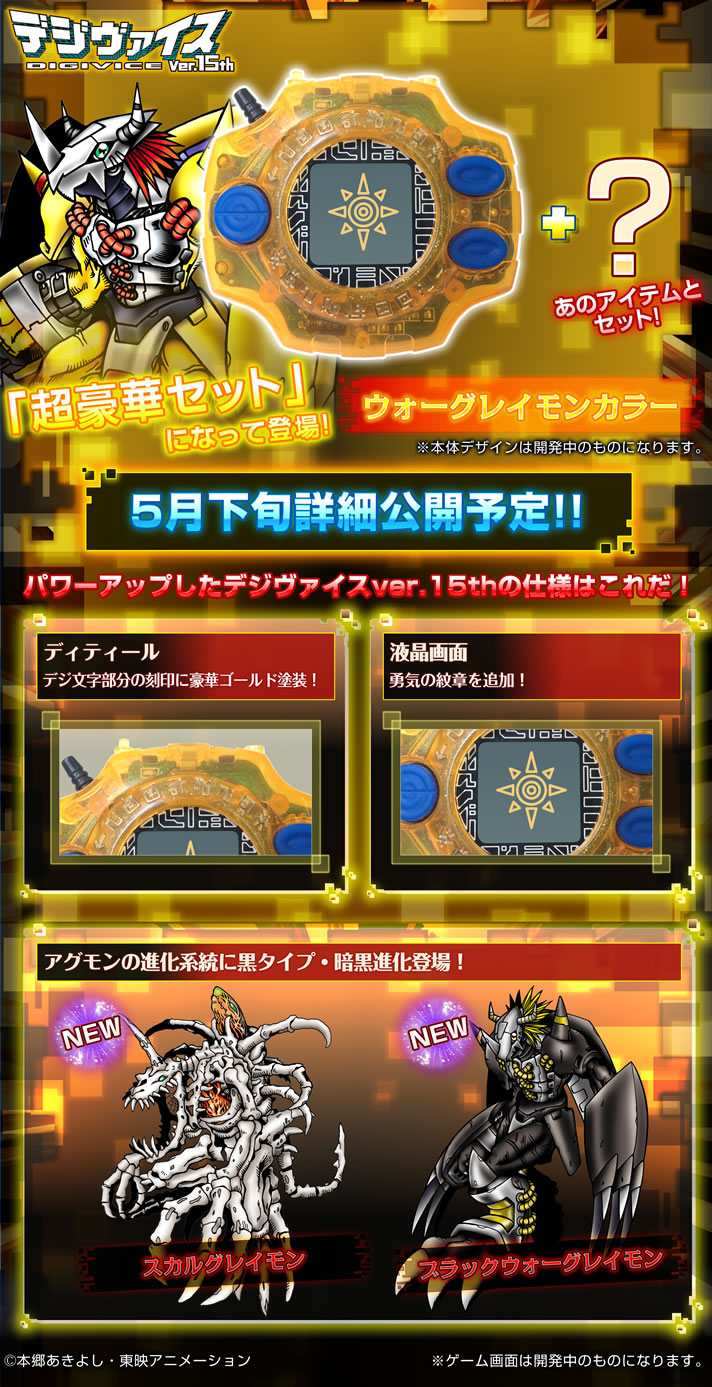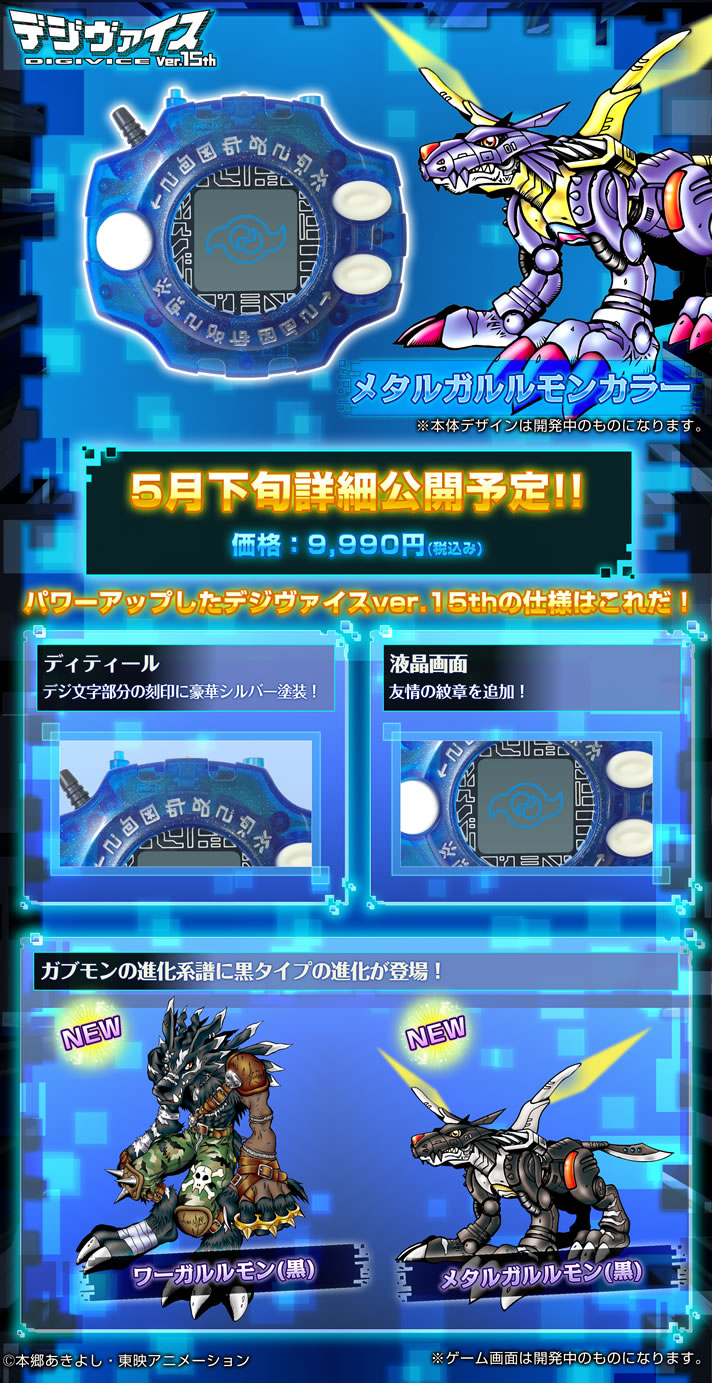 We have a handful of details of these new Digivices for now...
These are new versions of the 15th Digivice, updated for the 20th anniversary of the franchise.
There is a WarGreymon Color, and a MetalGarurumon Color.
The WarGreymon Color is part of a set containing a 'mystery' item.
The digicode etchings will be colored gold.
The screen will have a crest of courage design.
SkullGreymon and BlackWarGreymon are being added.
No price is mentioned.
The MetalGarurumon Color will have silver digicode etchings.
The screen will have a crest of friendship design.
WereGarurumon (Black) and MetalGarurumon (Black) are being added.
The price will be 9,990 yen
More details will be released later in May for both.
Premium Bandai currently has teaser pages for the V-Pets and Digivices:
Digimon V-Pet 20th Anniversary Version (Second Wave)
Digimon Adventure Digivice 15th Anniversary Version- WarGreymon Color
Digimon Adventure Digivice 15th Anniversary Version- MetalGarurumon Color
More information on these soon...
Update- All 5 will be on display at Digimon Adventure: The Real World when it opens on May 3rd, along with the shikishi boards.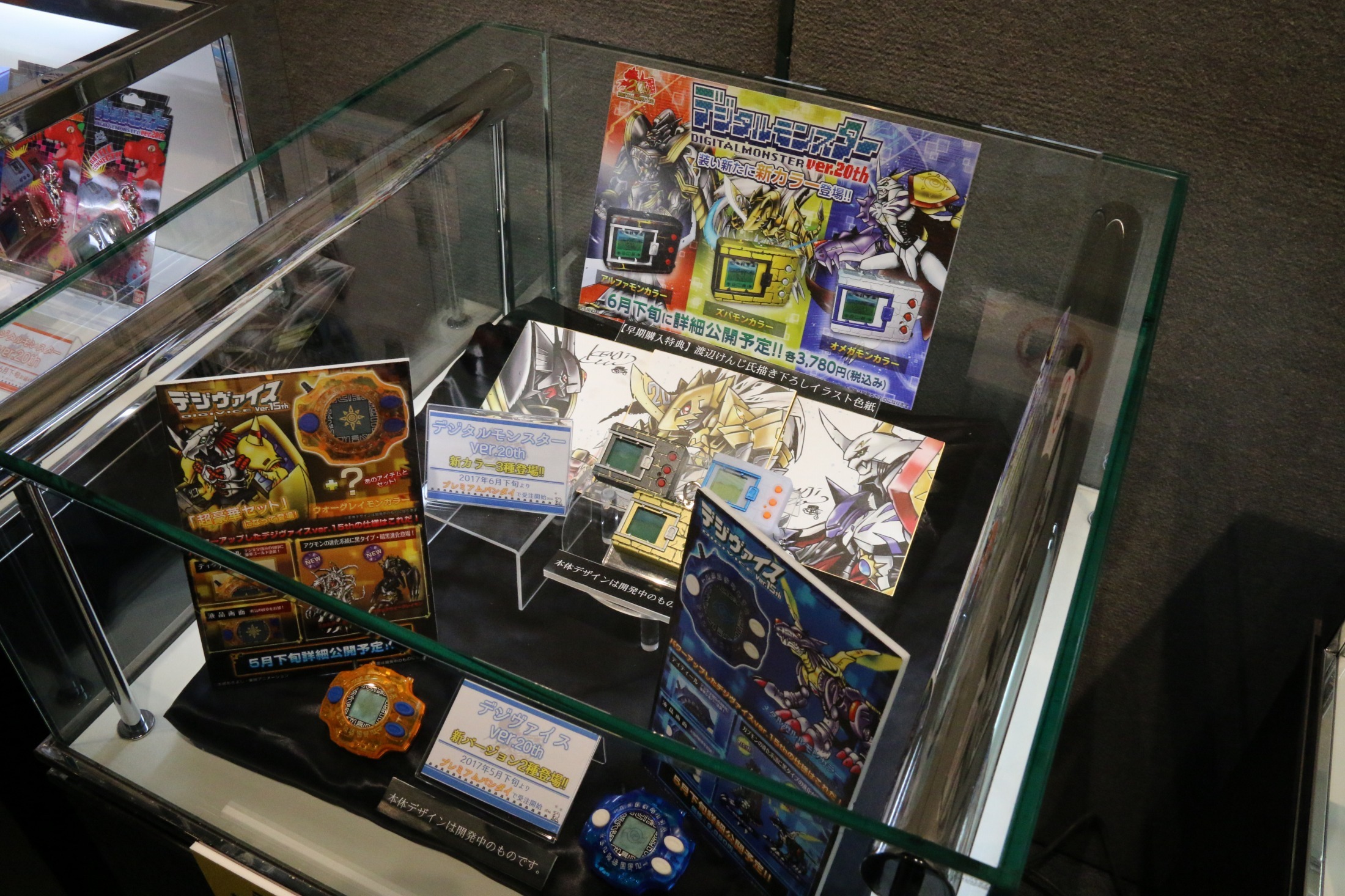 I gotta say, the colors of the second wave of V-Pets REALLY looks fantastic on the ones on display. Neither the V-Jump images nor the renders really do them justice.