Show User Social Media
Hide User Social Media
Joined

Sep 8, 2006
Messages

15,827
This will make many people happy!
Pre-orders have gone up for normal store releases for many items from the 2nd set of Digimon Adventure 20th Graffart products!
The products all feature key art done in the style of the Adventure anime, designed to match the poses of the previous GraffArt chalk art and features all the Adventure kids and their Digimon at the circus!
First announced in June, and made available at GraffArt stores roughly a week ago, this will be an easier way for people to get items,
much like last time
.
All the products are scheduled to ship in August. The links below are CDJapan affiliate links that help the site (if you don't see the links it's your adblocker. Minus relevant product text links we don't have ads on the site, so turning it off for WtW would be appreciated.)
The prices listed below are the MSRPs. All the items are discounted slightly at CDJapan from the MSRP at the time of posting..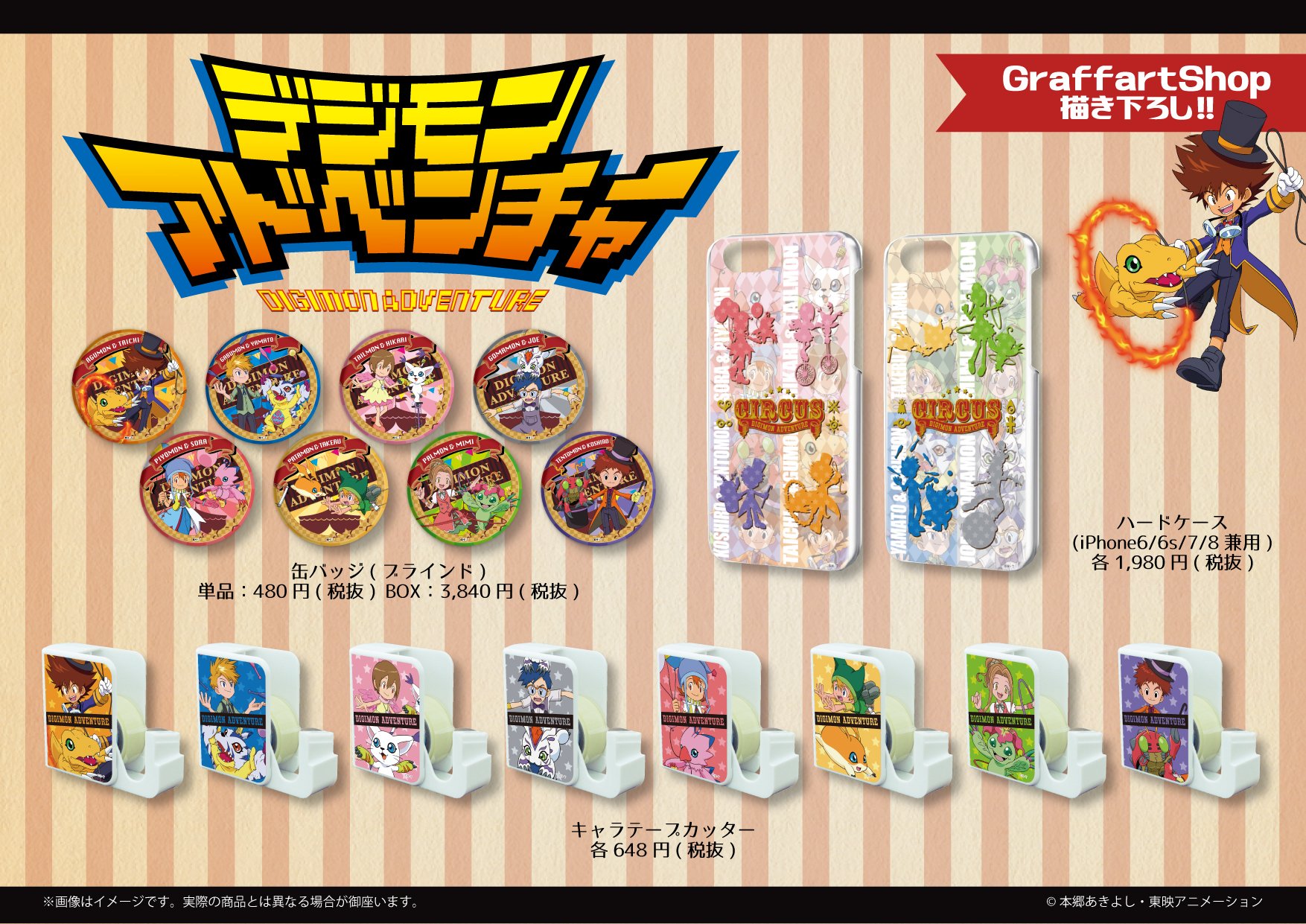 Can badges. There are 8 total.
A box of 8 is 3,837 yen.
Hard iPhone cases. These iPhone cases each feature half the character lineup in star silhouettes, with their faces behind. They will fit the iPhone 6, 6s, 7, and 8. Each is 1,980 yen.
Sora, Hikari, Koushiro, Taichi
Takeru, Mimi, Yamato, Jou
Character tape dispensers. Each of these features a different character duo and costs 648 yen each. (This item isn't currently listed for a standard release.)
A clear file for 400 yen. The front features the art, while the back features silhouettes and a Digimon Adventure logo. Size isn't specified, but based on the price of the one from the last collaboration, we expect it's A4 size (8.27 x 11.69 inches.) (This item isn't currently listed for a standard release.)
Acrylic stands! Each of these features one child/Digimon duo with the new art and costs 1,600 yen each.
Taichi
,
Yamato
,
Sora
,
Koushiro
,
Mimi
,
Jou
,
Takeru
,
Hikari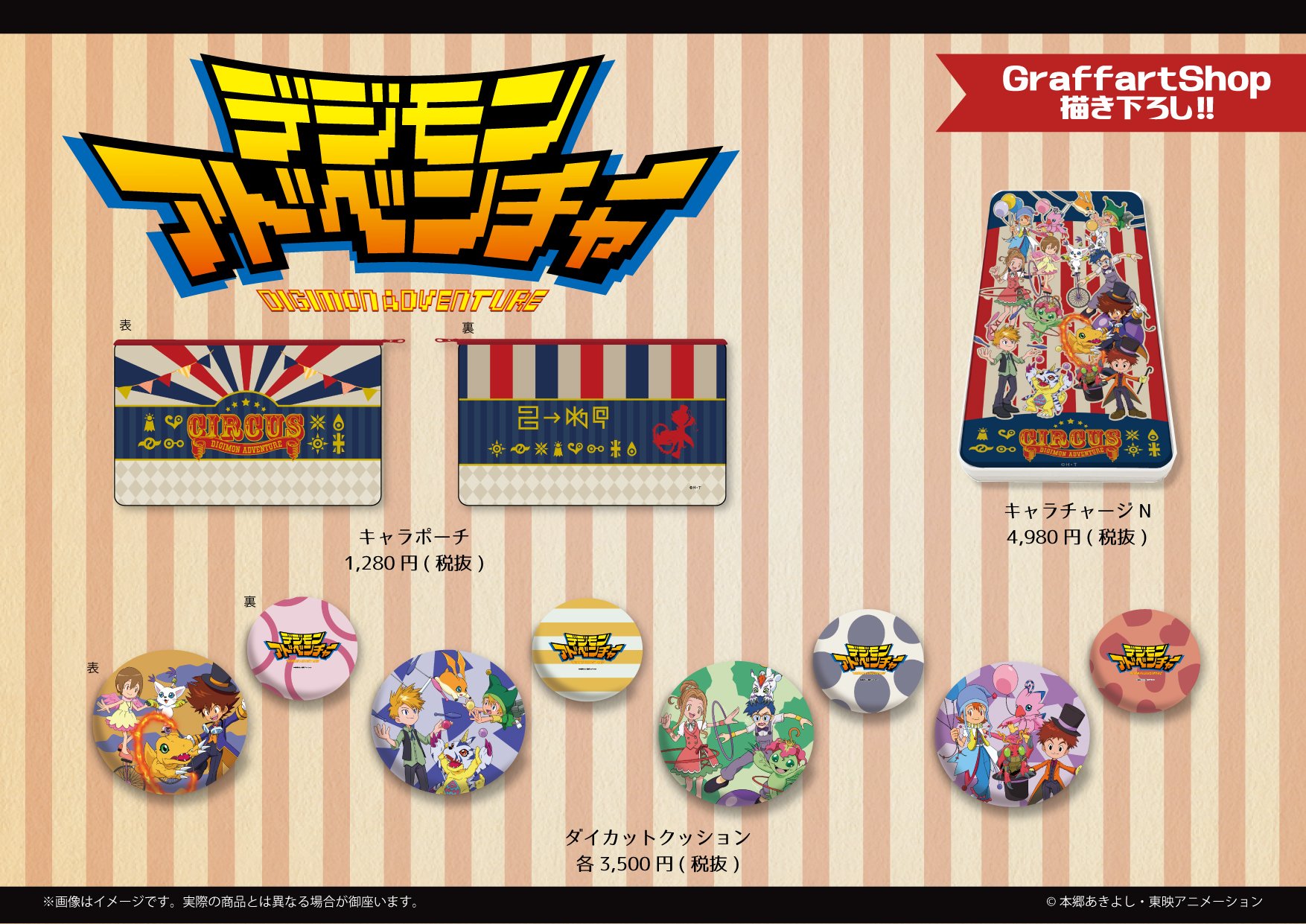 A pouch featuring a general circus theme
along with the crests, digimoji, and silhouettes of Taichi and Agumon for 1,280 yen.
Mobile phone/device battery for 4,980 yen. Based on similiar models, we expect this to be 4000 mAh. (This item isn't currently listed for a standard release.)
Die cut cushions! Each cushion features 2 character pairs on the front, an Adventure logo on the back, along with the accompanying digiegg designs on the front and back. Each is 3,500 yen. (This item isn't currently listed for a standard release.)
This should make it much easier to get these items, as intermediaries won't be needed.
When/if they update with the last few products we'll add links.
Previous info about this wave of GraffArt products can be found
here
and
here
.
Info about the 1st wave from earlier this year can be found
here
.