Show User Social Media
Hide User Social Media
Joined

Sep 8, 2006
Messages

15,827
Good night for event news...
After a collaboration
a few months ago
(along with
a standard release
afterwards) we're getting a second set of Digimon Adventure 20th and GraffArt products because of how popular it was for them.
This time instead of the art being in the GraffArt graffiti chalk style, it's the circus poses again, but this time in the classic Adventure art style!
Starting July 5th, and ending July 21st, GraffArt stores will have the new products featuring this new artwork. It isn't clear what (if any) will get standard releases later, but based on last time it seems likely.
The full lineup of products will be at the GraffArt stores in- Ikuebukuro main, Namba, Fukuoka Tenjin, Sendai, and Nagoya.
An unspecified 'limited' lineup of products will be at the GraffArt stores in- Ikebukuro P'Parco, Akihabara, Sannomiya, Sakai, Yokohama, Shinjuku, Kichijoji Parco, and Magnet by Shibuya 109.
Online orders will start at
their online store
at 10am the same day.
As for the products themselves...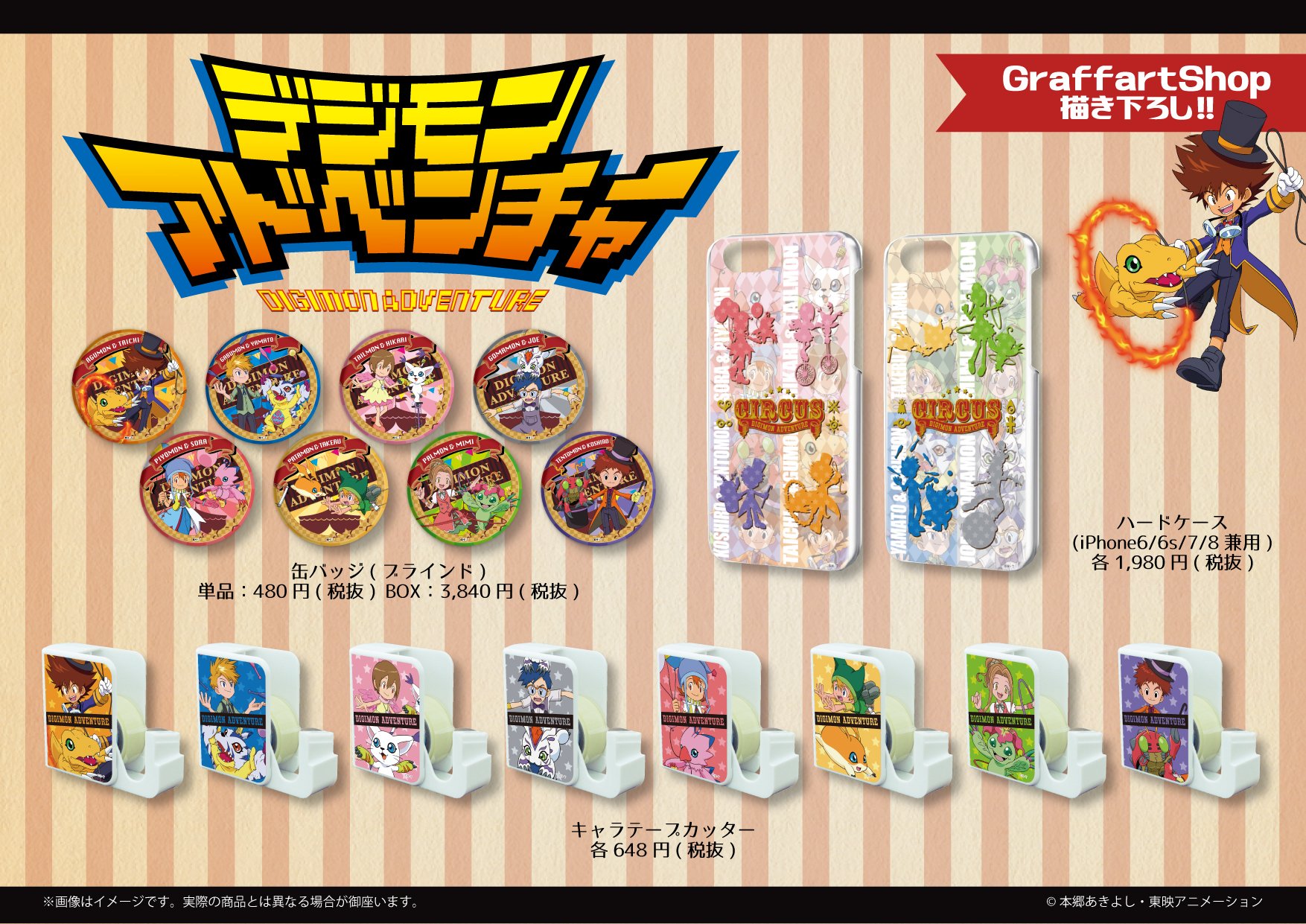 Can badges. There are 8 total blindpacked for 480 yen each. A box of 8 will also be sold for 3,840 yen.
Hard iPhone cases. These iPhone cases each feature half the character lineup in star silhouettes, with their faces behind. They will fit the iPhone 6, 6s, 7, and 8. Each is 1,980 yen.
Character tape dispensers. Each of these features a different character duo and costs 648 yen each.
A clear file for 400 yen. The front features the art, while the back features silhouettes and a Digimon Adventure logo. Size isn't specified, but based on the price of the one from the last collaboration, we expect it's A4 size (8.27 x 11.69 inches.)
Acrylic stands! Each of these features one child/Digimon duo with the new art and costs 1,600 yene ach.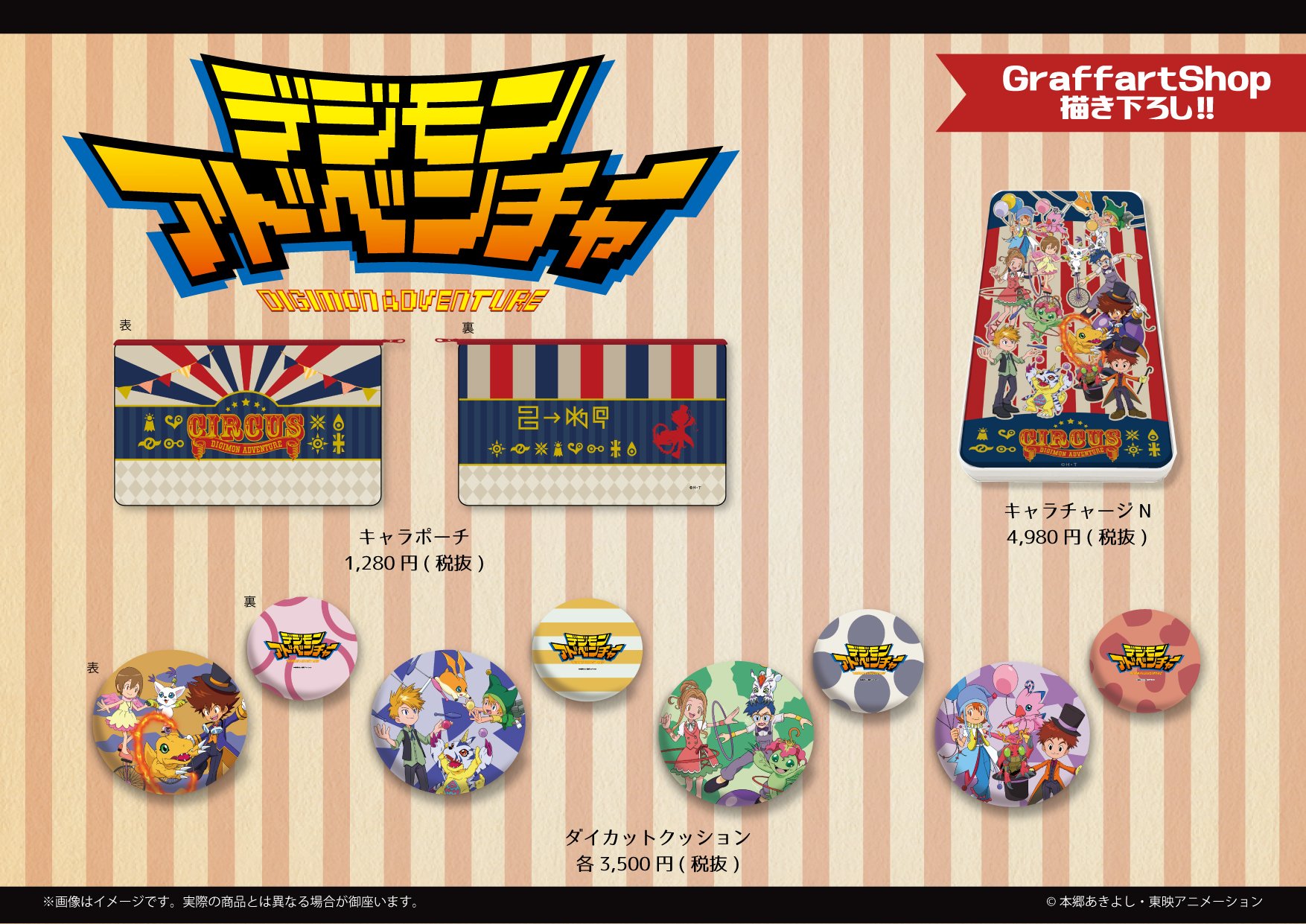 A pouch featuring a general circus theme along with the crests, digimoji, and silhouetes of Taichi and Agumon for 1,280 yen.
Mobile phone/device battery for 4,980 yen. Based on similiar models, we expect this to be 4000 mAh.
Die cut cushions! Each cushion features 2 character pairs on the front, an Adventure logo on the back, along with the accompanying digiegg designs on the front and back. Each is 3,500 yen.
That's it for the products, but there is one more thing...
Not making us wait to announce it
like they did last time
...
For every 2,160 yen you spend at a store on the products (including tax), you get a postcard featuring the circus key art!
Some interesting (and affordable in general) items this time around. It'll be interesting to see what else might pop up from GraffArt in the future for Digimon... Hopefully these items get a wide release afterwards.
You'll want to contact an intermediary to get these items sent to you. WtW is not affiliated with any, but here are a selection of intermediaries that have worked well for various WtWers and their friends in the past:
From Japan
Rider Proxy
Nippon-Yasan
You'll want to provide your chosen intermediary with the link to the item. Just copy paste the link to the product pages for what you want and send them a message about it and they'll take care of it after they discuss pricing and their policies with you. When the products are up we will try and provide links that should be what you need to send to an intermediary.
Some of the intermediaries have a full storefront and may have the item listed, so you may want to check that first. Some also won't deal with items that require going to stores, so in some cases you might want to wait until the online listings go up (or waiting for a potential standard release later.)