Show User Social Media
Hide User Social Media
Joined

Sep 8, 2006
Messages

15,414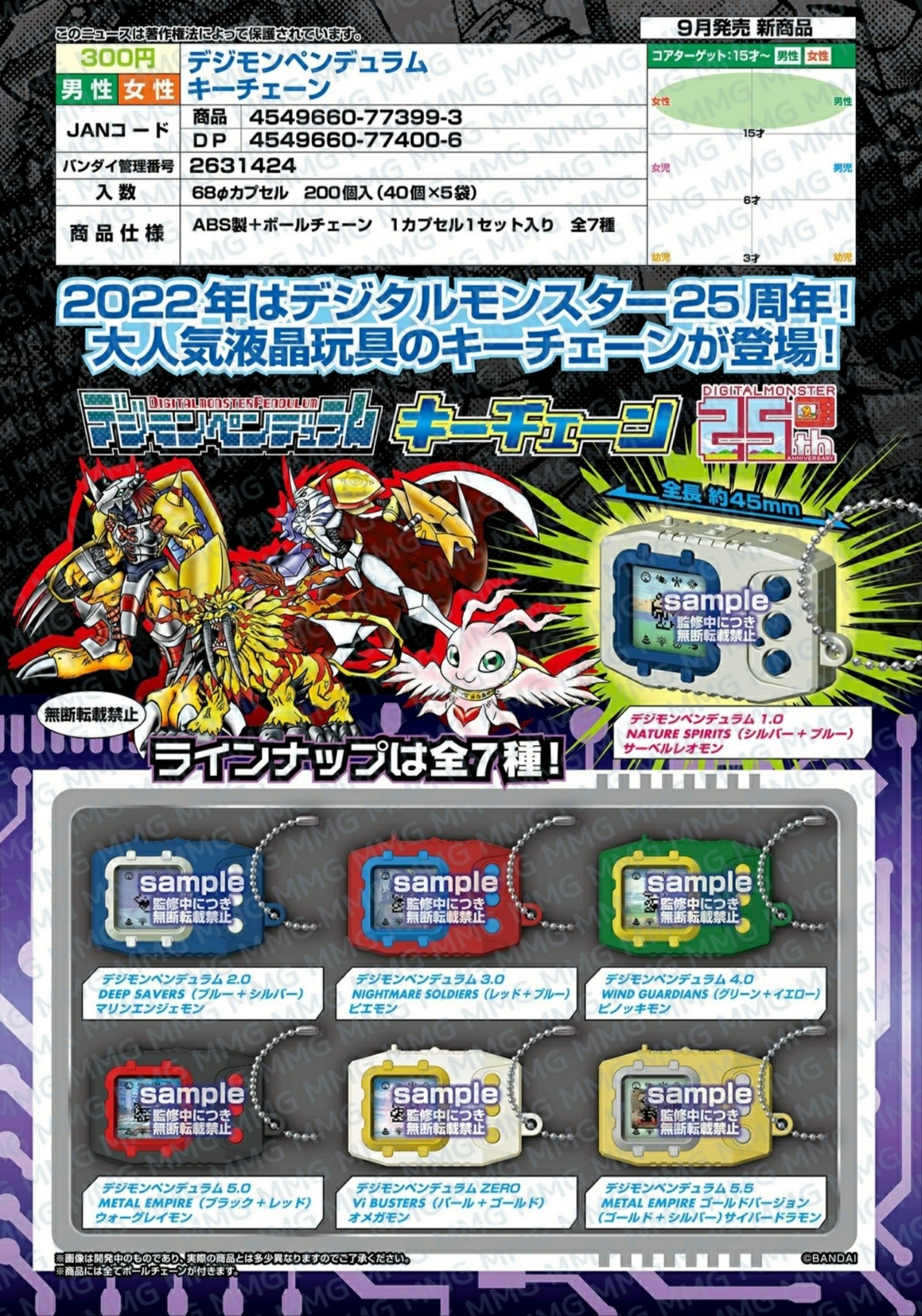 Awhile ago we found out
that V-Pet themed keychains were coming out
as part of the 25th anniversary of the Digimon franchise.
Following up on those, we are getting keychains based on the Pendulum V-Pets.
These will be out in September, and like the previous ones, will be roughly 1.77 inches across and cost 300 yen in gacha machines.
There are 7 total, with 6 based on colors from the main x.0 Pendulum releases, having a Digimon from the release on the 'screen', with the 7th being an interesting one:
1.0 Nature Spirits, Silver & Blue, with SaberLeomon
2.0 Deep Savers, Blue & Silver, with MarineAngemon
3.0 Nightmare Soldiers, Red & Blue, with Piemon
4.0 Wind Guardians, Green & Yellow, with Pinocchimon
5.0 Metal Empire, Black & Red, with WarGreymon
Zero Virus Busters, Pearl & Gold, with Omegamon
5.5 Metal Empire Gold Version, Gold & Silver, with Cyberdramon
The 5.5 Gold Version is based on one of the D-1 Grand Prix versions, and if you look at the image, it has the D-1 Grand Prix background. It wouldn't be a surprise to find out this one is a chase design.
It's a nice follow-up to the V-Pet keychains, plus we get the bonus of getting our first look at a Digimon 25th Anniversary logo.