Show User Social Media
Hide User Social Media
Joined

Sep 8, 2006
Messages

12,847
We didn't even know about the shop a few weeks ago!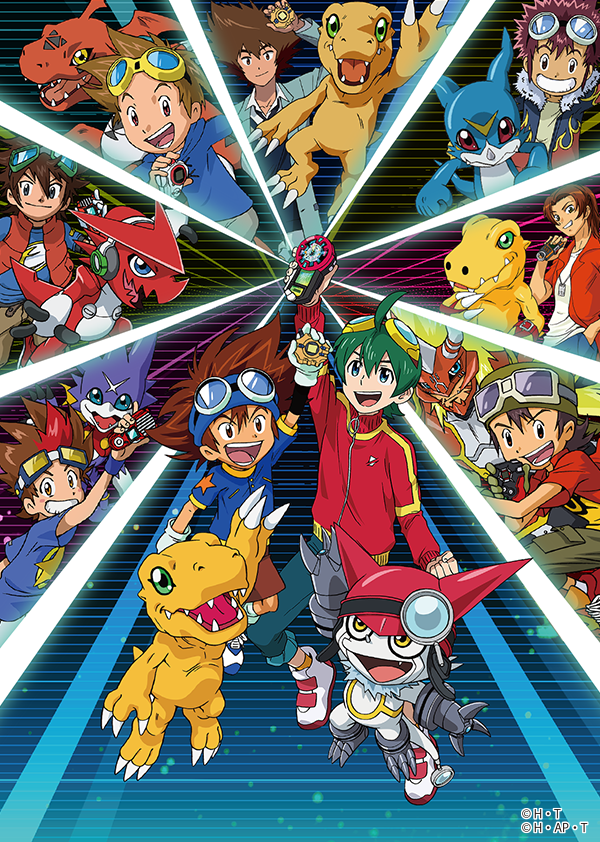 But now we have info and images for the exclusive products!
The Digimon Universe 20th Anniversary Shop will be open July 7th thru July 26th.
The 20th pop-up shop will be at the Limited Base stores in both the
Ikebukuro P'Parco
and the
Nagoya Parco.
This pop-up shop features products featuring the nine Digimon anime series: Adventure, Zero-Two, Tamers, Frontier, Savers, Xros Wars, Hunters, tri., and AppliMonsters!
This time the only items they are giving listings for online (for now) are items exclusive to the shop (although they do mention something else, which I'll go into below.) Prior pop-up shops had a number of additional Digimon merchandise and we expect that to be true for this shop also.
On to the exclusive stuff!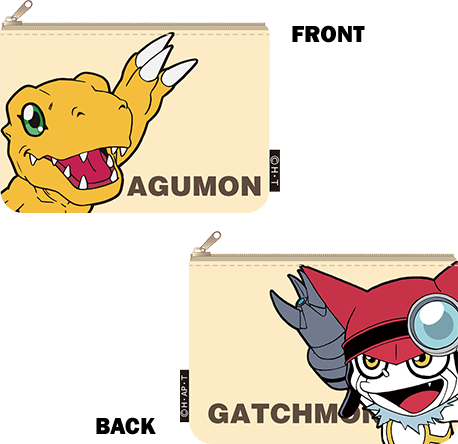 This embroidered pouch with a zipper features Agumon on one side and Gatchmon on the other, and both are waving. It costs 3,000 yen.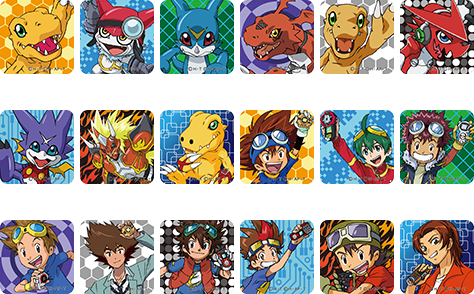 These acrylic magnets are all shaped to look like app icons. There is one for each lead human and Digimon from the anime series that makes up the franchise. The 18 magnets are 500 yen each and blindpacked.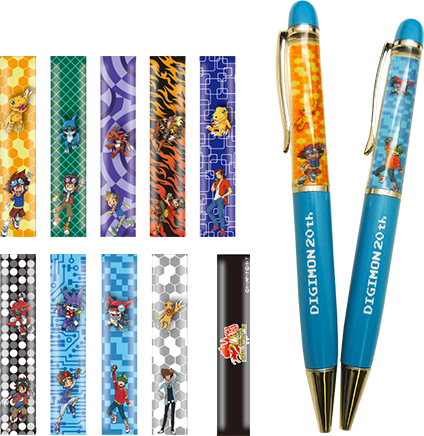 Floater pens! Each of these pens has floating bits suspended in liquid (the floating bits are the human and Digimon from each anime.) Each pen costs 1,000 yen and there are 9 of them.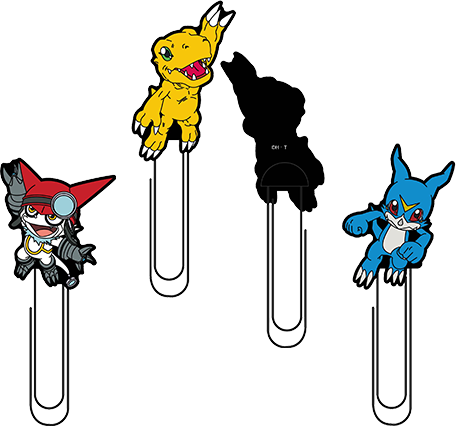 These are big clips made out of PVC. There are three of these featuring Agumon, Veemon, and Gatchmon. Each costs 900 yen.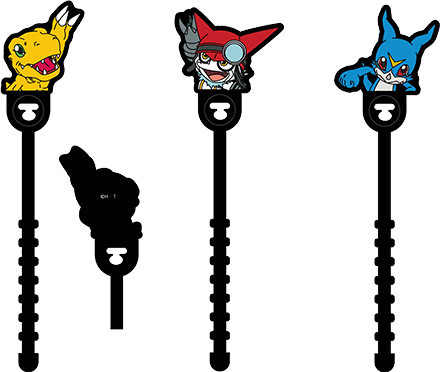 Reuseable cable/zip ties. I'm curious to see what uses people will think of for really nice looking Digimon ties. This product will come in Agumon, Veemon, and Gatchmon varieties. Each is 700 yen.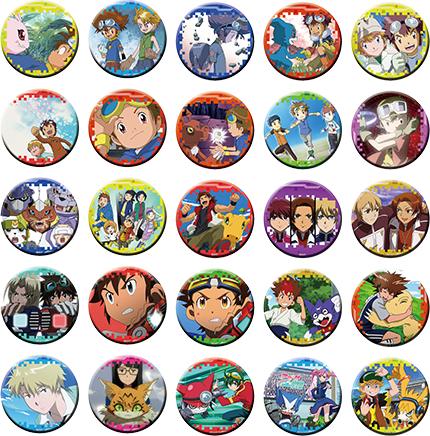 20th Anniversary Can Badges! Most of the series get 3 can badges, 4 total for Xros/Hunters. A nice selection of images that fans will recognize with a digital motif around the edges of the badges. There are 25 badges total and they will be blindpacked for 400 yen each.
A We Love Digimon shirt! This white shirt has a very clean and straightforward design. It costs 2,800 yen.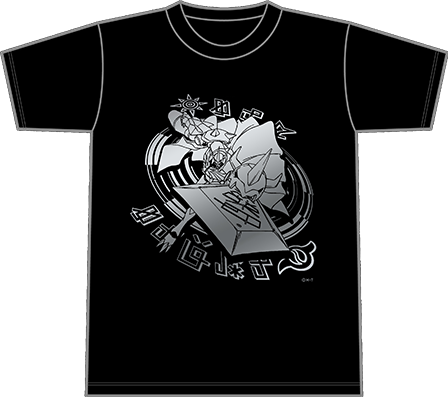 Omegamon shirt! This black shirt has what appears to be a new image of Omegamon on it, in addition to the crests of courage and friendship and some digicode. It costs 2,800 yen.
These Appmon mini tote bags each feature one of the Applidrivers and their Appmon Buddies! Each Applidriver is also cosplaying as their Appmon Buddy! Each features different color printing along with AppliMonsters and characters names in different fonts. Each mini tote is 1,200 yen.
This is a marche bag. They are generally a 'woven' fabric bag. This one features images of various objects, symbols, and text from the 20 years of the Digimon franchise. It's 1,200 yen.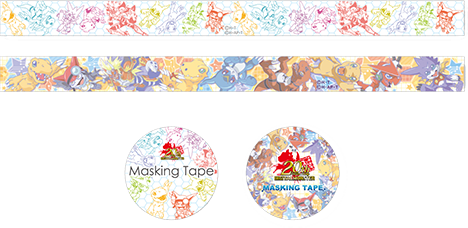 Character masking tape! Each of these features the 9 partner Digimon from the various Digimon anime series. One variety uses the key art fully colored, while the other goes with pastel outlines for the partners. Each is 550 yen.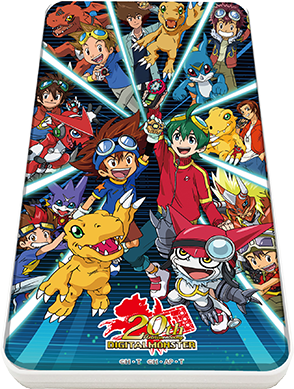 This mobile device battery features the 20th Anniversary key art. It costs 4,980 yen.
Sizes are not given for the various exclusive products.
And up above I said that they 'did' mention something else that they will stock...
They will apparently stock a selection of Digimon CDs, along with a few bonus items...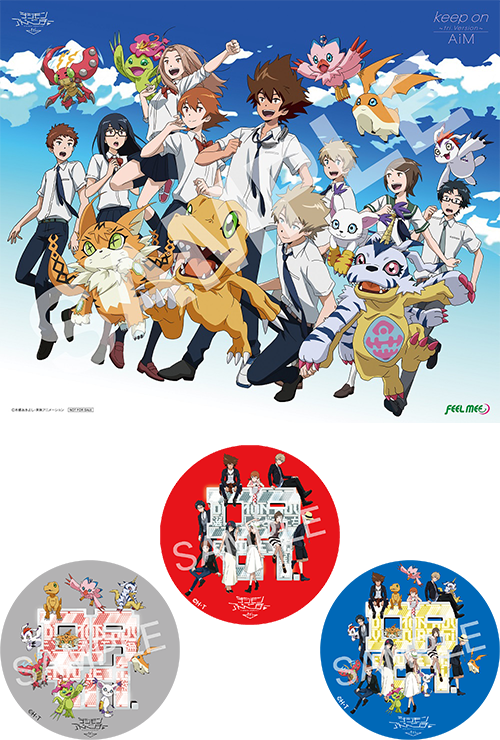 Buyers of (apparently) any CD at the pop-up shop will receive the Keep On -tri. Version- combined version artwork. It appears this will be on card stock, similiar to the first print bonus included with that CD, but we are unsure if this is the same as the first print bonus, or something smaller, more akin to a shikishi board. It appears you will get 1 per CD that you buy.
And the Digimon Adventure tri. Character Song can badges are back! If you purchase more than 2,000 yen of CDs at the pop-up shop you will get one at random.
Both of these will be limited and will not be restocked.
As mentioned above, we do expect other items to be stocked. Recent Digimon items, potentially items from prior pop-up shops. Potentially the
recently announced 20th Anniversary jigsaw puzzle
which uses the same key art as the pop-up shop.
If you want to try and get ahold of these items...
You'll want to contact an intermediary to get these items sent to you. WtW is not affiliated with any, but here are a selection of intermediaries that have worked well for various WtWers and their friends in the past:
From Japan
Rider Proxy
Nippon-Yasan
Japan Hero
The Bandai Premium store has also chosen to affiliate themselves/recommend three potential shops to be used as intermediaries for non-Japanese buyers:
Buyee
From Japan
(this From Japan link shows various items that they waive commission fees for.)
Samurai Buyer
You'll want to provide your chosen intermediary with the link to the item. Just copy paste the link to the product pages for what you want and send them a message about it and they'll take care of it after they discuss pricing and their policies with you. The links embedded in the news article for the products are exactly what you'll need to send them.
Some of the intermediaries have a full storefront and may have the item listed, so you may want to check that first.
Be aware many intermediaries do not carry items from pop-up shops since they can't be ordered online. You will need to ask them and explain what you want very carefully (perhaps with a photo.)
Some of the intermediaries have a full store front and may have the item listed, so you may want to check that first. Information about the shops can be found here:
Ikebukuro
and
Nagoya
Prior threads for the pop-up shop can be found
here
and
here
.
Update- Clarified a few details above thanks to garm!
Update- A few photos of the Ikebukuro shop prior to opening!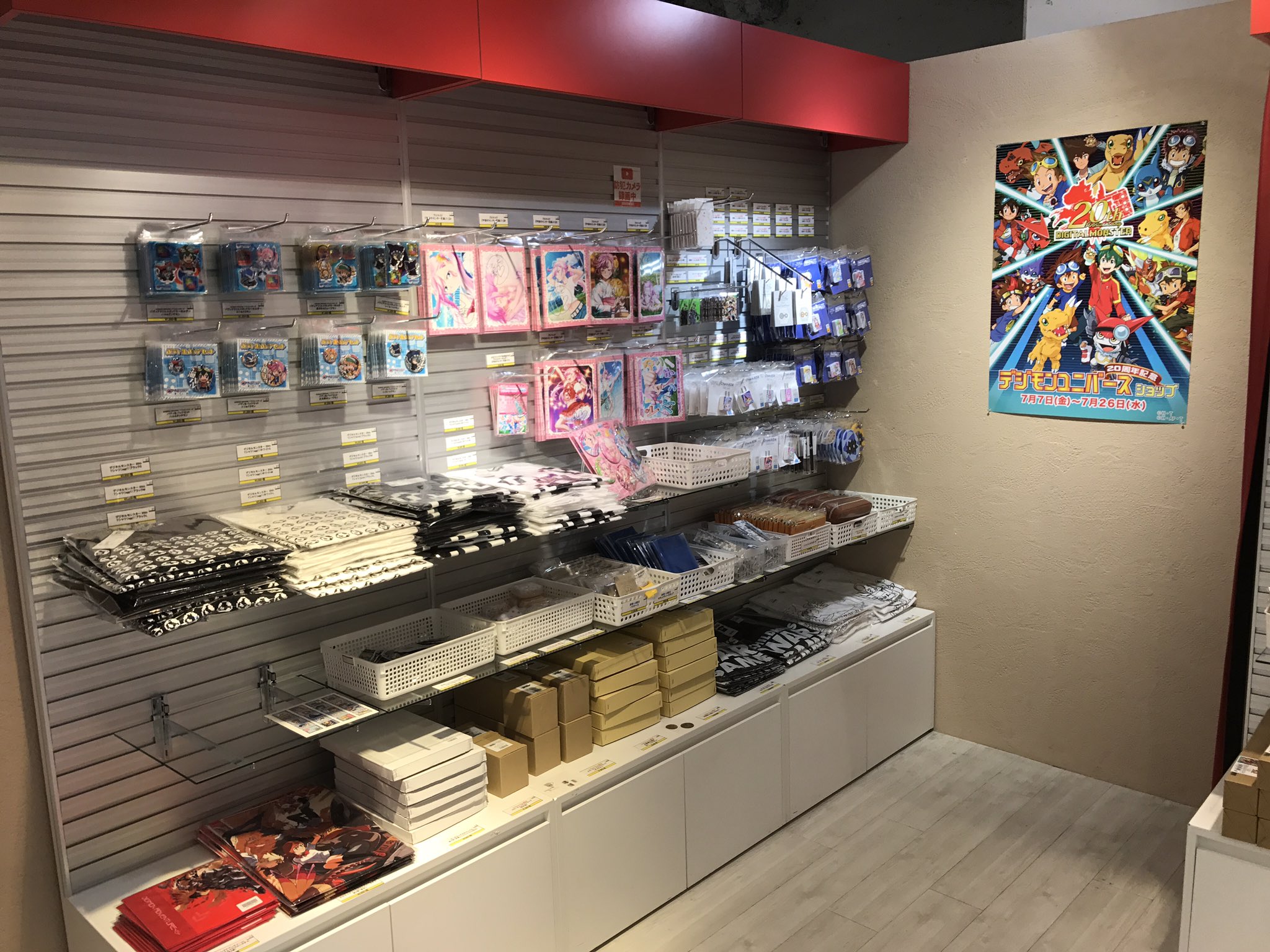 We can see some more products in these photos also.
This includes, but is not limited to:
Mini-standees of the various characters using their 20th Anniversary art.
What appears to be a rolled and boxed poster of the 20th Anniversary key-art.
Various tri. Part 4 products.
Various character art phone accessories.
Shirts, cases, and other items from prior pop-up shops.
Appmon standees/keychains and badges using the same art as the Appmon mini-totes.
The recent Eri merchandise.
And some photos of the Nagoya shop prior to opening!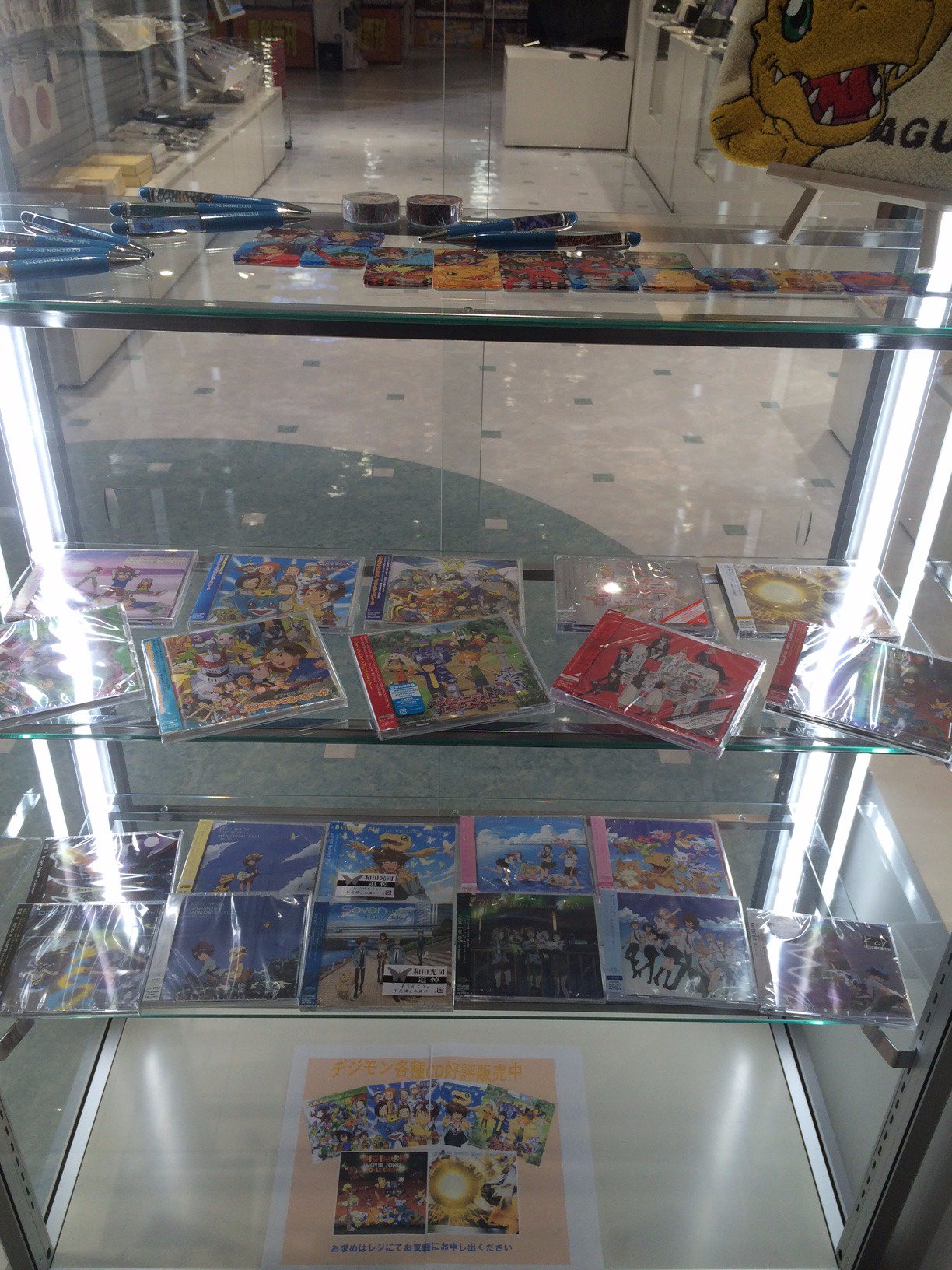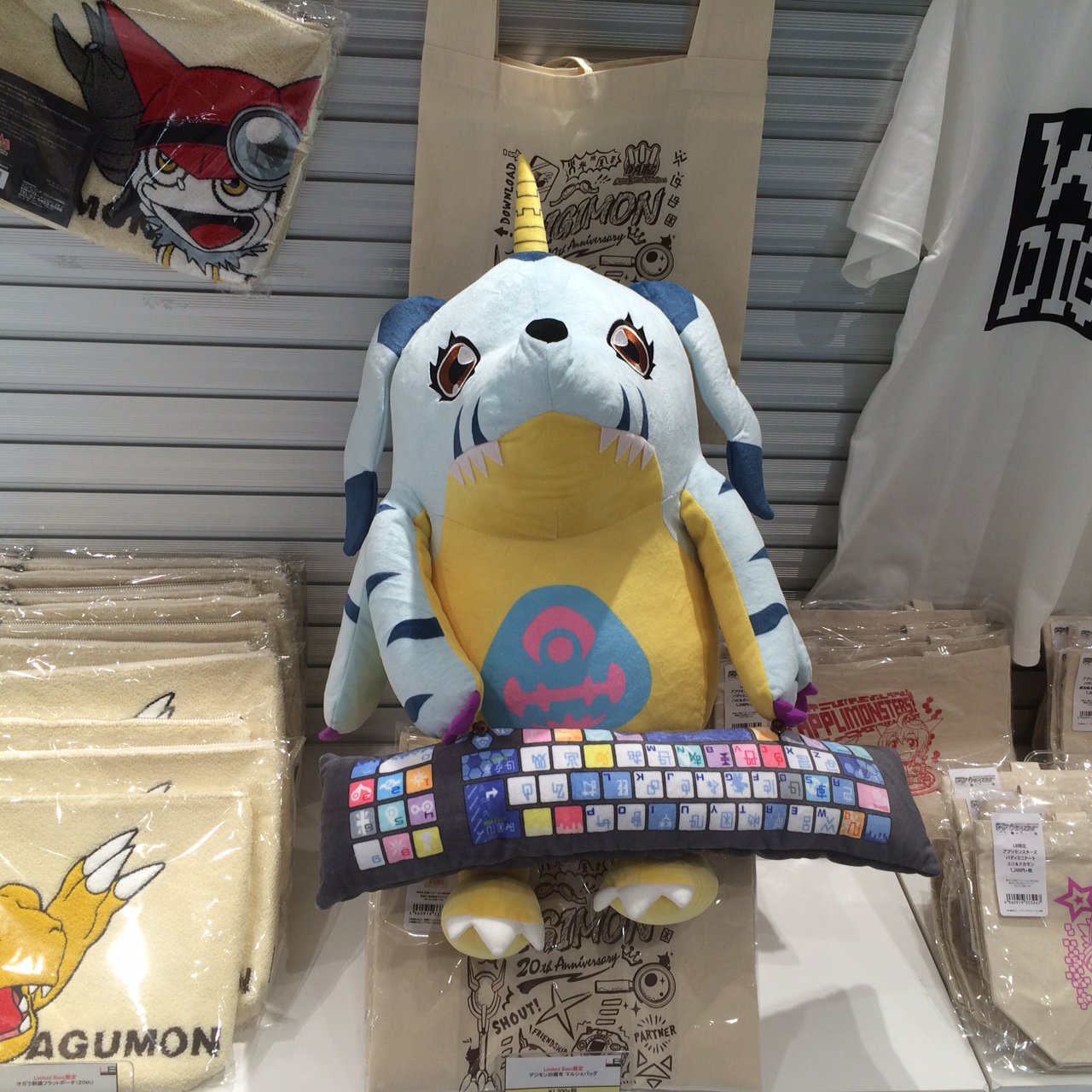 Very nice. In these photos we can also see a few more products that will no doubt get people very excited:
The Agumon and Gabumon PC Buddies
The giant Meicoomon plush is back! (It looks identical in design to the previous Premium Bandai one to me, but it's hard to say before without a closer look.)
A bunch of phone accessories and other apparel type products that have shown up before.
Various Digimon CDs!
Update- Ukyou has given me a number of photos of the inside of the Nagoya pop-up shop to share with everyone. A few of the images also include items he bought.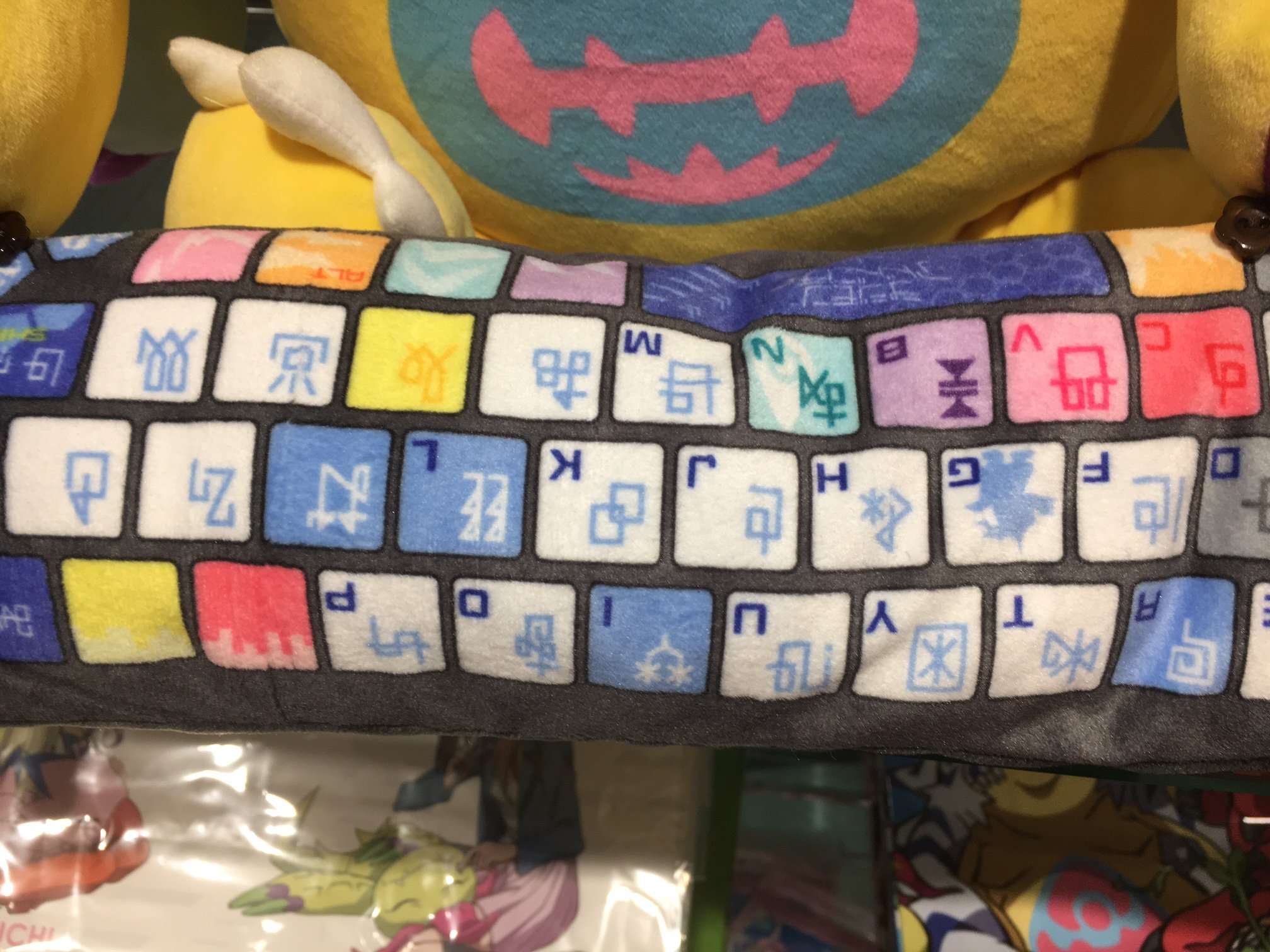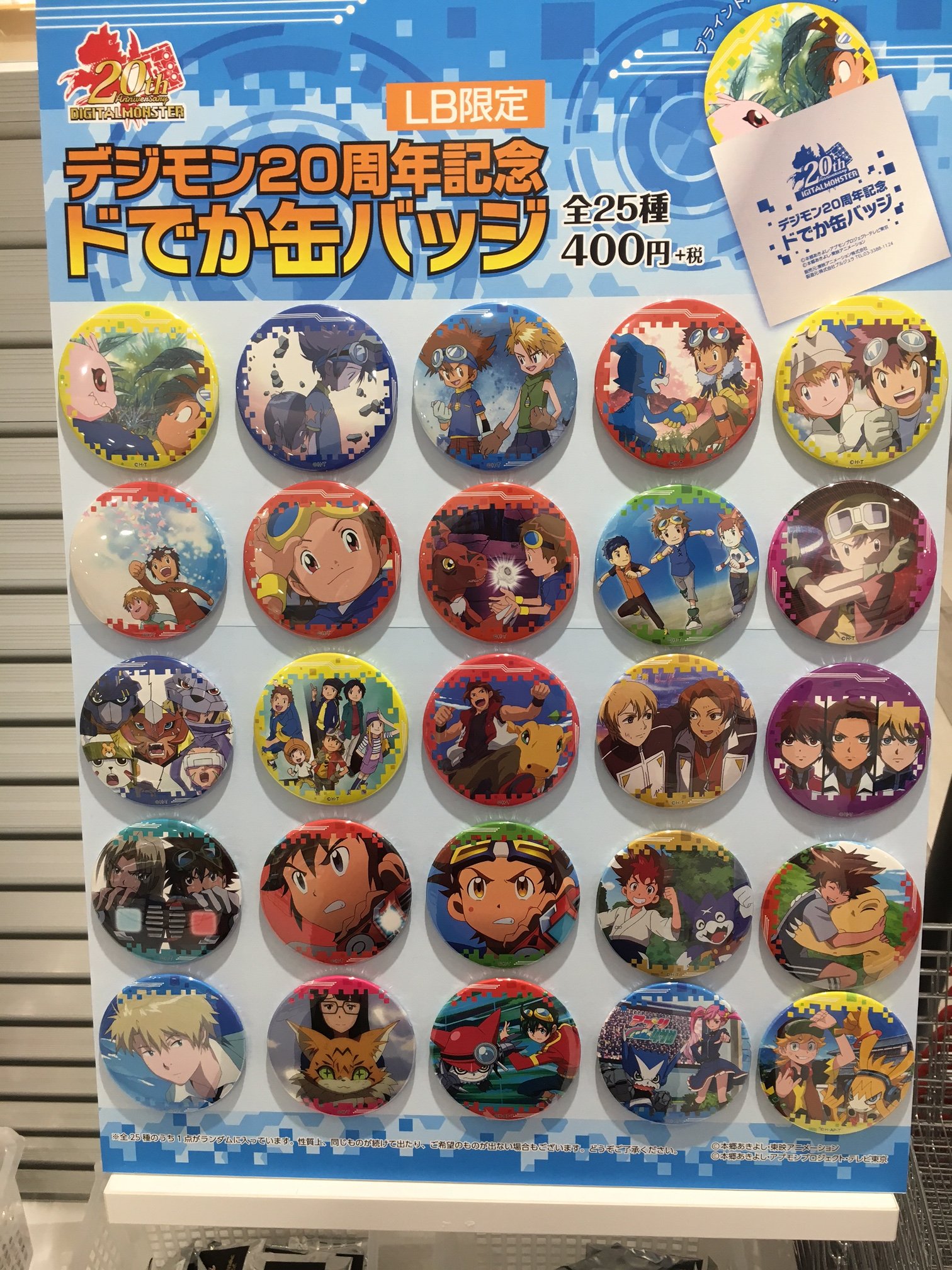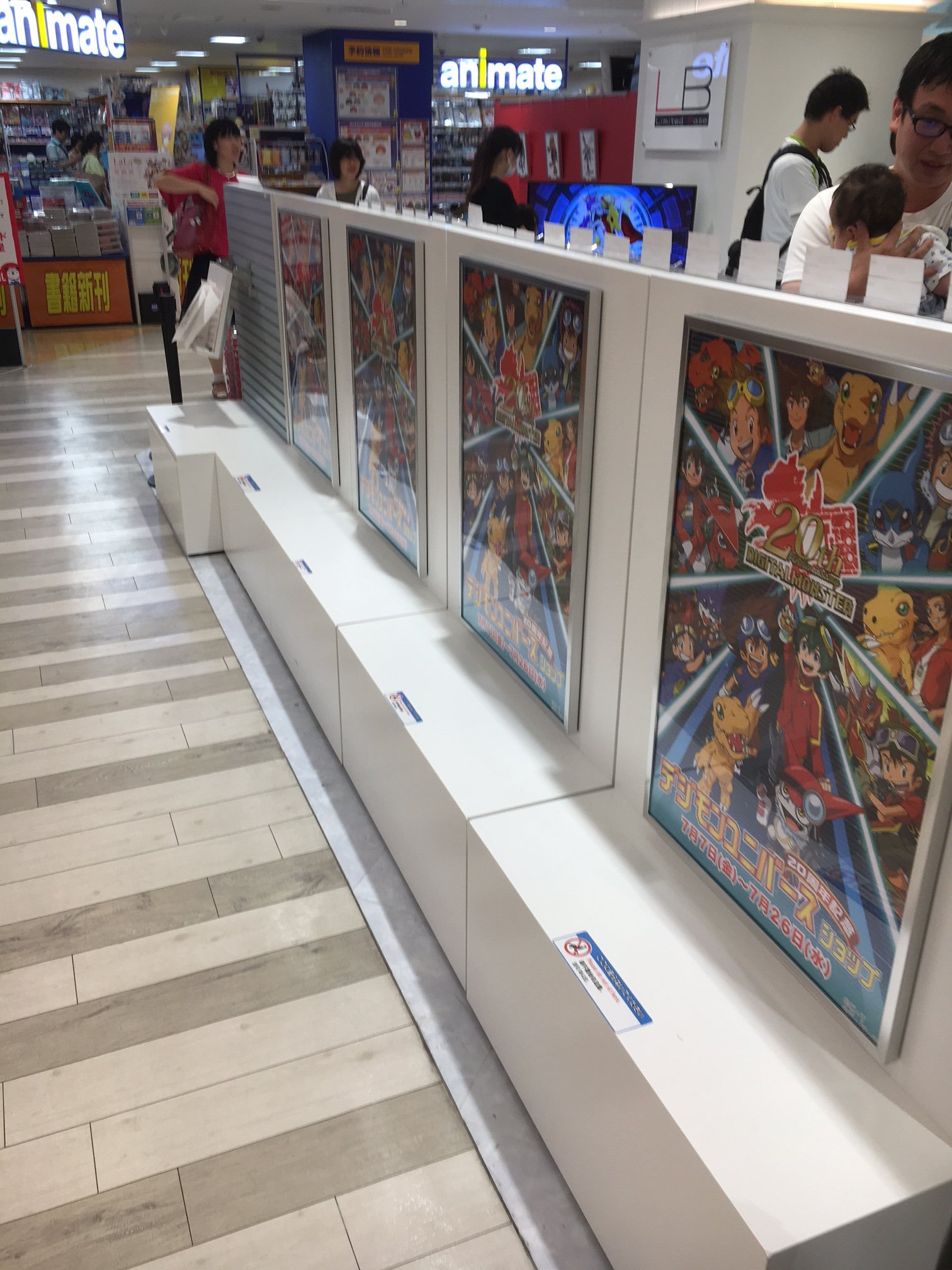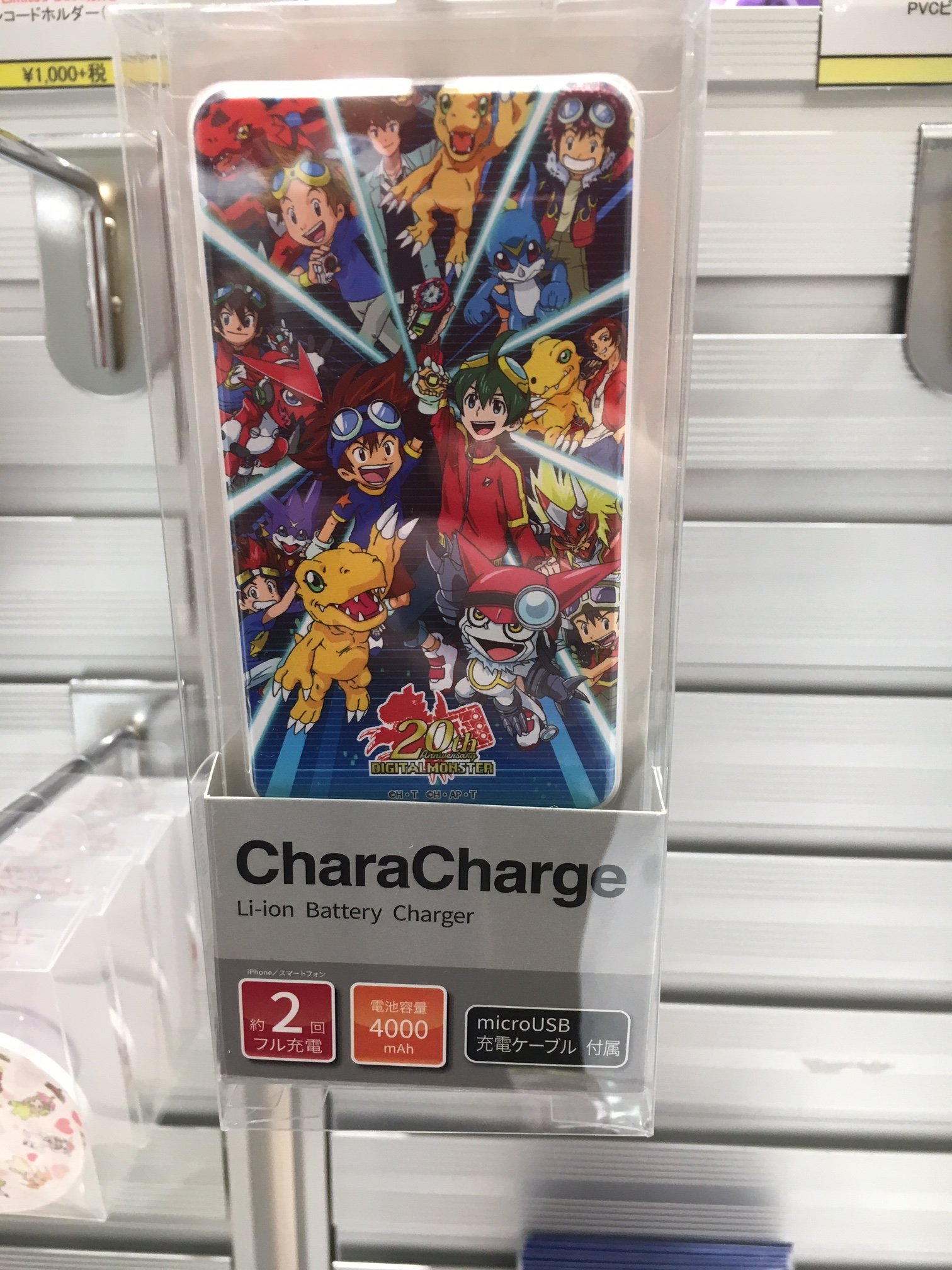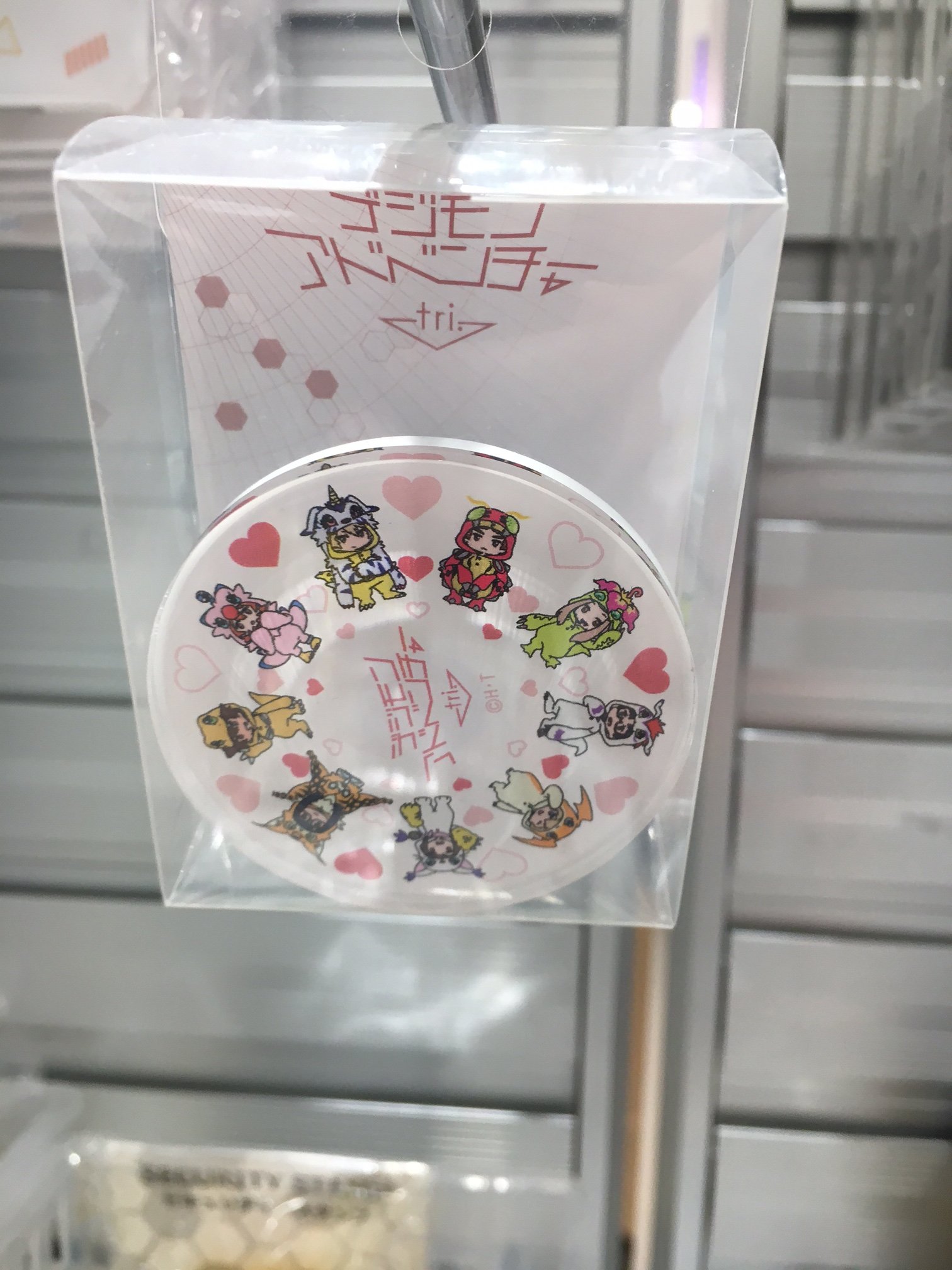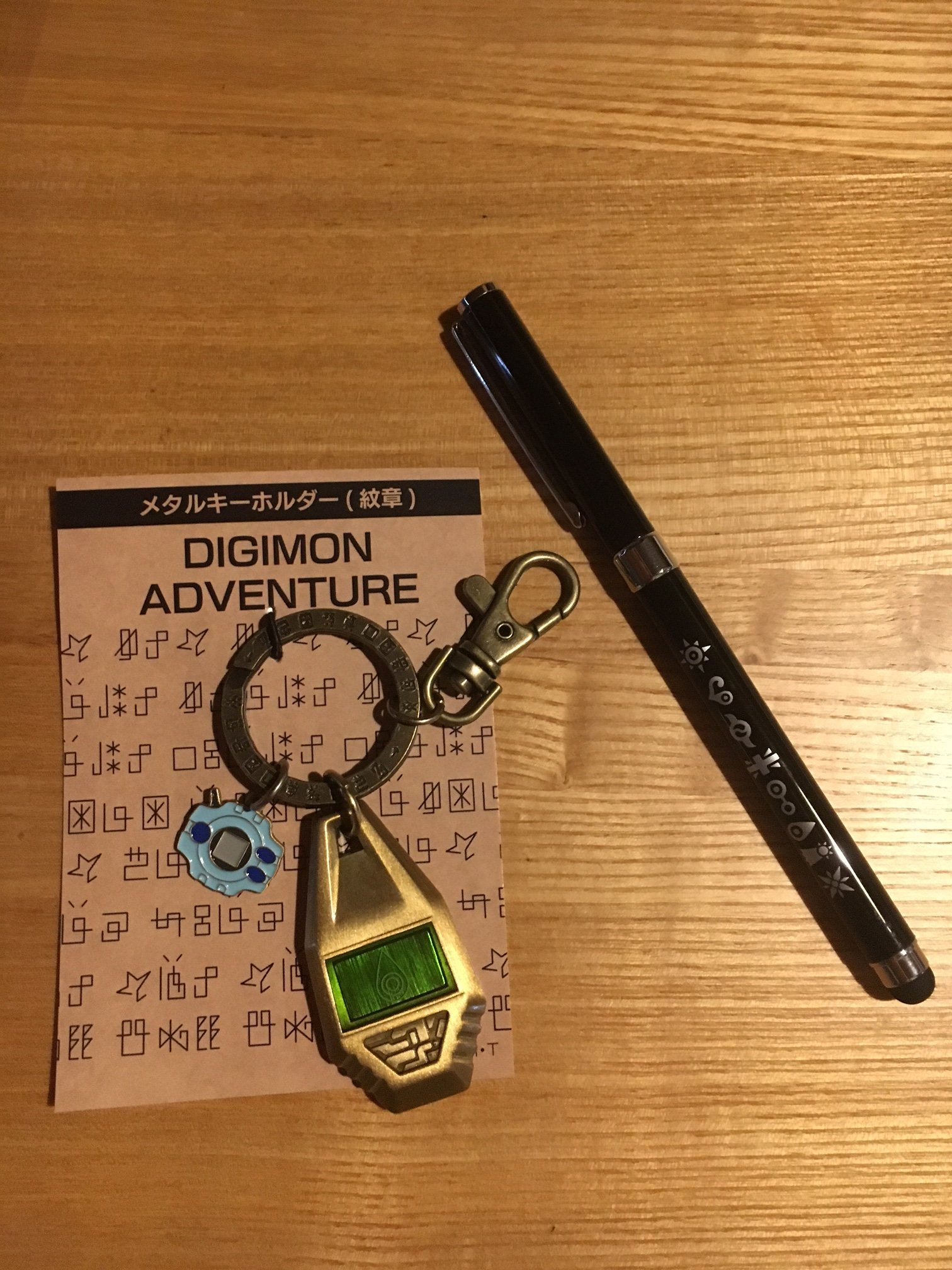 A very nice range of photos of the store, items in the store, and items he bought.
A number of products from the past year have made a return for the 20th pop-up shop.
I really like the art display of the art for Agumon and Gabumon. It's not new art, but it's nice to see it on display prominently next to the premium items being sold. I'm also bemused that for those more premium items, they use a ticket system, not unlike when I bought video games at Toys R Us as a kid. I'm told that this specific photo was actually not allowed, and Bandai may be hunting down Ukyou as we speak.
Poor Ukyou though... he bought a stack of the 20th magnets and ended up with everyone except Gatchmon. Will he be able to withstand the temptation to go buy more?