Show User Social Media
Hide User Social Media
Joined

Sep 8, 2006
Messages

16,175
Recently the website
4Gamer
had a big interview with Bandai regarding the Digimon 20th Anniversary V-Pet.
This interview covered tons of details of the upcoming anniversary product, along with insight into the choices and changes made in the product, along with details on products like the various 15th Anniversary Digivices, and even some of the other things being planned for the 20th Anniversary of Digimon.
We've translated the interview, and are presenting it with the images being placed roughly where they were in the original article.
Bandai is accepting pre-orders for the LCD game Digital Monster ver. 20th (henceforth referred to as Digimon ver. 20th) on Premium Bandai, from January 6th to March 27th at 11pm.
The Digital Monster series, or Digimon for short, is celebrating its 20th anniversary this year. This Digimon ver. 20th is a commemorative re-release of the LCD Digital Monster game, which went on sale in 1997 and serves as the origin of the series.
While the LCD toys related to the anime series such as the Digivice and D-3 have undergone several re-releases so far, the fact that the original Digimon toy is being revived should be big news to fans of the series. We at 4Gamer are here today to interview Yuuta Abe and Shou Saotome from Bandai, to get a clear view of what Digimon ver. 20th really is. Tomoyasu Ootawara, from Bandai's Boys' Toy Division's Merchandising Team, will be here with us today as well.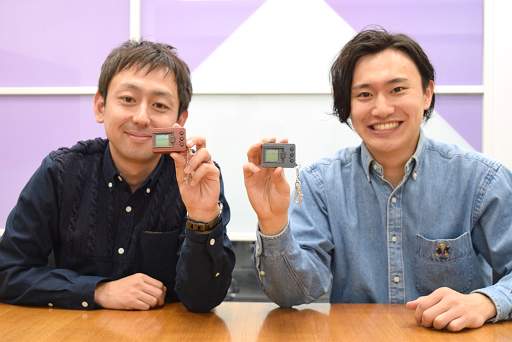 [image caption: Yuuta Abe (left), development producer for the Digimon and Appmon series, and Shou Saotome (right), in-charge for the Digimon ver. 20 project. Tomoyasu Ootawara, from Bandai's Boys' Toy Division's Merchandising Team, will be participating in the interview as well.]
> A re-release, made by the children captivated by Digimon back in the past
4Gamer:
Thank you for taking the time out to participate in this interview today.
First off, we would like to ask how the both of you have been involved with the Digimon series up to this point.
Shou Saotome (henceforth referred to as Saotome):
I am currently involved with product planning and development for the anime Digimon Adventure tri., which currently has 4 installments released. Also, I was involved in planning the re-releases of the 15th anniversary anime merchandise: Digivice ver. 15th, D-3 ver. 15th, and D-Arc ver. 15th, to be aimed at older audiences.
Yuuta Abe (henceforth referred to as Abe):
I am currently involved in the planning and development of all the Digimon series merchandise marketed towards older audiences, together with Saotome. Not only that, I'm also involved with the product planning for children-targeted merchandise for Digimon Universe Appli Monsters. To put it another way, I'm currently overseeing the planning and development of the Digimon series' merchandise.
4Gamer:
The two of you still seem quite young. Were the two of you part of the generation that grew up playing the first generation Digital Monster v-pets, and watching the anime series?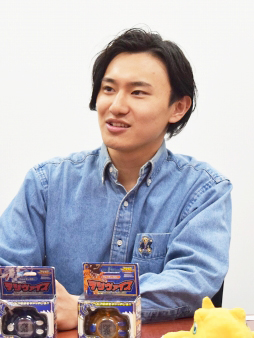 Saotome:
Yes, that's right. I was 8 when Digimon Adventure first aired, so you could say I was right in their target demographic.
Abe:
Similarly to how Saotome was from the anime's generation, I was from the generation that grew up playing the LCD toys. I'm not as familiar with the anime series myself, so in a way the two of us balanced each other out.
4Gamer:
To be able to participate in the making of products that you loved as a child...to fans of the series, this must be a very enviable position you are in.
Saotome:
You may be right.
Tomoyasu Ootawara (henceforth referred to as Ootawara):
There are many staff members in Bandai who are in similar positions; staff to whom being able to plan for and be in charge of a product they liked as a kid is like a dream come true.
4Gamer:
Seems like we have two people from the ' Digimon generation' involved in planning for the Digimon ver. 20th. Could you tell us more about the circumstances or inspiration that led to its development?
Saotome:
As mentioned briefly before, as the 15th anniversaries of the anime series approach, we continued to churn out commemorative anime merchandise such as Digimon Adventure's Digivice, Digimon Adventure 02's D-3, and Digimon Tamer's D-Arc.
And, now that we are approaching the 20th anniversary of the original Digital Monster toy that was released in 1997, we wanted to return the Digimon that children all over the world first played with back into their hands, and that's where the idea for development started.
4Gamer:
How was the reception when you announced this product?
Abe:
It was fantastic. We opened pre-orders for Digimon ver. 20th through Premium Bandai, our company's direct sales site, and we had an influx of customers that hadn't signed up as members on the site till now. Out of the customers that have pre-ordered the product, about 40% are new members, so it feels as if we are now receiving the support of a number of fans who felt 'I wasn't that interested in the anime-related Digivices, but I want to try out the first generation Digimon toys'.
4Gamer:
We received a large amount of reception on
our article
as well, so we can feel this strong surge in attention.
Abe:
We are very thankful that this is the case.
4Gamer:
Do you have an idea of the main demographics purchasing this product?
Saotome:
We've received a lot of orders from the 27-30 age group. In contrast, the Digivice and D-3 had a lot of customers in the 24-26 age range, so we can see from there the rough differences in the age groups that got into Digimon through the anime, and those who got in through the LCD games.
4Gamer:
How about customers in the teenage age range?
Abe:
It seems that there aren't that many customers below 19. Currently, the core demographic that is purchasing Digimon merchandise seems to be those who were in elementary school when Digimon Adventure first aired in 1999, and who would be in their early to mid-20s now. Customers in their late-20s to early-30s tend to purchase more of the LCD games, as well as figures of the Digimon themselves.
4Gamer:
I see, even a well-selling line of products shows different purchasing patterns among different generations.
As I recall, the both of you came from the LCD game generation and the anime generation respectively. Could you tell us your favorite Digimon, or Digimon that left a deep impression on you?
Saotome:
I loved Digimon Adventure, so I really liked Wizarmon.
4Gamer:
Wizarmon?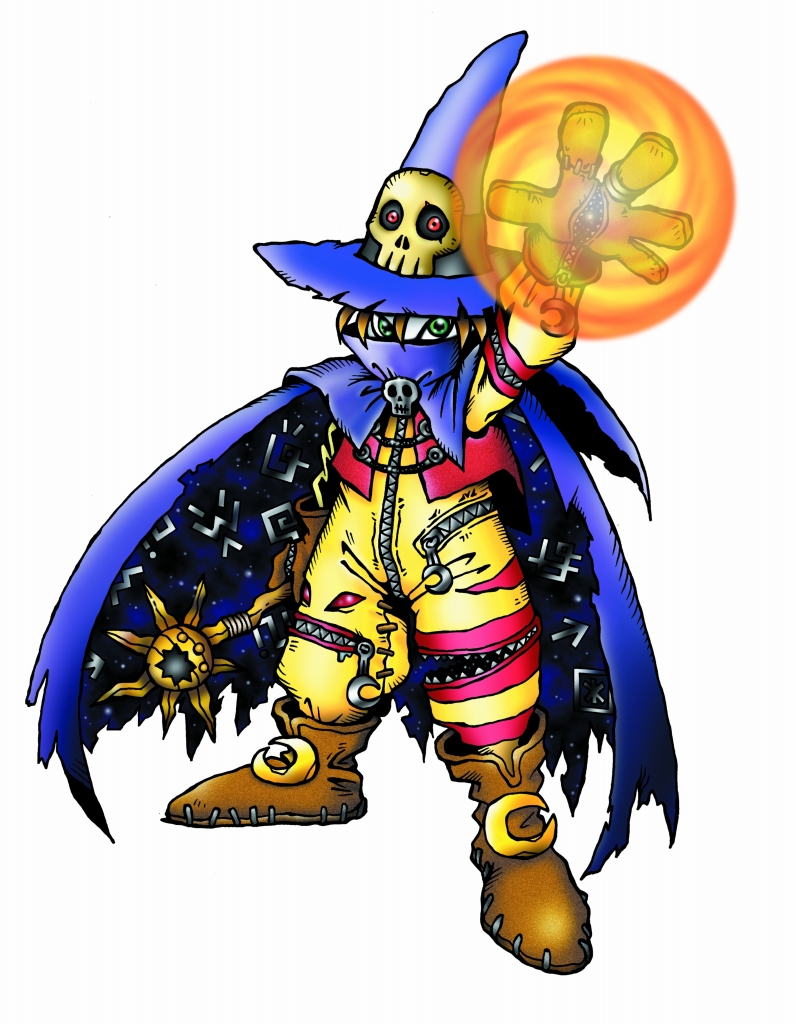 [image caption: Wizarmon (not available in Digimon ver. 20th)]
Saotome:
Yes. As a child, Tailmon's interaction with Wizarmon really moved me to tears. Wizarmon was such a kindhearted Digimon...
4Gamer:
Ah, that scene* is carved deeply into the hearts of fans.
Saotome:
I like Elecmon as well. He was the Digimon who put his life on the line to protect the Digieggs in the Village of Beginnings, where Takeru visited.
*Anime spoilers alert
In a fight with a powerful enemy, Wizarmon gave his life to protect Tailmon. This sparked Tailmon's evolution to Perfect level, which allowed her to finish off the enemy. It is a scene widely discussed among fans of the anime, even now.
4Gamer:
How about Abe, who was part of the LCD game generation?
Abe:
A memorable Digimon for me would be Mamemon.
4Gamer:
Why is that?
Abe:
It was pretty difficult to get your Digimon to evolve into Mamemon. Take Metalgreymon, whom you could only evolve to by raising the Adult-level Greymon seriously and properly. And there's Monzaemon, whom you could obtain fairly easily as long as you trained Numemon properly. And then there's Mamemon, whom you could only evolve to by training a Digimon that could evolve into it - not too seriously or not too negligently, but a balance between both. It constantly left me wondering 'how many care mistakes did I make already?' which could be quite a pain.
4Gamer:
Indeed, most people then probably evolved their Digimon into Metalgreymon; not as many people got Mamemon, probably.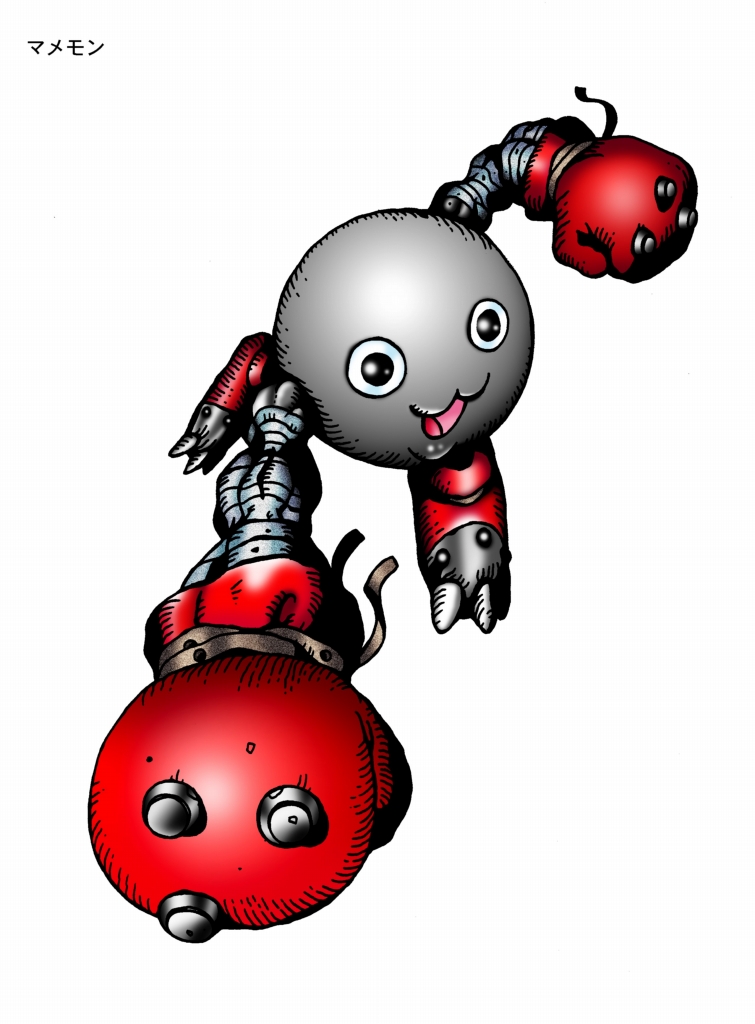 [image caption: Mamemon]
Abe:
Yes. That's why, I remembered being ecstatic when I was finally able to evolve into Mamemon, after all I went through. Not only that, I liked that 'gap' between its appearance and abilities, seeing how such a small character could throw bombs and all.
4Gamer:
It may be small, but it's really powerful, isn't it.
Abe:
It beats Metalgreymon easily even in link battles, after all.
4Gamer:
Speaking of the ver. 1, Monzaemon was the strongest Digimon there, followed by Mamemon and then Metalgreymon, correct? The impact of having Numemon, the weakest Digimon, evolve into Monzaemon, the strongest Digimon, was definitely great.
Abe:
According to the developers, Monzaemon was added in as a kind of 'salvation measure', so as not to discourage players from stopping their Digimon raising halfway.
4Gamer:
So, a friend with a Numemon might one day just evolve and turn the tables on you. I thought it was well-thought-out.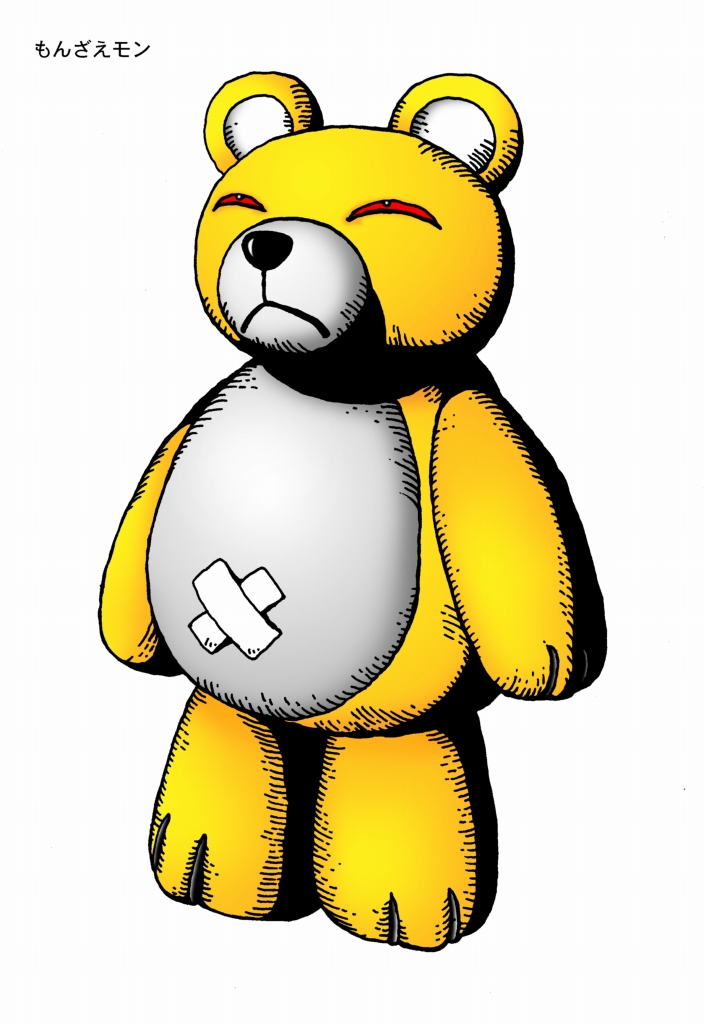 [image caption: Although it may seem like Metalgreymon (left) is the strongest at first glance, it is actually the weakest, with Monzaemon (right) being the strongest.
> Patamon evolves! Angemon? Nope, it's Ogremon! The interesting differences in evolution between the original Digimon games and the anime
4Gamer:
Looking over the original Digimon designs again, they were really drawn to project this 'wild' image. You can see the saliva flying from Greymon's mouth, and it looked ready to attack you any moment. As the years go by, it feels like Digimon began to tend towards more heroic designs; do you think the anime series served as the 'turning point'?
Abe:
I heard that the original concept for Digimon was to be a 'battling Tamagotchi', so the monsters were made in the image of feral monsters such as dinosaurs that you could raise inside a v-pet. That's why there were many feral-looking designs among the early Digimon.
As the series got turned into an anime by Toei Animation, there's this new cuteness and sense of 'partners' that came to be associated with Digimon, so we also got many Digimon born out of that feel.
4Gamer:
We can see the anime's strong presence from how the anime now serves mostly as the standard face of Digimon. There were some monster evolutions in the original v-pet that would be hard to imagine with the current series.
Abe: Looking back on them, they did feel out of place though (laughs).
Ootawara: It's completely different in the games, after all.
Saotome: I was introduced to Digimon via the anime series, so when I look at the evolution chart for the original game, it still feels out of place to me even now (laughs).
4Gamer:
Patamon evolves into Angemon in the anime series, but they weren't even in the same version when it comes to the LCD games, so Patamon couldn't evolve into Angemon there. Trying to raise it the same way would net you Ogremon instead.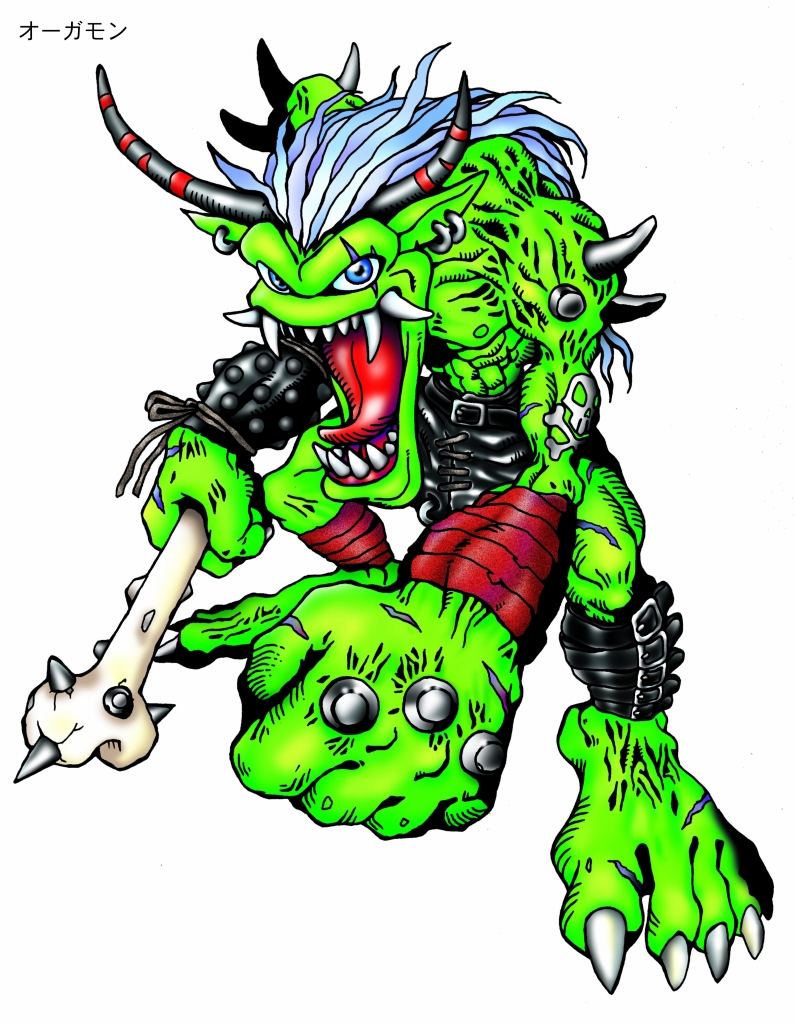 [image caption: Patamon (left) and Ogremon (center) debuted in ver. 3, while Angemon (right) debuted in ver. 2. Although the Patamon > Angemon evolution is almost like second nature to us now, it did not exist at all in the original games.]
Abe:
It is as you say (laughs). However, since we are aiming to recreate the original with Digimon ver. 20th, we don't intend to change anything on that front.
Saotome:
What we might feel like 'something's not right' when we play it now, is also nostalgia for the people who played it back then, so we felt that it was something we shouldn't change.
4Gamer:
I see.
Abe:
This also applies to the power difference between Metalgreymon, Mamemon, and Monzaemon that we mentioned earlier. Thoughts like 'Why is the weakest looking Digimon the strongest?' or 'This evolution is so weird now that I look at it' that occur to us thanks to the 'weird but interesting' bits of the game are something that we wanted to retain as we worked on the ver. 20th, so we are not changing those parts.
4Gamer:
Playing these games with our 'current common sense' would indeed make for a fresh experience.
When it comes to Digimon's LCD games, what's iconic isn't just the monster illustrations, but also those pixel illustrations that were made to fit within the 16x16 space. Were those pixel illustrations done as a set together with the monster illustrations?
Abe:
Regarding pixel art, there are some Digimon which have them, and some that don't. The pixel and monster illustrations for Digimon that appeared in the LCD games were definitely made as a set. While some of the Digimon that debuted in console games eventually got pixel illustrations made of them, there are also some Digimon that did not appear in any LCD games and thus only have official illustrations.
4Gamer:
So it seems to be the case that not all Digimon had pixel illustrations made of them.
Abe:
Though, when you think of Digimon as having originated from LCD games, it only seems appropriate that all Digimon should get some form of pixel art. I hope that we get to work on more of them in the future.
4Gamer:
Even so, it takes some skill to make those pixel illustrations... the Digimon are all identifiable, despite being in 16x16 resolution and in monochrome.
Abe:
It's amazing, isn't it. The pixel artwork, as well as the creation of the product, is being handled by the diligent people over at WiZ.
Saotome:
All of the pixel illustrations manage to keep their identifying features. Not only that, they were capable of skilfully inverting the colors to create pixel artwork for recolored Digimon; I have nothing but admiration for the amazing staff who worked on them.
Due to the size of the interview the rest follows in the next post. We've split it at the same point the original interview had it's page 1 and page 2.