Show User Social Media
Hide User Social Media
Joined

Sep 8, 2006
Messages

16,411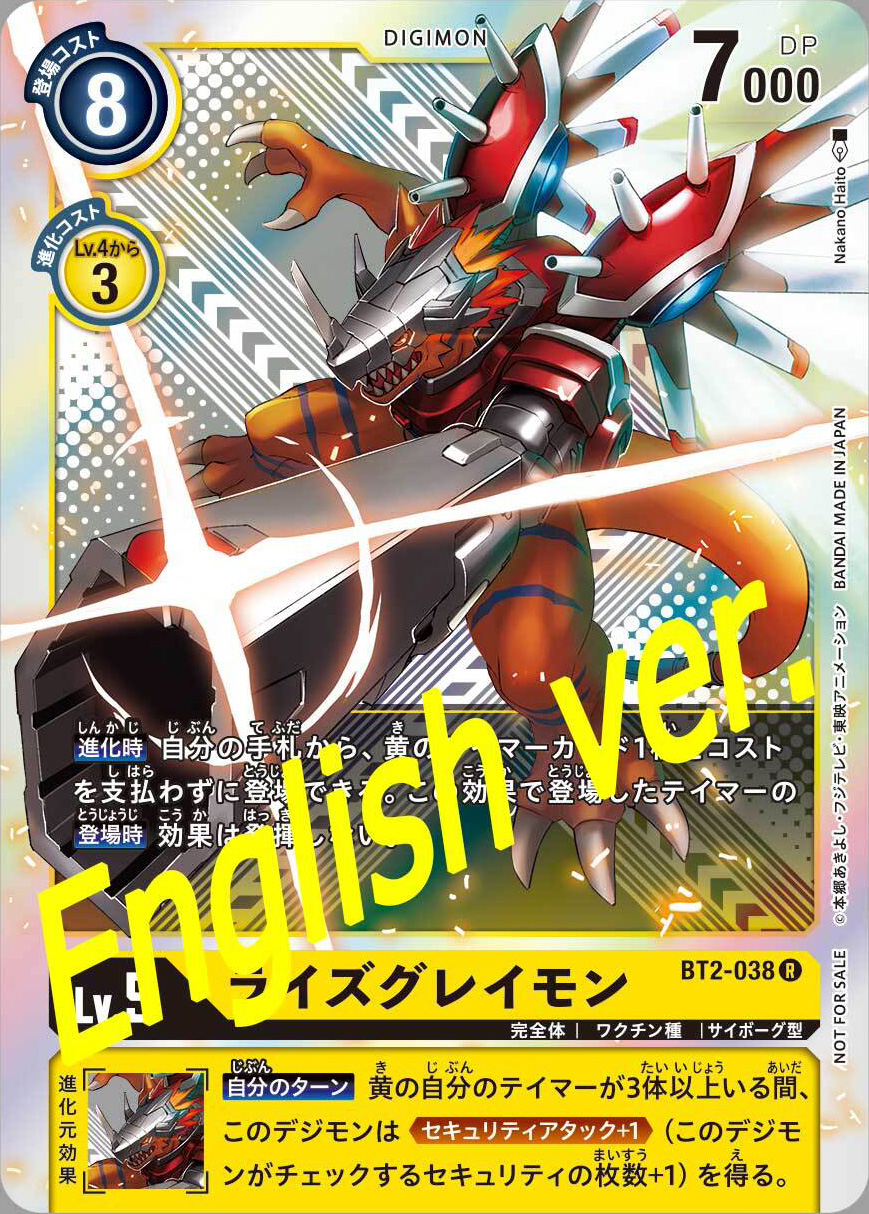 When we found out about Premium Pack 1
for the English version of the card game, we knew it would come with 2 promo cards, but we didn't know what they were (both being the same card.)
The first (only?) has been announced
as
the 3rd Winner's Card
from Tamer Battle events, RiseGreymon. This was a parallel card of RiseGreymon from Booster Set 2, using the same base art as a card from the 3rd Tamer Battle Pack.
The card wasn't announced with an English version as most are, just text saying it'd be in English on top of the Japanese card. It also isn't clear if it'll be a random selection, or if this is a guaranteed card.
More details soon hopefully, including if this is a guaranteed card, or if other cards can potentially be nabbed via the Premium Pack. Both cards included will be the same card, but could you end up getting a Tamer Battle Pack alternate card or some other promo card instead?, etc.
And of course, since they've said this is Premium Pack 1, what will be in future packs?
The pre-sale for the first wave of English Digimon Card Game releases is out. It includes the first 3 starter decks and special booster 1.0 (a larger than normal booster set containing a selection of cards from the 1st 3 Japanese boosters. When paired with the upcoming special 1.5, it contains all the cards as those boosters in Japan.)
All the day 1 cards (the 3 starter decks, special booster 1.0, and a bunch of promo cards) we have clean images for, which can be found
here
.
Various rules and other updates for the early release of the Digimon Card Game English version can be found
here
.
We also have info about the release of Starter Decks 4, 5, and 6 and Booster Set 4 in English
here
.
Early packaging and promo card details for special booster 1.5 can be found
here
.
Details of the upcoming Premium Pack & Great Dash Pack can be found
here
.
Details of the January Tamer Party promo cards & rule and Q/A updates can be found
here
.