Show User Social Media
Hide User Social Media
Joined

Sep 8, 2006
Messages

17,382
A few different Digimon Card Game updates to go over...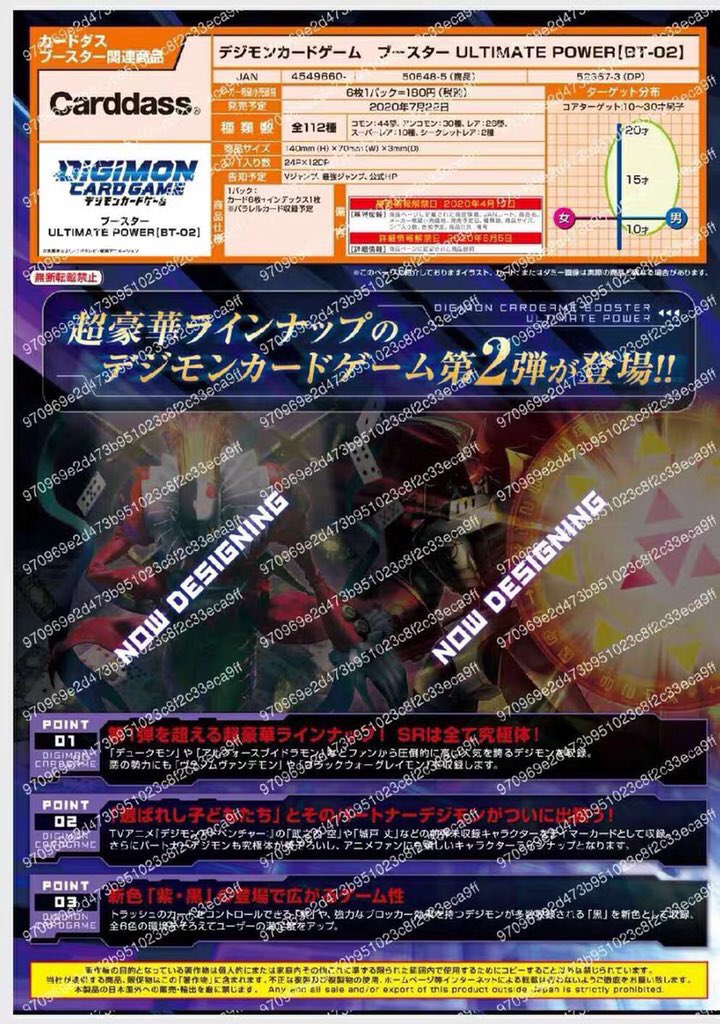 First up, our first details for Booster Set 2! Booster Set 2 (BT-02) is called 'Ultimate Power' and will be released on July 22nd.
While the watermark makes it hard to make out details on the sales sheet, a few details for it are... (The details are a bit hard to make out, so we will try and clean up and add to these later.)
Obviously the art shows Piemon and Dukemon as getting cards.
I see mentions of Sora and Jou getting Tamer cards, along with mentions of cards for VenomVamdemon, ULForceV-dramon, and BlackWarGreymon.
There are 6 colors now, the new colors are purple and black, purple is described as manipulating the trash/discard pile while black is described as having powerful blockers.
Booster Set 2 has 112 cards & the card distribution is:
44 Common
30 Uncommons
26 Rare
10 Super Rare
2 Secret Rares
HLJ
and
Amiami Japan
both have pre-orders for Booster Set 2 boxes up already.
Thanks to
Syota
for the sales sheet image.
Update- Cleaned up details above thanks to a few people who sent in what they could make out.
Then we have our normal Booster Set 1 previews...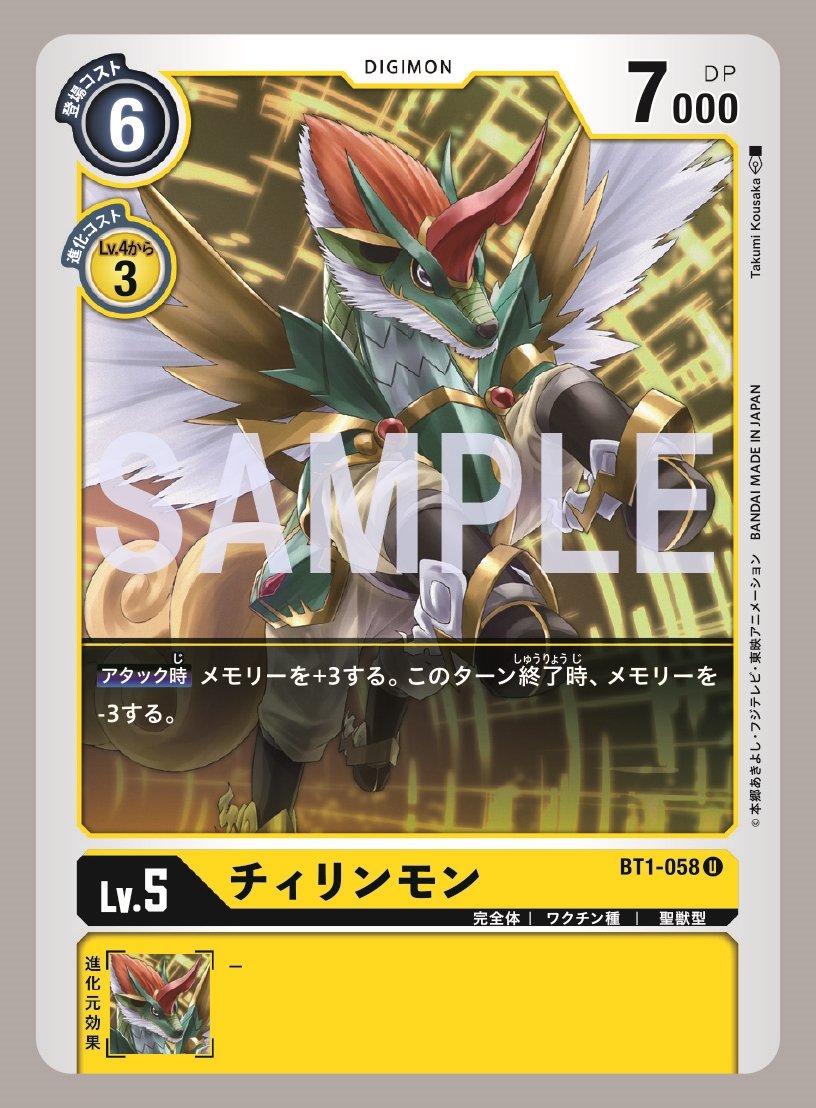 2 more new cards from the Digimon Card Game!
The Digimon Card Game Twitter
(
2
) has updated again with a look at 2 more cards from Booster Set 1 New Evolution. This time it's Digitamamon and Chirinmon.
The scaling issues continue, as does the great art. Digitamamon is shown with bits of his egg cracking and what is inside looking to begin crawling its way out. Chirinmon is drawn with an almost regal look, flying through a digital space that has a nice tunnel visual to it.
And we finish with a few extra cards for Booster Set 1 that t
he Digimon Card Game website has announced
.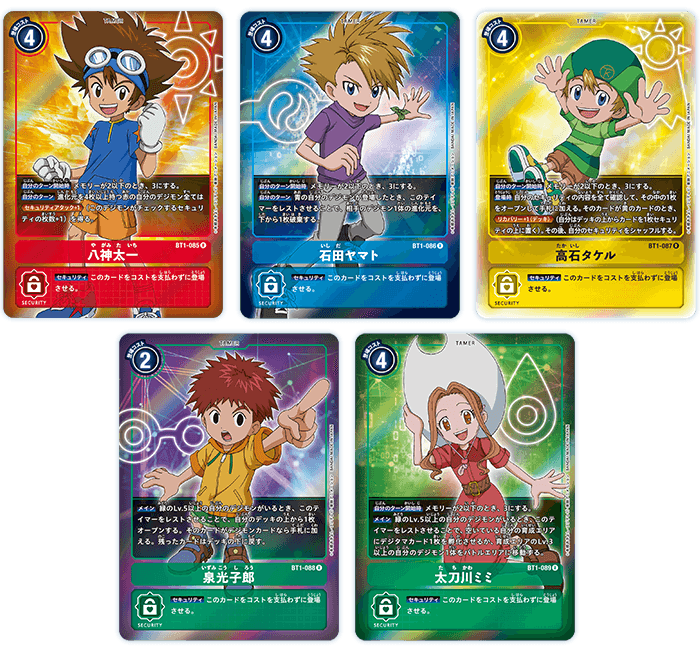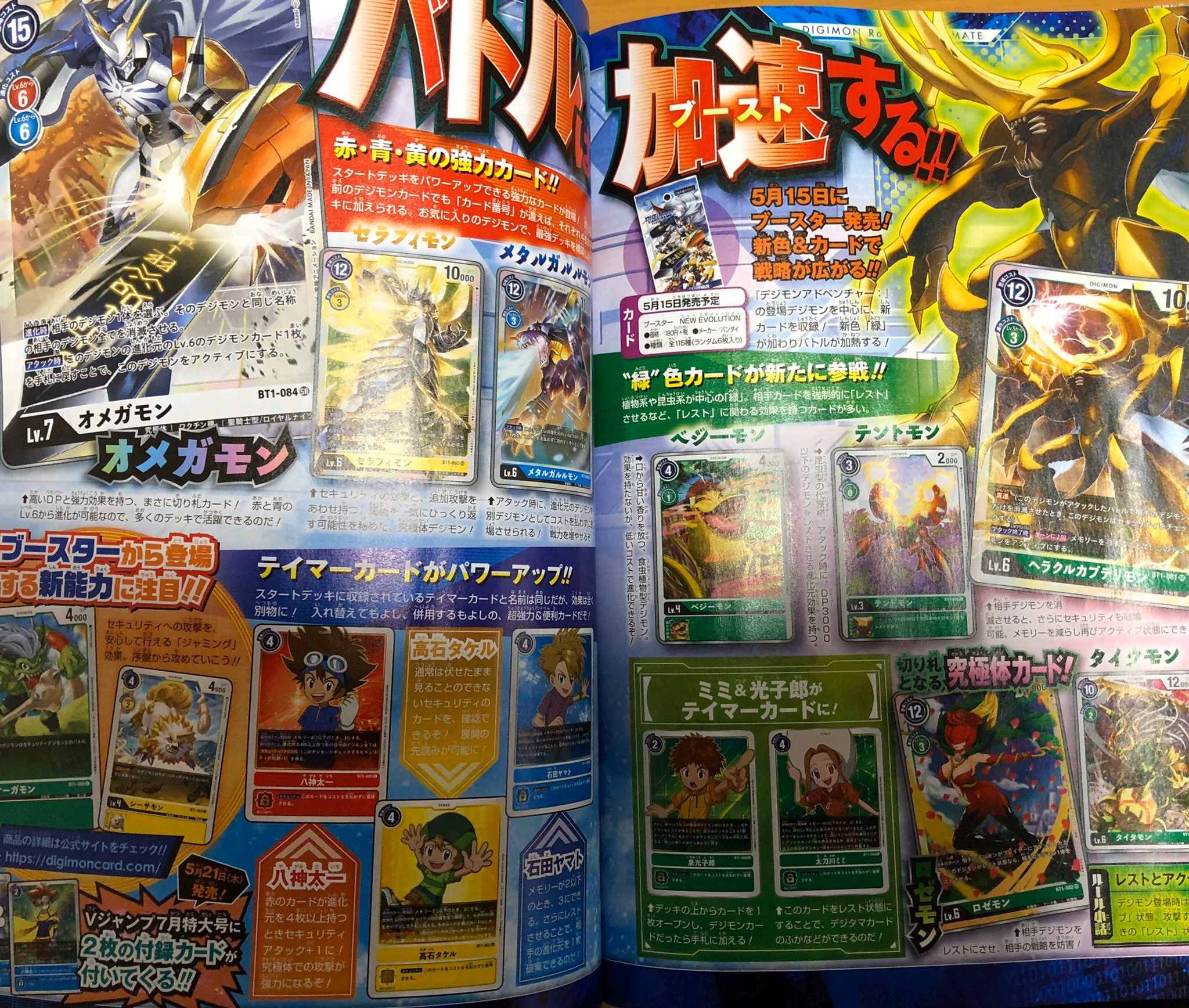 Booster Set 1 includes Tamer cards for Taichi, Yamato, Takeru, Koushiro, and Mimi. Each will have a special bonus parallel design that will come in booster boxes for Booster Set 1 (left image is the parallel cards.)
Each booster box will contain one of the parallel cards (in the same way that the Battle Spirits Digimon 1.5 booster boxes came with one Zubamon card.)
These feature the same artwork, but alternate designs from the standard cards that will be included in the booster set that
we saw previewed in V-Jump recently
(the right image.) They have the same card numbers and card effects as the normal cards, so count as the normal card in your deck.
Booster Set 1 is scheduled to release on May 15th.
Thanks to onkei for some translation help on the parallel card details.
Previous card previews for Booster Set 1:
Last edited: