Show User Social Media
Hide User Social Media
Joined

Sep 8, 2006
Messages

13,985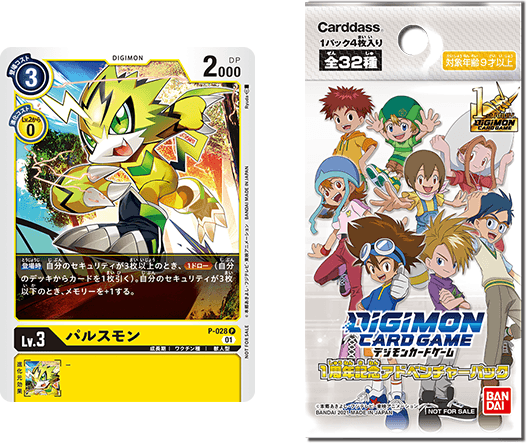 It's been announced that participants at Tamer Exchange Meeting events in
May will get 2 items
The first is the 2nd Pulsemon card, which was also given away in April.
The second item is a newly announced pack called the '1st Anniversary Adventure Pack'. The exact contents haven't been announced yet, but each pack will include 4 cards out of a selection of 32.
The artwork on the pack features the Adventure: kids using artwork from cards from previous booster packs:
Booster 1- Takeru
Booster 2- Hikari
Booster 5- Taichi, Yamato, Koushiro, Sora, Mimi, Jou (all of these were from the double tamer cards in these sets.)
And for the Tamer Battle events....
The fifth Tamer Battle Pack will be given away to all participants at
Tamer Battle events
in May. These are the same cards that were given away previously, including the Winners Card.
It features parallel cards of:
Guardromon from Booster 2
XV-mon from Booster 3
Stingmon from Booster 3
LadyDevimon from Booster 3
Each of these work the same as any other parallel card, they have different artwork, but are for gameplay and deck building purposes, the same card as the card they are parallel cards of.
Winners at those Tamer Battle events will get the equivalent Winners card...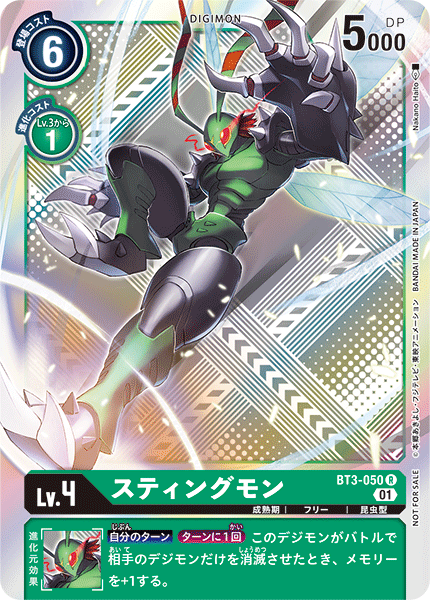 The Winners Card this time is an alternate parallel card of Stingmon.
The cards this time are roughly what you would expect, minus the new 1st Anniversary Adventure Pack, so hopefully we get more details of that soon.
We have clean card images for Starter Decks 7 & 8, plus Delay Promos, Tamers Battle Pack 5, 1st Anniversary Promos, & Pulsemon.
We've also begun to get previews for Booster Set 6 Double Diamond
, which will feature characters from Kizuna!
Plus we have the first details
for the 1 year anniversary of the card game, including a number of fun things!
And images from previous Digimon Card Game releases:
Starter Decks 1, 2, and 3, and first 10 promo cards
Booster Set 1 New Evolution
Booster Set 2 Ultimate Power
V-Tamer Promo Cards
Purple/Black Promo Set
Tamer Battle Pack 1 and Tamer Battle Winner's Card
Booster Set 3 Union Impact
Starter Decks 4, 5, & 6, plus Tamer Battle Pack 2 & winner's Card 2, & 1st 2 scene vote cards
Booster Set 4 Great Legend, Tamer Battle Pack 3, 3rd Scene Vote, Dark Digimon Promo Pack, & Apparel Cards
Booster Set 5 Battle of Omega, plus Tamer Battle Pack 4, 4th Scene Vote, & Vital Bracelet Pack-In Cards