Show User Social Media
Hide User Social Media
Joined

Sep 8, 2006
Messages

13,184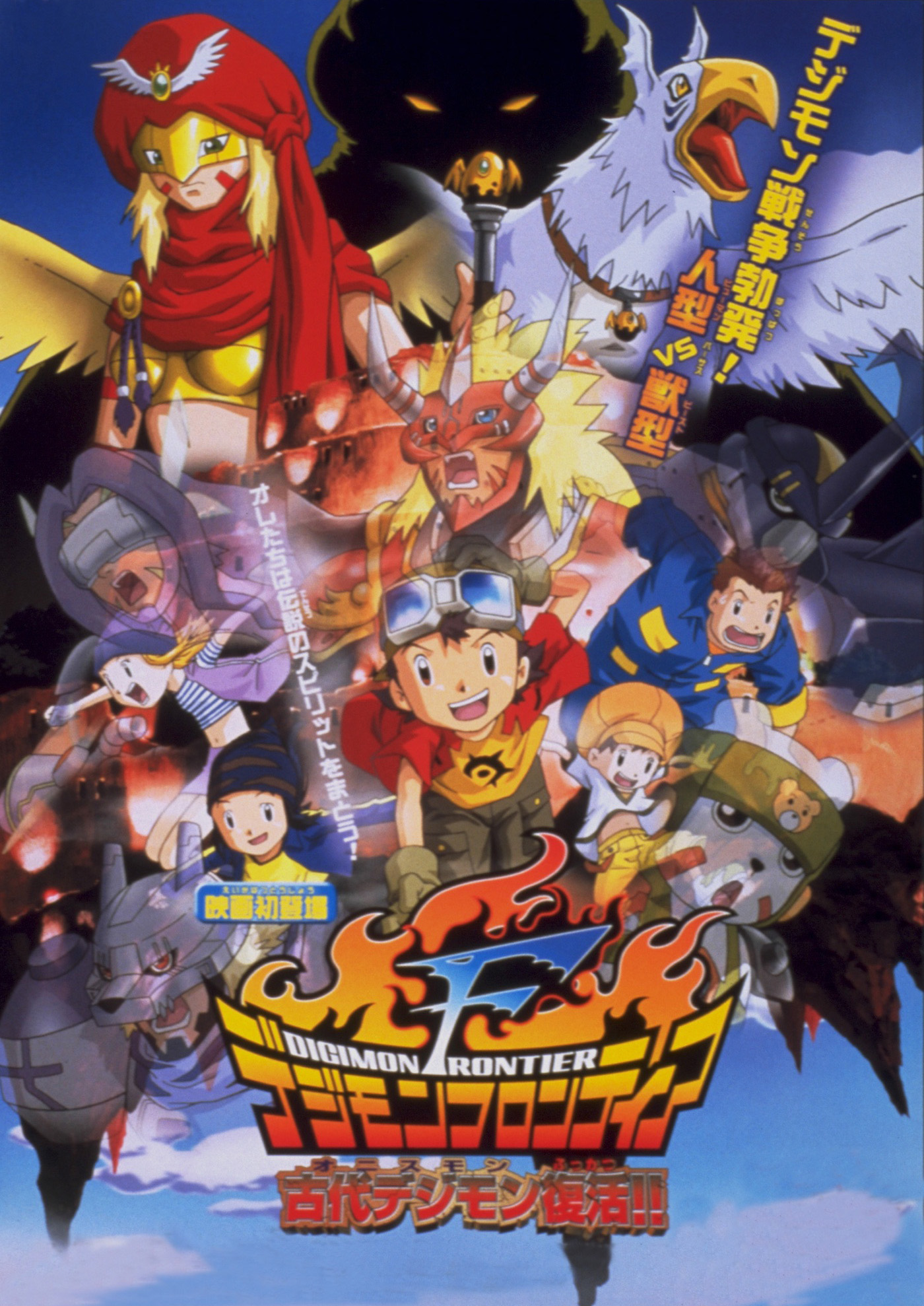 It's July 20th, which is the release date of Digimon Frontier: Revivial of the Ancient Digimon
The movie premiered as part of the 2002 Summer Toei Anime Fair, which was the final one they did.
Directed by Takahiro Imamura, who directed and storyboarded various episodes from all the early Digimon TV shows, along with directing Diablomon Strikes Back, the movie uses the differing beast/human-type Digimon concept that was used in the Frontier spirits in a story of fighting over differences.
This tends to feel like one of the more liked non-Adventure films, and perhaps one of the better liked parts of Frontier overall.
I don't have much to say about it to be honest (probably because I remember liking it, but it's been a very long time since I've rewatched it), and it's a decent and enjoyable enough movie.
In the US it was a roughly 2.5 year wait for the film, but most of the dub cast returned, which was a nice plus.
And then we also have a bit of an Adventure anniversary!
July 20th was also when Digimon Adventure 3D: Digimon Grand Prix! was first run at Sanrio Puroland. Run as a motion ride in 'The Machine of Dreams' (a theater with seats that could tilt and shake to emulate a ride, etc.) for 2 years.
It features the Digimon from Adventure and 02 having a race that takes much inspiration from Wacky Races and other racing gag animations. Perhaps best known for all the personality everyone shows trying to do as good as they can in the race, it features a bunch of humor and fast action.
It was later used as a standalone film in the 3d Toei Anime Festival (and later DVD), and even made it's way to Blu-ray in the Digimon the Movies Blu-ray Box. The Blu-ray even properly reproduced the 3d from both the ride and festival (I think the DVD skipped 3d entirely... or went with the red/blue glasses? Not sure.), since proper 3d was supported in Blu-ray.
While it doesn't allow the motion aspects from the original ride to be reproduced (which actually is a feature that can be reproduced, to some degree, on home video), it at least allows fans with the proper equipment to be able to view the footage based on how it was originally produced.
A few anniversaries for an interesting Digimon movie, plus a fun little short.
We did
a breakdown of the Digimon the Movies box
a few years ago. This contains both the 02 movie and the Savers short.
The Movies Box got split apart into singles a few years ago, and the Frontier movie (with the Savers movie) disc is available, as is the movie full box: (Affiliate links)
Digimon the Movies Blu-ray Box
Digimon Frontier & Savers Movies Blu-ray
The Adventure short is not available on Blu-ray outside of the box.